America's Cup Jubilee
August 22 - Cowes, UK

While the weather has been too windy or too light for some of the Jubilee, conditions for yesterday's UBS re-enactment of the 60-mile around the Isle of Wight race that started the America's Cup 150 years ago couldn't have been more ideal for the 201 boats in the greatest sailing event in history.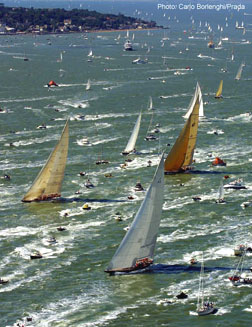 Even mid-week, the Solent is teeming with spectators
Photo Carlo Borlenghi/Prada
Line honors went to Giovanni Agnelli's Frers-designed 92-ft Stealth in 4 hours and 48 minutes - less than half the time it took America to sail the course. Corrected time honors in the headlining IRC Modern Class, however, went to Robert Miller's Mari-Cha III, followed by Agnelli's old boat, the 118-ft Frers-designed Extra-Beat, now owned by Seattle's John McCaw (One World Syndicate). Extra-Beat, however, has a large lead in the series overall.
The real glamour division of the Jubilee, of course, is the J Class. As was the case in the first two races, Dennis Kozlowski's Endeavour wasn't the first off the starting line, but nonetheless finished first for the third time in a row by a comfortable margin. Velsheda slipped into second for the first time, edging Shamrock. Just about everyone at the Jubilee says the sight of the J Class boats is enough to stir the emotions of even the most hardened sailors.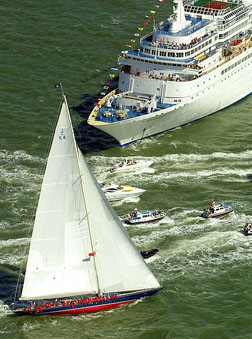 The 130-ft Endeavour sails by a spectator ship
Photo Carlo Borlenghi/Prada
For the Brits, who are just getting back into the America's Cup, the America's Cup class is the big deal. Their GBR Challenge led almost the entire race - only to be nipped by two seconds at the finish by Italy's Luna Rossa. But then Luna Rossa was tossed for a luffing infraction.
In the 12-Meter Class, Russell Coutts drove the Swiss Team Alinghi to victory over South Australia and the rest of the large fleet.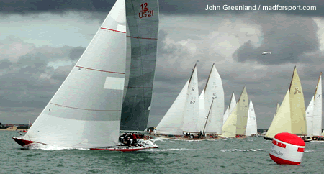 A 12-Meter start
Photo John Greenland/www.madforsailing.com
In other boats familiar to West Coast sailors, Belvedere's Tom Perkins' Herreshoff 135 Mariette took third in the Vintage II class, and sits at second for the regatta, despite having to retire in the second race after running aground. Dorade, the boat that made S&S and was once owned out of the St. Francis, took seventh in Vintage III. L. Scott Frantz's Herreshoff 72 ketch Ticonderoga - known for thrilling TransPac finishes in the '60s - took third in Vintage I.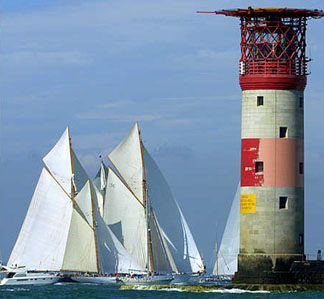 The classics round the Needles light
Photo Carlo Borlenghi/Prada
For additional coverage of a ballyhooed event that's actually living up to its billing, visit www.americascupjubilee.com and www.madforsailing.com.