Horrific Attack on Cruiser Bob Medd in the Sea of Cortez
August 18 - Sea of Cortez

In Friday's 'Lectronic, we published a plea from Stephen Russow about the whereabouts and well-being of Bob Willmann of Golden, Colorado, who did last year's Ha-Ha aboard the Islander 37 Viva. We got an email back from Willmann, who says he's just fine, having left his boat in Bahia de Los Angeles and taken the bus to San Diego on Thursday. The same cannot, however, be said about his friend singlehander Bob Medd of the Victoria-based Aloha 34 TLC, who had his throat slashed and was left for dead while sailing in the Sea of Cortez.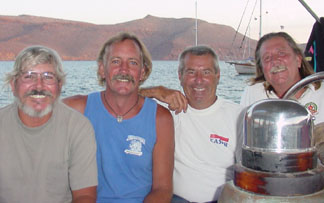 Bob Medd, third from left, had his throat slashed while sailing in the Sea of Cortez.
Photo Deb Castellana
According to Willmann, he and Medd - who is a vet of the Canadian Navy, who served on the British Royal Yacht Brittania, and who drove his own barge in the North Pacific for 12 years - met in Banderas Bay last December and had been buddy-boating more often than not since then. They'd gone as far south as Barra de Navidad, and then sailed into the Sea of Cortez. Their plan was to sail further south this year.
On Sunday, August 12, the two left Santa Rosalia for Isla San Francisquito, expecting to complete the voyage by dawn on Monday. Medd needed to charge his boat's batteries, so he took a rhumbline course, motoring at four knots. Willmann went further offshore for better wind and a better sailing angle. The two kept in touch via VHF until about 6 pm, at which point they were out of radio range.
Wellmann and Viva arrived at San Francisquito at 7 am on Monday, and waited 24 hours without hearing any word from TLC. He assumed that Medd had been a victim of his boat's mysterious electrical glitches, and had returned to Santa Rosalia for repair. "Bob Medd is a very experienced, competent, resourceful sailor," says Wellmann, "and TLC is a well-found yacht, so I wasn't at all worried." With the only alternative being another rolly day and night at anchor, Viva left for Bahia de Los Angeles on Tuesday. The above are facts provided to us by Bob Wellmann. What follows is believed to be what happened, but, we emphasize, has not been confirmed.
Around 6 pm on Sunday, two fishermen came alongside TLC - something not uncommon in the Sea of Cortez. Medd gave them some water. Then one of the guys came aboard and hit Medd in the face with a rock he'd brought along, and Medd lost consciousness. When he awoke, he found that his throat had been slit from ear to ear - with his own bread knife - cutting lots of tendons, and he had been left to die. As he drifted in and out of consciousness, TLC smashed into some rocks. Eventually, Medd was able to get to the beach and fire off a flare. Some fishermen saw the flare and made their way over to him. When they saw him, they got the Mexican Navy involved, and Bob was taken to the hospital in Santa Rosalia on Tuesday evening. The hospital had to twice use paddles to restart his heart. On August 14, the doctor declared it was Medd's 'new birthday'. We emphasize, the above facts are unconfirmed.
Medd is currently in a hospital in San Diego, where he is being kept until doctors can control the infections he got while lying on the beach for two days. He'll eventually be taken to Calgary, where he will undergo extensive surgery to reconnect tendons and reconstruct damage to his face. The doctors are guardedly positive about his recovery. TLC was found "sunk and beyond repair."
Stories about attacks on cruisers often get blown all out of proportion, so Wellmann cautions nobody should jump to any conclusions until he can get an "accurate and unbiased report" from Medd himself. He'll do that as soon as Medd is comfortable talking about it. Wellmann adds, "Both Bob and I have nothing but respect for all the locals we've met in Mexico during the last nine months, and in fact have had conversations about cruisers who are quick to focus on any negatives."
Attacks on cruisers while they are on their boats in Mexico are rare, but not unheard of. A couple of years ago, Blair Grinols' Capricorn Cat was boarded and they were robbed in the middle of the night off Bufadero. Nobody was injured. And about 20 years ago, a couple from Redding were attacked on their boat in Turtle Bay. The husband was cut countless times as a robber tried to encourage him to come up with more money. The woman jumped overboard and got help. The victim was taken to the hospital and thought to be in good condition, but suddenly died as a result of all the tiny cuts, which hadn't previously been noticed.
We'll have more on this story. Until then, please don't start going crazy with rumors.
The photo at the top was taken by Deb Castellana of Drumbeat, who explains the circumstances. "We had a cruisers' potluck aboard Drumbeat at Caleta Partida this summer, and everyone who showed up was named Bob. I unofficially became 'Bobette' for the evening. We were going to send the photo to Latitude as "4Bobs" but couldn't think of good copy to go with it. From left to right, Bob Mullen of Apophyge, Bob Jones of Drumbeat, 'Back-Up Bob' Medd of TLC, and Bob Wellmann of Viva."