Transatlantic Challenge
August 16 - New York

Ever since the New York YC lost control of the America's Cup, they've been looking for a glamor event to fill the gap. It's become their 3,100-mile Transatlantic Challenge, from New York to London. They've held 11 of them since 1865, and the next will start in May. The goal of the Rolex-sponsored event is for someone to beat the 12-day, four-hour record - under race conditions - that was set in the 1905 race by Charlie Barr and the schooner Atlantic. The 2002 event will be limited to "superyachts" from 85 to 300 feet, and is expected to be one of the most impressive gatherings of big yachts ever.
The first 'modern' Transatlantic Challenge by the New York YC was held in '97, and attracted 16 boats. A couple of boats came close to the record - including the Paul Goss skippered 212-ft (LOA) schooner Adix, which is very similar to the old Atlantic - but the wind petered out in the end. Another of the entries in that event - which was ultimately won by the schooner Adela - was Belvedere's Tom Perkins and his immaculate 135-ft (LOA) schooner Mariette. Perkins and Mariette will be back for another go - in fact, all interested parties will be gathering this week in Cowes aboard Perkins' magnificent motoryacht to discuss the event.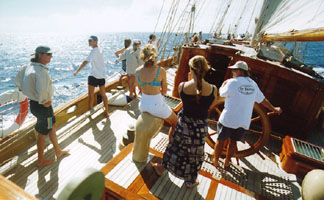 At the wheel of Adix
Also returning will be Isam Kabbani of Saudi Arabia, a very nice guy who owns the 135-ft ketch Sariyah - the name rhymes with 'Maria'. (Some of you will remember that this massive ketch took a full and sustained knockdown while serving as a race committee boat in the wicked Key West to Baltimore race two years ago. As a result, her skipper Tim Laughridge laughingly told us he's never slept well at sea since.) Nonetheless, they've taken 17,000 pounds off the lead wings in the keel and will be doing other things to improve their light air performance.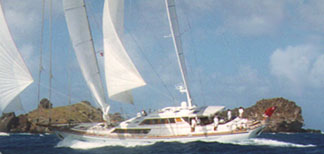 Sariyah
J. Craig Venter, former surfer and the honcho of Celera - which kicked the government's butt in mapping the human genome but nonetheless saw its stock value plunge 85% - did the last race in the 82-ft Sorcerer, but will return in '02 with a 95-ft Frers of the same name. Sergio Andrade has entered his 112-ft S&S sloop Zingaro, which we were lucky enough to race aboard late last year in the Caribbean. Sir Robin Knox-Johnston, winner of the first round the world race and co-skipper of the cat ENZA when she won the Jules Verne Around the World Trophy, has entered the 135-ft topsail schooner Eleonora on behalf of the Brits. For a list of other early entries and details on what's going to be a big event, visit www.nyyc.org.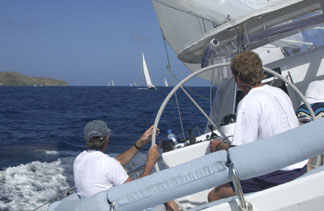 Sergio and Captain Clive at the wheel of Zingaro