West Marine Pacific Cup
August 10 - Entries Off To A Fast Start.

Although it's almost a year until the start of the West Marine Pacific Cup from San Francisco to Kaneohe Bay, Oahu, Hawaii, the entries are already pouring in. As of August 7, they included, Giant Slayer, SC 27; Alakazam, JDF 30; Victoria, Bavaria 35; Allessandra, Jeanneau 36; Mintake 4, Farr 38; Argonaut, J/40; Alcyone, Hinckley 40; Bravado, Elliott 46; Hooligan, SC 50; Emily Carr, SC 50; Octavia, SC 50; Ariel, SC 52; and Winnetou, SC 52. Boats that have signed up for the Doublehanded Division include Moonshine, DP 26; Mirage, Express 27; Shenanigans, C&C 36; El Tiburon, Passport 42.
That's 17 entries, and it's expected the list will go over 30 by the end of the month. Jim Quanci reports that he knows of at least two more SC 50s and two more SC 52s that are planning to enter. The Pacific Cup always runs out of slots, so if you don't want to be stuck on the waiting list, visit the Pacific Cup web site: www.pacificcup.org.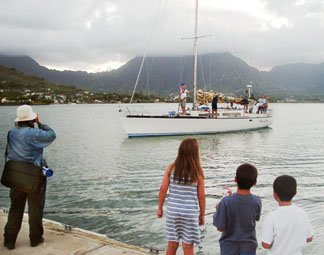 From Last Year's Pacific Cup
Photo Latitude/Richard