---
Photos of the Day

April 6 - Miami

Earlier this week, Britain's Royal Ocean Racing Club announced that they were calling off the Admiral's Cup, an event that had once been the pinnacle of international ocean racing competition.

While the future of the event is unclear, it's not necessarily bleak. The SORC (Southern Ocean Racing Conference) used to be the biggest thing in U.S. offshore racing, but after about 50 years, it temporarily folded from a lack of interest and a faltering economy. It was revived in a much more compact format, and now, known as the Acura SORC, is doing just fine, thank you. They had over 135 entries in last month's edition, including quite a few from the West Coast. For a report on the event and results, see the April issue of Latitude 38. For the visual action, check out these fine shots by Cheryll Kerr of www.regattaphotos.com.

Photos Cheryll Kerr
---

Troubling Thought

April 6 - Hawaii

If this year's Admiral's Cup went by the board, you can't help but wonder how solid the future of the Kenwood Cup in Hawaii - a very similar event - can be. To lose that would be a shame, because it offers some of the finest ocean racing in the world. In fact, we can't remember an ocean racing vision as spectacular as the Pan American Clipper Cup - the predecessor of the Kenwood Cup - during the early and mid '80s.
---



You Really Missed It

April 6 - Tiburon

If you missed last night's Crew List Party at the Corinthian YC, smack yourself. It was jam-packed with boatowners looking for crew and crew looking for rides on boats. There was obviously a lot of interest on both sides. Also on hand was Group Commander Coast Guard San Francisco, Tim Sullivan, who many of you will be glad to learn is a sailor. And did we mention the free massages? It was a good time.

If you couldn't make it, check out the Crew List in the April Latitude and start dialing. As we've said many times before, the first couple of steps are the hardest. Once you get on a boat or two and start networking, you're likely to end up with all the boat rides you could ever want.


Networking at the Crew List Party
Photo Latitude/Chris
---


Fossett Needs a Bigger Stick?
April 6 - West Palm Beach, FL

"While in Palm Beach last weekend shopping for a boat," writes Jay Kimmal of San Francisco, "we ran into adventurer and PlayStation owner Steve Fossett while lunching on the now trendy Clematis Avenue in West Palm. When I asked him where his 125-ft mega-cat was, he said "at Spencer's." I told him that I'd just been to the Rybovich-Spencer boatyard and must have missed it, and the only big mast I saw was from the 155-ft maxi-mega-monohull motorsailer Georgia. Steve kinda looked down at the ground and then said, "Yeah, I was kinda bummed to come into the yard and see we didn't have the tallest mast around." I guess he's not used to being second, even when he's not trying to set a new record or win a race. Speaking of which, he also mentioned that as soon as PlayStation got some work completed, she'd be going after the Miami to New York record prior to record attempts across the Atlantic. By the way, Fossett was a down-to-earth, super friendly guy."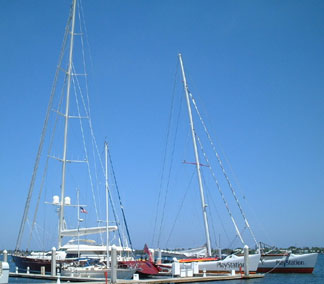 Georgia (left) and PlayStation (right)
Photo Jay Kimmal
For what it's worth, Georgia's mast - something like 191 feet - is the tallest in the world. But not for long. As for PlayStation's attempt on the Miami to New York record, it was called off at the very last moment when cracks were discovered in the rigging.
Speaking of comparisons between big and really big boats, check out the accompanying photo of Steve Dashew's 79-ft Beowulf and Robert Miller's 154-ft Mari-Cha III, which up to recently owned the TransAtlantic Record. The two boats will apparently be competing in this month's Guadaloupe to Redonda to Antigua Race.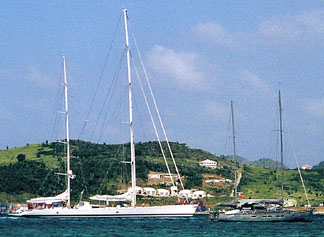 Mari-Cha III (left) and Beowulf (right)
Photo Steve Dashew
---



Bash Is Over

April 6 - San Diego

Yesterday morning we got a report from Bruce Ladd on Profligate that they were just 68 miles from Point Loma on their Baja Bash up from Puerto Vallarta, and the seas were flat. Last night we got a report they had checked through Customs and were temporarily on the Customs' Buoy. As Baja Bashes go, it had been very quick and very easy - although mostly overcast and cool.

If your boat is headed north - or south - to San Diego and will be in need of transient berthing, visit www.sdhp.com for complete information. They list four possibilities: La Playa Cove between the San Diego and Southwestern Yacht Clubs; Glorietta Bay off Coronado; the South Bay Anchorage off National City; and the Cruiser Anchorage off the Coast Guard station at Harbor Island. The first two have time limits and National City is out in the boonies, but the Cruiser Anchorage is relatively convenient and you can drop the hook there for a month at a time up to three months. You do need to pick up a permit from the Harbor Police. Our compliments to them on a nice Web site.


Harbor Police patrol boat, with the lovely San Diego skyline in the background
Photo Courtesy San Diego Harbor Police
---
Pacific Puddle Jump
April 6 - Nuevo Vallarta
The most popular way for North American cruisers to get to the South Pacific is to leave from Mexico and sail to the Marquesas. That's what the Pacific Puddle Jump Class of 2001 are doing. We've been introducing them to you in a continuing series of profiles, which we wrap today. You'll find the complete feature in the April issue of Latitude 38. Part II will run in the May issue.
Laughter - Freya 39
Patrick McGibney & Lindi Doud, Morro Bay, CA

From 1985 to 1990 Patrick and Lindi cruised south through Mexico and Central America, transited the Canal, then explored the Caribbean and the East Coast. That was back in the good old days, when it seemed perfectly natural to make such a trip on a sweet wooden 30-footer - a Frers sloop named Coral.
They upgraded substantially to a Freya 39. They broke their bonds with the working world a year ago and now, as they head west, are "excited about stops unknown and unplanned adventures."
Well versed in the highs and lows of traveling under sail, they add: "Cruising's not always an easy life, but someone's got to do it."
Photo Latitude/Andy
---

YOTREPS

April 6 - The Pacific Ocean and Cyberspace

Who is out making passages in the Pacific and what kind of weather are they having? Check out YOTREPS - 'yacht reports' - at http://www.bitwrangler.com/yotreps/
---


Weather Updates
April 6 - Pacific Ocean
San Francisco Bay Weather
To see what the winds are like on the Bay and just outside the Gate right now, check out http://sfports.wr.usgs.gov/wind/.
California Coast Weather
Looking for current as well as recent wind and sea readings from 17 buoys and stations between Pt. Arena and the Mexican border? Here's the place - which has further links to weather buoys and stations all over the U.S.: www.ndbc.noaa.gov/stuff/southwest/swstmap.shtml.
Pacific Sea State
Seas are normal in the Pacific. But you might check out the Pacific Ocean sea states at: http://www.mpc.ncep.noaa.gov/RSSA/PacRegSSA.html.
For another view, see http://www.oceanweather.com/data/global.html.
---
Top
/ Index of Stories / Subscriptions / Classifieds / Home
©2001 Latitude 38 Publishing Co., Inc.