---
Photo of the Day
April 3 - Spokane, WA

"Former San Francisco Bay Finn Sailor Cracks." That's the headline Sammy Girton of Spokane suggests for the accompanying photo. Sammy reports, "After a record-breaking 118 days with snow on the ground in Spokane, Cameron Girton, who now sails an Express 37, is seen at the bottom of his driveway drinking a beer and reading his Latitude 38. Some say he was humming a Jimmy Buffet song about little latitudes."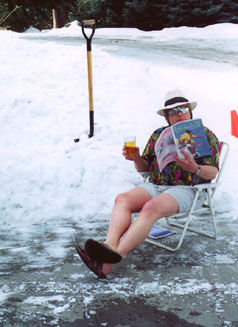 Photo Sammy Girton
Sounds like Cameron is in need of a tropical sailing photograph. We hope this helps: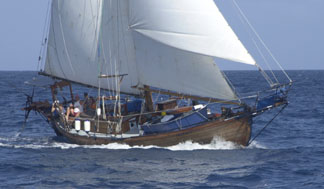 Photo Latitude/Richard
---
The Last Legal Liveaboard Slips Still Available on the Bay?
April 3 - Richmond

Could be. Barry O'Loony, the office manager at Marina Bay in Richmond, advises that the marina recently got their liveaboard permit from the BCDC and are starting to accept applications for their 75 liveaboard slips. Folks who've been in the marina all along get the first shot, and they've signed up for roughly 45 of the 75 slips. About 30 'outsiders' have also signed up, but O'Loony says there may still be room for a couple of more or at least to get at the top of the waiting list. Warning: All liveaboard boats have to pass an inspection, and liveaboard slips are not meant for low-income housing. In addition, the marina will be keeping a careful eye out for 'sneakaboards'.
The 850-slip Marina Bay is about the only place on the Bay that we know of that has slips open in just about all sizes between 22 and 61 feet. And their slip fees are quite low. A 22-foot slip goes for $110, a 40-foot slip for $218, and a 61-ft slip for just $350 a month. Liveaboards pay a $150 surcharge. Marina Bay is closer to the central Bay than are any of the marinas on the Estuary, and is particularly close to the warm weather sailing in the North Bay. It also has much warmer weather than does Berkeley Marina. Its location not far from I-580 makes it convenient to both Marin and the East Bay, and it's not far from BART. We used to keep a boat there and enjoyed it, and folks who have boats there now tell us they really like it. So if we were looking for a liveaboard slip, we'd call (510) 236-1013, and we'd do it right now!


Empty slips in Richmond
Photo Courtesy Marina Bay Yacht Harbor
For those just looking for a slip, Marina Bay also has a good selection of almost impossible to find slips in the 36 to 61-foot range. A 50-foot berth is just $280 a month, which compares very, very, very favorably with the $675 you'd have to pay at some marinas in Sausalito.
---



The Crew List Party Is April 5

April 3 - Tiburon

"I enjoyed my first crew party last fall and met some great folks," writes Jim Pederson. "Though I'm inexperienced, I had several nice offers, all of which I would have accepted if possible. It worked out best for me to crew from San Diego to Cabo on Harmony with Robert and Virginia Gleser, and I thoroughly enjoyed the trip and the company. Now I'm looking forward to getting some experience in the Bay Area and maybe a trip to Mexico. This probably is not news to you, but just in case, your Calendar and the Corinthian Yacht Club's Web site calendar show different dates - April 5 and April 10 - for the Crew List Party. I'll reserve both evenings."


Helicopter rescue demonstration
at last October's Crew Party
Photo Latitude/Richard

The Crew List Party is on Thursday, April 5, from 6 to 9 p.m at the Corinthian YC in Tiburon. For directions and a map, visit www.cyc.org/map.html. Wait til you see the killer rescue demonstration the Coasties put on with a chopper and rescue boat. It brings out the local police every time!
---
The Admiral's Cup Has Been Called Off

April 3 - UK

The Royal Ocean Racing Club made it official that what was once the 'world series of ocean racing' will not be held this year in England. This once great event is a victim of several factors, including the lack of a truly international racing rule and so many other sailing opportunities, such as the America's Cup, The Race, Vendée Globe and the Volvo.
---

The Wrong Way to Get to the South Pacific
April 3 - Mooloolaba, Australia

"We left San Francisco on May 8 of last year, and have been on a bit of a fast track," report Max and Debbie Young, who are cruising their Danville-based Perry 47 Reflections with their daughter Janelle. "So now we've decided to slow down and enjoy Australia for a year before we head north again. We started out by sailing from San Francisco to Hawaii, then on to Christmas Island and Tahiti. However, we would never take this route to the South Pacific again. Everyone we have talked to that left from Mexico said that their trip to the South Pacific was a piece of cake. It wasn't for us. We got hit by storm after storm until we got 800 miles east of Hawaii. Once we got to the Islands, it was a bit of a problem finding a berth or even a place to anchor out. Our next stop was Christmas Island, which you can't see until you're only about eight miles away because its highest peak is only 12 feet. Even Capt. Cook ran aground there. When he discovered it, the island was uninhabited. Now only visited by the occasional cruisers, it's home to the greatest people in the world. We left Christmas Island on June 28, and had to sail beneath a brewing hurricane - which made life interesting. Then it was on to the Societies, Suvarrow (a 'must see'), Western Samoa (which every cruiser raves about), Tonga, Fiji, New Caledonia (to enjoy the Pacific Arts Festival), then on to Australia. We're now in Mooloolaba. This has been a lifelong dream, and we're enjoying it even more than I thought we would."
Pacific Puddle Jump
April 3 - Nuevo Vallarta
The right way, or at least the most popular way, to get to the South Pacific is to leave from Mexico and sail to the Marquesas. That's what the Pacific Puddle Jump class of 2001 are doing. We're introducing them to you in a continuing series of profiles. Check back for more in tomorrow's 'Lectronic, and you'll find all of them in the pages of the April issue of Latitude 38, which came out on March 30.
Felicity - Tashiba 31
Ken Machtley & Cathy Siegismund, Seattle
Ken and Cathy echo sentiments we often hear from folks in their position: "Don't wait. You'll never have enough money, your boat won't be big enough and you'll never feel totally prepared to leave. So just go!"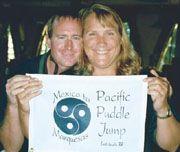 In their case, though, there's a tragic personal incident behind their urgings. Cathy's parents had been planning to go cruising for years, but her father died shortly before his intended departure. So Ken and Cathy (both in their 30s) have picked up where her folks left off.

A full circumnavigation is in their plans, with two or three seasons spent in French Polynesia. "New Zealand and Australia will be our off-season home," they say, looking forward to inland, as well as waterborne, exploring. Regarding things to avoid, they list: "Reefs, pirates and the bottom of the ocean."
Destiny - Wauquiez 42
Michael & JoAnne Gray, Seattle

We remembered meeting this cheerful couple during the '98 Baja Ha-Ha. As we wrote back then, they met two decades earlier while anchored next to each other in the San Juans - although both had other mates at the time. A year later they started dating, and the rest is history.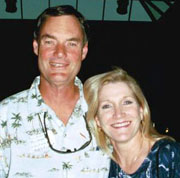 During their two years in Mexico, Michael and JoAnne have made a concerted effort to assimilate themselves into the Mexican culture - beyond the marinas and coastal anchorages. To their credit they both took Spanish 'immersion' classes so they could converse more easily with local townspeople. "Mexico has an incredibly diverse and rich culture," explains JoAnne. "The people have been wonderful to us."

A highlight of their stay was building a close bond with a Mexican family from a mountain town. They intend to keep in touch as they work their way around the globe. Destiny will take a more southerly approach than most, skipping the Marquesas and aiming for the Gambier Islands and the remote easterly Tuamotus. They'll continue on to New Zealand, then perhaps spend a second SoPac season in Fiji.
Photos Latitude/Andy
---


YOTREPS
April 3 - The Pacific Ocean and Cyberspace
Who is out making passages in the Pacific and what kind of weather are they having? Check out YOTREPS - 'yacht reports' - at http://www.bitwrangler.com/yotreps/
---


Weather Updates
April 3 - Pacific Ocean
San Francisco Bay Weather
To see what the winds are like on the Bay and just outside the Gate right now, check out http://sfports.wr.usgs.gov/wind/.
California Coast Weather
Looking for current as well as recent wind and sea readings from 17 buoys and stations between Pt. Arena and the Mexican border? Here's the place - which has further links to weather buoys and stations all over the U.S.: www.ndbc.noaa.gov/stuff/southwest/swstmap.shtml.
Pacific Sea State
Seas are normal in the Pacific. But you might check out the Pacific Ocean sea states at: http://www.mpc.ncep.noaa.gov/RSSA/PacRegSSA.html.
For another view, see http://www.oceanweather.com/data/global.html.
---
Top
/ Index of Stories / Subscriptions / Classifieds / Home
©2001 Latitude 38 Publishing Co., Inc.