---
Photo of the Day

April 20 - Tortola, BVI

On the back of this postcard is printed: "The best time I ever had in my life was on an adventure called 'Black Boaters' Summit'...

"Join us September 15-23, 2001, in the British Virgin Islands...for the annual Black Boaters' Summit.

"For more information and to see our online photos, please visit www.blackboaterssummit.com."


Photo Courtesy Black Boaters' Summit
---
Pacific Sail Expo Runs Through Sunday

April 20 - Oakland

Don't miss Sail Expo, which runs through Sunday, with 100 boats and 300 exhibitors, at Jack London Square. It's a really great show, as you can tell from some of the photos here.

When at the show, stop by the Latitude booth (#403/500, near the entrance to the show) to say hi and to check out the new polar fleece jackets - although can't promise there'll be any left by the weekend!

We'll also remind you that the Wanderer/Grand Poobear will be giving a seminar Saturday at 4:30 on this fall's Baja Ha-Ha. He'd love to see you there, particularly if you're wearing a Ha-Ha shirt or hat.


A vast array of beautiful yachts to poke around on
Photo Latitude/John Arndt


Ellen MacArthur, visiting from the UK, christened the new Open 60 Ocean Planet on Wednesday.
Photo Latitude/JR

For details on Sail Expo, check out the April issue of Latitude 38 or visit www.sailamerica.com.


San Diegan Mark Reynolds displays his Olympic Gold.
That's Australian Alistair Murray from Ronstan on the left.


Drilling a cold one


Musto Sally at the MustoYachting/Pineapple Sails booth
Photos this column Latitude/John Arndt
---
The Last of the Vendée Globe Finishers Is in

April 20 - Les Sables d'Olonne, France

A month or so ago, a 'Lectronic reader rightly took us to task for our 'the last shall be the first' tag referring to Yves Parlier and his remarkable recovery from a dismasting in the Vendée Globe. The reader pointed out that even after a near month-long delay and a jury-rigged mast, Parlier still beat two other competitors. Indeed, Pasquale de Gregorio in the Open 50, Wind Commuications, just crossed the finish line yesterday. Even though it took de Gregorio 158 days - nearly two months longer than the fastest boats - we at 'Lectronic Latitude want to salute him for hanging in there. We love competitors who refuse to quit.
---


Oracle Racing
April 20 - San Francisco
There were all kinds of gossip and rumors about Oracle Racing's America's Cup effort in recent days at Sail Expo. If the big one is to believed, Oracle Racing is about to ink a pact to sail under the burgee of a Bay Area yacht club. The syndicate's Operations Manager, Bob Billingham, who held the same post for AmericaOne, is reportedly out, as are several other members of the shore team. Bill Erkelens, the syndicate head, denied the most controversial rumor, that Kiwi helmsman Chris Dickson will also be replaced.



---



Mystery Boat Revealed
April 20 - Banderas Bay, Mexico

Three days ago we ran the following photo and asked what the boat was and where she was sailing.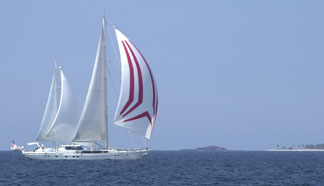 Photo Latitude/Richard
Bob Spakowski of Newport Beach figured it looked like Jim Clark's 155-ft Hyperion entering the lagoon at Bora Bora. Stephen Dolan thought it might be Big O at Cabo. But it was Michael and Claudia Pordes of Favonius who got it right: "It looks like Tom Wolfe's 120-ft Tristan sailing off Punta de Mita, Banderas Bay, about to head off to the South Pacific. To our knowledge, Tristan is the largest sailboat to sail out of San Francisco Bay. We first met her owner about eight years ago, when he dinghied from his Swan 68 to Big O at Puerto Soller, Mallorca, to ask if we had any Latitudes with us. At the time, he had three large Swans.
The next day, we ran another photo of a waterfront jungle setting, and asked where it might be. Peter Putnam figured it was at Guanaha, Honduras. Kent Collins suggested it was Puerto Rico. Jeff Glecker said it sure looks like the San Blas Islands. "Easy," said John Barreiro, "Cuba." Beki of Mudshark said it looked like Banderas Bay. It's actually Marina Carenero at Bocas del Toro, Panama. It's a real up and coming cruising area and destination.



---


Yo Mama!
April 20 - Newport Beach
"With regard to the old Josh Slocum's restaurant in Newport Beach," writes Rob Spakowski, "I heard that Dennis Rodman did not actually buy the place, but has a management/profit participation with the owner - who is Ernie Minney's mother!" Ernie Minney, of course, runs the huge used boat gear store in Newport and is an institution in the schooner world.



---


YOTREPS
April 20 - The Pacific Ocean and Cyberspace
Who is out making passages in the Pacific and what kind of weather are they having? Check out YOTREPS - 'yacht reports' - at http://www.bitwrangler.com/yotreps/
---


Weather Updates
April 20 - Pacific Ocean
San Francisco Bay Weather
To see what the winds are like on the Bay and just outside the Gate right now, check out http://sfports.wr.usgs.gov/wind/.
California Coast Weather
Looking for current as well as recent wind and sea readings from 17 buoys and stations between Pt. Arena and the Mexican border? Here's the place - which has further links to weather buoys and stations all over the U.S.: www.ndbc.noaa.gov/stuff/southwest/swstmap.shtml.
Pacific Sea State
Seas are normal in the Pacific. But you might check out the Pacific Ocean sea states at: http://www.mpc.ncep.noaa.gov/RSSA/PacRegSSA.html.
For another view, see http://www.oceanweather.com/data/global.html.
---
Top
/ Index of Stories / Subscriptions / Classifieds / Home
©2001 Latitude 38 Publishing Co., Inc.