---
Photo of the Day

April 2 - Nuevo Vallarta, Mexico

These lovely ladies are members of the Mexcaltitan Ballet Folklorico. We met them backstage of the amphitheater at Paradise Resort & Marina just before they performed for members of the Banderas Bay Regatta fleet. We promised we'd post their picture on 'Lectronic, and we're fulfilling that promise.

These women - and their male counterparts - put on an outstanding show, highlighted by their genuine enthusiasm. Oddly enough, their performance had a Polynesian theme, all the better to shake booties through various costume changes. Their program was actually just one part of a lovely warm evening under the stars. For after they were done, scores of folks responded to live and recorded versions of classic American tunes by dancing and dancing and dancing. Even though the average age was north of 40, the only way for the hotel staff to ultimately clear the area was to turn off the lights and stop the music.


Photo Latitude/Richard
---
The Baja Bash

April 2 - The Coast of Baja California

At 1100 this morning we received from Bruce Ladd, who is captain of the crew delivering Profligate from Puerto Vallarta to San Diego. Ladd advises that they are currently 75 miles south of Turtle Bay, motoring in very calm seas and the lightest of breezes. The only thing short of ideal delivery conditions is an overcast sky and temperatures in the low 60s. But when you're doing the Baja Bash, temperature is of little importance compared to flat seas.


Leaving Cabo during the 2000 bash north
Photo Susan Stromsland

Ladd and his crew of four reported some mildly sloppy seas on the 300-mile trip from Puerto Vallarta to Cabo, during which time they occasionally had enough fair wind to sail. After spending half a day in Cabo - just enough time to check in and check out - they took off again, blessed with flat seas and zephyrs. Although there is a front heading toward Southern California bringing nine-foot swells, the sea surface forecast for the next several days looks promising.

Thanks to our Globalstar satellite phone, we've been getting twice-a-day reports from the boat. In previous years, without the phone, we often wouldn't hear from the boat for a week at a time. We prefer knowing where she is.
---


BCDC Wake-Up Call
April 2 - San Francisco Bay
For an agency that has authority over and supervises just about everything that happens on San Francisco Bay, the Bay Conservation and Development Agency (BCDC) has often demonstrated considerable ignorance when it comes to boats and marinas. And it doesn't look like that's going to change anytime soon.
For example, in the March 30th 'Lectronic, we reported that BCDC Deputy Director Steven McAdam has been saying that there is no shortage of boat slips on San Francisco Bay, but actually a "glut". If this were the case, how come we keep hearing an endless parade of complaints from people unable to find berths? About harbormasters constantly having to tell boatowners they have no space for them? As we said the other day, if you can't find a 40-foot slip on San Francisco Bay, email McAdam at stevenm@bcdc.ca.gov, because he's apparently the only guy who knows where they are.
A second example of the BCDC's apparent lack of awareness comes from a letter Executive Director Will Travis sent to harbormasters in the Bay Area on March 29. "We recently learned that the Peninsula Marina in Redwood City is closing," the letter begins. Funny that the agency would be the last to know that some 400 boats, many of them liveaboard boats, are about to be unleashed - against their will - on San Francisco Bay. In any event, Executive Director Travis is asking that marinas that haven't applied for or received permits for liveaboards might think about doing it now. And he's offering a big incentive: $100 off the application processing fee. Some harbormasters have told us the BCDC forced them to spend over $100,000 in order to get liveaboard permits, so you can imagine how powerful that $100 incentive is.
As is the case with the state's energy crisis, there probably isn't any short term solution to the lack of berths in San Francisco Bay. But perhaps it's time for the BCDC to stop its ideological war against mariners, and provide citizens with the public access to the Bay they need and want.
---
Panama Bound

April 2 - Puerto Vallarta

The attractive folks you see here are the Wegesend family, which is comprised of David, Kim and 12-year-old Kanoa. Appearances can be deceiving, because the Hawaiian-looking Kim was raised in Southern California while the Californian-looking David was raised in Hawaii. Thanks to a medical disability that means David no longer has to fly 777s for American Airlines, they've been cruising full time as a family. In fact, Kanoa has gotten his schooling onboard from Kim.

Some folks say that it's too hot, humid and rainy to spend the summer in Puerto Vallarta. But the Wegesends disagree completely. "It's warmer and more humid here in the summer," they say, "but we absolutely love it. And it doesn't rain that often at all." Nonetheless, after four lovely years of cruising in Mexico, they're headed for Panama and the Caribbean.


Photo Latitude/Richard
---
Pacific Puddle Jump
April 2 - Nuevo Vallarta
While the Wegesends (see above) have left PV for Panama, several other cruisers have departed PV for the Marquesas. In a continuing series of profiles on the Pacific Puddle Jump class of 2001 we introduce you to a few of these passage-makers. We'll have more in tomorrow's 'Lectronic, and you'll find all of them in the pages of the April issue of Latitude 38, which came out on March 30.
Capricorn Cat - Custom 45-ft catamaran
Blair & Joan Grinols, Lakeport
When we first met Joan Grinols on the '96 Baja Ha-Ha she and husband Blair were taking their inaugural cruise on their custom-built cat, and she wasn't too sure about the idea of cruising full time. Now, five years and thousands of sea miles later, well . . . she's still not so sure about it.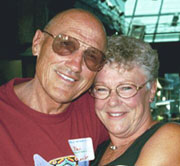 No matter. She and Blair have struck an admirable compromise. They'll keep crossing oceans together as long as she gets to come back home periodically for a "grandma fix." In her absence, Blair will tap into his sizeable crew pool - they have 17 grandchildren!
Within the Mexican cruising community, many consider Blair and Joan to be 'old pros' since they've cruised most of the Mexican coast, and have done two Ha-Has - between which, they sailed out to the Marquesas, up to Hawaii and back to the Bay Area. This time, Cap Cat will venture north of the 'milk run' route, instead visiting remote islands and atolls like Malden, Starbuck and Penrhyn before dropping down to Samoa and Tonga.
Blair has been studying charts of the South Pacific for years, and has evolved what we consider to be an excellent "three-season plan." Each time the cyclone season approaches, he'll simply go north across the Equator out of harm's way, then sail south again during the prime SoPac season. As a result, Cap Cat will call at island groups that few cruisers visit, like Tuvalu and the Marshalls. Will they eventually continue around the world? According to Joan, the jury is still out on that one.
Desperado - Baba 30
Cal Fitzgerald & Elly Benschap, Anchorage
What is it with these Alaskans and their 30-footers? They're making the rest of us feel like a bunch of softies.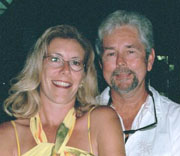 "Crazy" Cal says he's been thinking about cruising around the world ever since he first started sailing 30 years ago. And while he's just now setting off to cross his first ocean, his current travels began eight years ago. "I'm trying to set a new record for the slowest circumnavigation; I've been cruising for eight years and haven't even left Mexico yet!"
Perhaps his recent crew addition inspired him to look toward more distant horizons. The light of Cal's life is "Dutchess" Elly, a native of The Netherlands. They met while she was vacationing in Puerto Vallarta and after spending the summer together in the Sea of Cortez, the pair are ready to chase the setting sun across the Pacific. They haven't mapped out an exact itinerary, but as to areas they intend to avoid they list: "ex-husbands and wives, lawyers and bill collectors!"
Photos Latitude/Andy
---


YOTREPS
April 2 - The Pacific Ocean and Cyberspace
Who is out making passages in the Pacific and what kind of weather are they having? Check out YOTREPS - 'yacht reports' - at http://www.bitwrangler.com/yotreps/
---


Weather Updates
April 2 - Pacific Ocean
San Francisco Bay Weather
To see what the winds are like on the Bay and just outside the Gate right now, check out http://sfports.wr.usgs.gov/wind/.
California Coast Weather
Looking for current as well as recent wind and sea readings from 17 buoys and stations between Pt. Arena and the Mexican border? Here's the place - which has further links to weather buoys and stations all over the U.S.: www.ndbc.noaa.gov/stuff/southwest/swstmap.shtml.
Pacific Sea State
Seas are normal in the Pacific. But you might check out the Pacific Ocean sea states at: http://www.mpc.ncep.noaa.gov/RSSA/PacRegSSA.html.
For another view, see http://www.oceanweather.com/data/global.html.
---
at the Latitude 38
Crew List Party!
Thursday, April 5, at the Corinthian Yacht Club, 43 Main Street, Tiburon, 6-9 pm.
For complete details and a printable, downloadable flyer, see our Crew Party Web page.
---
Top
/ Index of Stories / Subscriptions / Classifieds / Home
©2001 Latitude 38 Publishing Co., Inc.