---
Classified Glitch

April 16 - Mill Valley

Important Notice: If you placed a classified ad through our Web site between Thursday, April 12, at 10 am and Friday, April 13, at 5 pm, it is likely that we did not receive your ad even if you received a confirmation. This glitch has been repaired. Please resubmit your ad before the deadline of Wednesday, April 18 at 5 pm. Your credit card will not be charged twice for the same ad. We apologize for this inconvenience.
---



Photos of the Day
April 16 - Newport Beach

Last Friday we were putting around Newport Harbor aboard Profligate, and came across an always welcome sight: the 72-foot Windward Passage. Designed by Alan Gurney - whose other hit is the Islander 36 - and built on a beach in the Caribbean way back in the '60s, Passage is a legendary yacht. It's been our good fortune to see her all over the place: San Francisco Bay, both as a ketch and later a sloop; Hawaii, for the TransPac finishes and Clipper/Kenwood Cups; and Antigua, where she was hanging out for Antigua Sailing Week on the hook just a boat length ahead of us on Big O. In recent years in particular, Passage seems to have been maintained in bristol condition, as befits such a yacht. Just seeing her brightened up our day.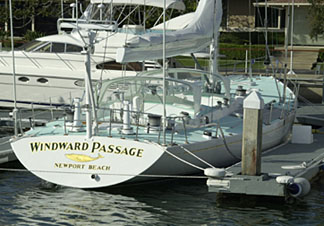 While down in the Newport area, we decided to take a stroll around Lido Isle. We've never seen housing so tightly jammed together - at least outside of Isla Vista. If you play your stereo a little loud or make love to your sweetie, we can imagine you'd get complaints from neighbors four houses down. At least Lido Isle doesn't have much graffitti, and what they do have is unusual. Walking down the street, we noticed that some person had carefully drawn arrows on the pavement in crayon. After hundreds of yards of it, it had the most unusual tag line - as seen in the accompanying photograph.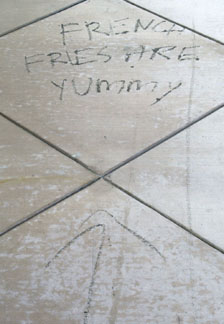 Our little time in Lido ended with a surprise: a woman calling out our name. "I'm Trish - remember, from Marilyn on the Ha-Ha a couple of years ago." There have been so many Ha-Ha boats, it took us a minute, but it soon came back.
Photos Latitude/Richard
---

Puddle Jump Report

April 16 - Mid-Pacific

Blair and Joan Grinols of the Vallejo-based 46-foot cat Capricorn Cat are part way into their Mexico to Marquesas crossing. Here's their latest report:

"Well, we had a couple of failures yesterday. First, the drive pins on the autopilot clutch sheared off. That wasn't too hard to fix. Luckily it was still daylight. Then about 2200 the spinnaker halyard let loose. Bad shit always happens at night, right? We had fun getting the chute back on the boat. This morning Joannie hauled me up the mast [editor's note: Blair is 68 years old] and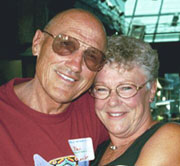 I jury-rigged a new halyard that will do till I can spend some time up there and thread in a new one where it belongs. If you want a tiring, hair-raising - if I still had some - thrill, try that at sea some time. We ran all night on the genoa led out to the cleat on the side of the boat. Still averaged about six knots, making 165 miles in 24 hours.
"We're now 950 miles out. It is still 100% clouds and cool. We have been on our way for seven days now. Stopped two days at the Revillagegedos. I stand watch most of the night. I snooze on the settee or on the floor in front of the radar, and set the kitchen alarm for every 30-45 minutes. Joan usually relieves me for about four hours so I can get some good uninterrupted sleep. Sometimes not so uninterrupted. Everytime the wind shifts, I have to get up and retrim. I take a long nap (or two) during the day. We haven't had to un-pickle the watermaker yet. We topped off with water before we left, and even after taking showers every other day, we've used only about 25 gallons. Joannie has not fallen in the shower yet. We have had to run the generator about one hour per day to keep up with the electrical demands. If we ever get some sunlight, the solar panels will cut that run time in half."
Photo Latitude/Andy
---
The Race Finally Ends

April 16 - Marseille, France

Brit Tony Bullimore and the catmaran Team Legato, ex-ENZA, arrived in Marseille on Sunday morning. She was the oldest boat in The Race and, in a time of 104 days and 20 hours, the last boat to finish. Actually, she was beyond the time limit to be an official finisher.


Team Legato crosses the finish line off Marseille
Photo by Barry Pickthall
---

Reports Of OneWorld's Demise

April 16 - Seattle

Madforsailing.com - one of the biggest sailing Web sites in the UK - is reporting that "it has now become clear that the project [Craig McCaw's OneWorld America's Cup effort for the Seattle YC] is close to foundering." McCaw, like a lot of Americans, has seen his telecommunications-based wealth plummet in the last year. Last week, OneWorld announced that they were looking for private and corporate partners to help out with their effort. Some reports say they are looking for $20 million.

Madforsailing.com may be right that "it does now appear that there is a very strong chance that the project will fold", but based on the evidence they've provided so far, it seems they might be jumping to conclusions. If, however, the syndicate does fold, there will be some interesting implications. OneWorld signed contracts with a number of foreigners, including Kiwis, at very high salaries. Thanks to residency requirements, these folks won't be able to sail for any other foreign teams, and in the case of the Kiwis, it's unlikely they'll be welcomed back with open arms.



---



Easter at Avalon

April 16 - Santa Catalina Island

While most religious folks went to the sunrise service in the hills above Avalon, not everyone did. Check out this Railingist, prostrating himself before the green railing that lines the Avalon waterfront. As best we can figure, Railingists believe railings provide guidance through a sometimes otherwise confusing existence.

After the various services, this is what the Avalon anchorage looked liked. Crowded and peaceful. On the main street, Avaloners Arnie and Sussana Gonzalez had already been up for hours, Easter Bunny ears on, passing out little chocolate eggs and such to everyone they met. They've been doing this for decades. Good on them!


Photos Latitude/Richard



---


YOTREPS
April 16 - The Pacific Ocean and Cyberspace
Who is out making passages in the Pacific and what kind of weather are they having? Check out YOTREPS - 'yacht reports' - at http://www.bitwrangler.com/yotreps/
---


Weather Updates
April 16 - Pacific Ocean
San Francisco Bay Weather
To see what the winds are like on the Bay and just outside the Gate right now, check out http://sfports.wr.usgs.gov/wind/.
California Coast Weather
Looking for current as well as recent wind and sea readings from 17 buoys and stations between Pt. Arena and the Mexican border? Here's the place - which has further links to weather buoys and stations all over the U.S.: www.ndbc.noaa.gov/stuff/southwest/swstmap.shtml.
Pacific Sea State
Seas are normal in the Pacific. But you might check out the Pacific Ocean sea states at: http://www.mpc.ncep.noaa.gov/RSSA/PacRegSSA.html.
For another view, see http://www.oceanweather.com/data/global.html.
---
Top
/ Index of Stories / Subscriptions / Classifieds / Home
©2001 Latitude 38 Publishing Co., Inc.