---

Photos of the Day
Labor Day Weekend Wandering
September 6 - San Francisco Bay

It was raining lightly on Saturday, the start of the three-day Labor Day Weekend, and the National Weather Service was forecasting several days of unusually cool weather for Northern California. If the last few days have been 'unusually cool', let's have it that way all year 'round for the holiday weekend featured almost ideal sailing conditions.

On Saturday, the Wanderer and Dona de Mallorca planned to sail under the Gate, then head up the Bay for an overnight at Vallejo. Despite a heavy flood at the north tower, we used the 10 knots or so of wind to battle our way out to Point Bonita where a whale was playing with some folks on a sailboat. It was so beautiful out there - five knots of wind and pancake flat seas - that we decided to pass on Vallejo and work north along the coast: Cronkite Beach, Tennessee Valley, Muir Beach, Steep Ravine, and finally Stinson Beach. It was the first time we ever made that sail while literally roasting in the cockpit and not seeing a cloud or trace of fog. Despite the continued light conditions, we were able to sail back to Sausalito before dark without having to resort to the engine.

If Saturday was a perfect day on the ocean, Sunday was a perfect day on the Bay. We left Sausalito about noon and crossed the Bay to find ourselves in the midst of the NOOD regatta. If there was a prettier racing sight than the Farr 40 lead fleet charging from Alcatraz to the City Front, we can't remember it: blue sky, white clouds, and scores of perfectly trimmed boats racing almost in unison. Our sail up the North Bay was pretty light, but very warm. As we got to San Pablo Bay, the wind died, so we started to bail on Vallejo for a second day in a row. But after nearly sailing back to the Richmond Bridge, we noticed the wind had filled in, so we reversed course a second time, and enjoyed a light air but tide-aided sail up to Vallejo. If you're looking for a fall destination, Vallejo is great, and the new marina - with great berths and nice facilities - has plenty of room.

After two perfect days of sailing, we expected the weather tide to turn, but it didn't. Monday was another light air beauty. It was tough sailing up San Pablo Bay into an increasing flood with only five to eight knots of wind, but that just made the warm afternoon last even longer. Once past the Richmond Bridge, the wind picked up to our weekend high of about 15 knots behind Angel Island, and boats everywhere were kicking up their heels in what continued to be - sorry, weather service - unusually warm conditions. We hope your sailing weekend was every bit as good as ours.


Photos Latitude/Richard
---

Wooden Boat Freaks
September 6 - Port Townsend, WA

| | | |
| --- | --- | --- |
| | If you're a wood boat freak, you can't miss this weekend's Wooden Boat Festival 2000, another name for the 24th Annual Wooden Boat Festival in Port Townsend, Washington. From 9 to 6 on Friday and Saturday, and 9 to 5 on Sunday, more than 150 wooden boats will be on display with more out on the hook. In addition, there will be demonstrations and seminars. Friday is the small boat - under 26 feet - regatta, Saturday is the Northwest Schooner Race, and Sunday is the everybody-join-in Sail By. Larry and Lyn Pardey, those noted wooden boat cruisers, will be offering a 'Wooden Boats, a Reason to Go Cruising' slide show. That's an extra $30, and reservations are recommended. For details, visit www.woodenboat.org/festival. | |
Photos Courtesy Wood Boat Festival
---

Weather Updates
September 6 - Pacific Ocean
Tropical Weather
Mexico has produced yet another Tropical Storm, Lane, that's expected to develop into a full blown hurricane within a day or so. Fortunately, like all the others this busy year, it started offshore and is continuing that way.
San Francisco Bay Weather
To see what the winds are like on the Bay right now, check out http://sfports.wr.usgs.gov/wind/. It's a great time of year to be sailing the Bay.
California Coast Weather
Looking for current as well as recent wind and sea readings from 17 buoys and stations between Pt. Arena and the Mexican border? Here's the place - which has further links to weather buoys and stations all over the U.S.
www.ndbc.noaa.gov/stuff/southwest/swstmap.shtml
Pacific Ocean Weather
Click here to see today's weather map from the University of Hawaii Meteorology Department.
Pacific Sea State
Seas are normal in the Pacific. But you might check at:
http://www.mpc.ncep.noaa.gov/RSSA/PacRegSSA.html.
For another view, see http://www.oceanweather.com/data/global.html.
---

Cruising
YOTREPS
September 6 - The Pacific Ocean and Cyberspace
Who is out making passages in the Pacific and what kind of weather are they having? Check out YOTREPS - 'yacht reports' - at http://www.bitwrangler.com/yotreps/
---


Racing
Maxi Yacht Rolex Cup
September 6 - Sardinia, Italy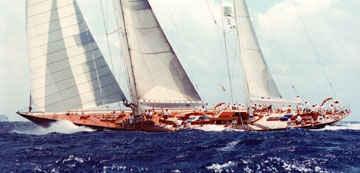 Alejandra
Photo Tim Wright
America's Cup Kiwis Go Foreign
September 6 - Auckland, NZ
After the Kiwis successfully defended the America's Cup in New Zealand earlier this year, you'd have thought Kiwi sailors were head and shoulders above those from other countries. As a result, many high-rolling foreign syndicates whipped out the checkbooks and started signing Kiwi vets on for big bucks. If that wasn't enough to piss off the average Kiwi, the unthinkable has now happened: The Kiwi defense has gone foreign to sign up a back-up skipper to Dean Barker. That's right, Frenchman Bertrand Pace - who skippered France's Le Defi with mediocre results in the last America's Cup - has signed on the Kiwi dotted line. While the French have never done well in the America's Cup, Pace is top-rated match race skipper in the world.
Top
/ Index of Stories / Subscriptions / Classifieds / Home
©2000 Latitude 38 Publishing Co., Inc.