---

Photo of the Day
Hard Aground at 16 Knots
September 5 - Sacramento Delta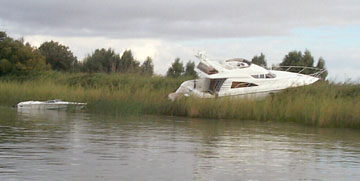 It's been a busy 12 months for Terry Bingham of the Union 36, 'Secret o' Life'. He did the last Ha-Ha, spent the winter in Mexico, singlehanded 2,800 miles to Hilo, gave away his youngest daughter at a beautiful wedding ceremony on Kauai, then singlehanded 2,750 miles back to San Francisco. But it wasn't until he got back to the Delta that he saw and heard perhaps the most amazing thing of all:

"After anchoring in a quiet spot across New York Slough from the steel mill, and enjoying a leisurely dinner, the VHF came alive shortly after dark with 'Coast Guard, Coast Guard, I'm a 48' motor vessel hard aground in the channel near Pittsburgh. Something went wrong with the chart plotter and we've run aground.' As best as I can recall, the conversation continued:

CG - "How many people on board?"
M/V- "Two adults and five children."
CG - "Is everyone OK? Any medical issues?"
M/V- "No injuries - everyone is safe."
CG - "At this time please have everyone put on life jackets."
M/V- "Right. As I said, we're hard aground. We're up out of the water and I don't know what damage there is, but the boat's not moving."
CG - "Are you a member of Vessel Assist?"
M/V- "Yes, but I don't think they can help. We were doing 16 kts when we hit. We hit pretty hard and we're about 20 feet out of the water. We were towing an 18' Donzi ski boat and I think I can get it operating and get everyone off OK."
CG - "Would you like us to call Vessel Assist for you?"
M/V- "Sure, yes, but I think they'll need a crane or something to get me back in the water."
CG - "Do you have a cell phone sir? Can you call our landline?"
M/V- "Yes, I'll call."

"That was the extent of what I heard. When I hauled anchor in the morning and started out, no less than 200 yards from where I had been was the M/V on shore. Listening to the coms and then viewing the scene was certainly the most memorable event of my Delta trip!

"I'm on my way back to San Diego and then Mexico for at least another 18 months."

Photo Terry Bingham
---

Weather Updates
September 5 - Pacific and Atlantic Oceans
Tropical Weather
It's all quiet in the Atlantic-Caribbean, so you have to begin to wonder if the experts' predictions of a heavy hurricane season were a bust. Let's hope so. There's a small depression moving west well off the coast of Mexico, so the Northeast Pacific is cool, too.
San Francisco Bay Weather
To see what the winds are like on the Bay right now, check out http://sfports.wr.usgs.gov/wind/. It's a great time of year to be sailing the Bay.
California Coast Weather
Looking for current as well as recent wind and sea readings from 17 buoys and stations between Pt. Arena and the Mexican border? Here's the place - which has further links to weather buoys and stations all over the U.S.
www.ndbc.noaa.gov/stuff/southwest/swstmap.shtml
Pacific Ocean Weather
Click here to see today's weather map from the University of Hawaii Meteorology Department.
Pacific Sea State
Seas are normal in the Pacific. But you might check at:
http://www.mpc.ncep.noaa.gov/RSSA/PacRegSSA.html.
For another view, see http://www.oceanweather.com/data/global.html.
---
Cruising

Mighty Fine Time in Italy

September 5 - Positano, Italy

Now that August is over and all the Europeans have gone back to work, it's the perfect time to cruise the northwest coast of Italy: Genoa, Portofino, the nearby island of Elba, Fiumicino (near Rome), Naples, Capri and the Amalphi Coast. The accompanying photo looks down on the cute little tourist town of Positano, just a little southeast of Naples and Capri. It's mighty fine.


Photo Latitude/Richard
YOTREPS
September 5 - The Pacific Ocean and Cyberspace
Who is out making passages in the Pacific and what kind of weather are they having? Check out YOTREPS - 'yacht reports' - at http://www.bitwrangler.com/yotreps/
---


Racing
The Wrath of Kahn
September 5 - Silicon Valley
He's big, literally and figuratively. Since rediscovering yacht racing a few years ago, Silicon Valley software magnate Philippe Kahn has been popping up everywhere. He owns more boats (about ten sailboats and a few powerboats) and races more than anyone we know, and also practices almost every day on his fleet of Mumm 30s (his current "favorite boats," Kahn keeps a pair in Santa Cruz and one in Hawaii). After rattling off two deuces in back-to-back major events (Pac Cup on his Andrews 70+ 'Pegasus', and Kenwood Cup on his Farr 40 'Orion'), and then an overall bullet in the local Day on Monterey Bay on one of the Mumm 30s, you'd think Kahn might be ready to take a little time off. But, no!

Over Labor Day Weekend, he executed a brilliant new twist on the 'Iron Man Challenge', raising the bar forever. On Friday, he raced his BOC 50 'Pegasus' (ex-'Balance Bar') in the windless Windjammers, pulling into Santa Cruz at 7:45 a.m. Saturday. Kahn and his five-man crew were first in (only 11 other boats in the 48-boat fleet finished), and fourth overall. (The SC 50 'Roller Coaster' won; see www.yra.org for results.) Then, after a speedy car ride up to StFYC, it was on to the NOOD Regatta aboard his Farr 40 'Orion'. When the smoke cleared on Sunday afternoon, Kahn was second in the 14-boat field, a great showing in this brutally competitive fleet. (The 'Two JKs' - John Kilroy and John Kostecki - sailed Kilroy's 'Samba Pa Ti' to an amazing string of four bullets. Check out www.sailingworld.com for full NOOD results.)

While most sailors spent Monday recovering, Kahn and Morgan Larson (who accompanied Philippe throughout his marathon weekend) jetted over to Maui to sail his big boat, 'Pegasus', in the annual downwind sprint race from Lahaina back to Honolulu. We haven't seen the results of that charge down the Molokai Channel yet, but hopes were high for breaking the record. . . Anyway, our hat is off to Philippe, who has taken the West Coast sailing scene by storm this summer. We hope to profile him in more depth in the print version of the magazine someday, but for now, he's too busy traveling and sailing. "I'm not doing this for the press," claimed Kahn at the NOOD. "I'm just in it to learn to be a better sailor."
| | |
| --- | --- |
| Two of Kahn's galaxy of boats: 'Orion' at the Kenwood Cup... | and 'Pegasus' at the start of the Pacific Cup |
Photos Latitude/Rob
Coming up later this week in 'Lectronic Latitude, we'll have more reports on Labor Day Weekend sailing, including photos from the Jazz Cup.
Grand Prix Circuit
September 5 - Europe
Theo Kinsbergen's Swan 68 'Defiance' just won the 100-boat Swan Cup 2000 in Porto Cervo with five wins in six races (see www.swancup.com). Novato rockstar Dee Smith, who was 'Defiance's tactician, flew to Sweden after the regatta - apparently both he and Mark Rudiger are perilously close to signing up with the Assa Abloy Volvo Race team. . . .Italian sailor Giorgio Zuccoli won the Melges 24 Worlds at La Rochelle, France, over a 127-boat fleet. Brian Porter was second, as well as the top U.S. sailor (see www.srr-sailing.com) . . ."Over 200 million dollars worth of yachts" - including Roy Disney's 'Pyewacket' - are currently gathered in Porto Cervo for the Maxi Yacht Rolex Cup 2000. Despite all the assembled talent, the first day of racing had to be called off in the face of winds up to 40 knots.
Top
/ Index of Stories / Subscriptions / Classifieds / Home
©2000 Latitude 38 Publishing Co., Inc.