---
Photos of the Day
If You Have to Ask How Much...
September 29 - Richardson Bay
A couple of days ago, we did a short feature on 'Slingshot', a San Francisco-based Wally 67 big boat that didn't participate in the St. Francis YC Big Boat Series. But there was another big sailing yacht on the Bay at the same time, the ketch 'Charlatan', which is seen at anchor off Sausalito in the two accompanying photographs.
| | |
| --- | --- |
| | Photos Latitude/Richard |

'Charlatan' is a 110-footer designed by Ron Holland of Ireland and built by Alloy Yachts of New Zealand. She replaced the English owner's previous boat, 'Catalyst', a Holland designed 92-footer. 'Charlatan' is set up for just six guests and four crew, and the 120-ton high performance cruiser is available for charter. But if you have to ask how much, it's too expensive. After all, you don't build boats like 'Charlatan' on the cheap. For example, in order to get the interior right, a full-scale 80 by 40-foot mock-up was built in England so the interior decorator and owner would know exactly what kind of space they would be working with - without having to commute to New Zealand. If we had to guess, we'd say the boat came in at about $12,674,492.00 - not including any original artwork, which could have bumped the price by any number of millions.

Ron Holland is no stranger to middle-aged sailors in Northern California - such as Skip Allan, Dave Wahle, Tom Wylie and scores more. For in the '70s, he raced all over the globe with Dave Allen's Belvedere-based, Gary Mull designed 42-foot 'Improbable'. A few years later, Holland got a huge break when Allen selected him to design a new 40-footer that would be called 'Imp'. The boat, which had a weird aluminum interior superstructure, kicked ass so thoroughly at Admiral's Cups in England and at the then very important SORCs in Florida, that it became a legend. 'Imp' put Holland on the map in the way 'Dorade' did Sparkman & Stephens.

Before long, Holland moved to Cork, Ireland, and established a design business. It's been going great guns ever since. In addition to having designed many cruising yachts over 100 feet, he designed the just launched Super Maxi 100, which is supposed to provide one-design racing as enjoyed by the giant J boats - but employing modern design and materials.

Ron Holland, temporary local boy who made it big designing big boats.
---

Weather Updates
September 29 - Pacific and Atlantic Oceans
Tropical Weather
There's wild weather in the Atlantic/Caribbean. Hurricane Isaac is currently blowing at 120 knots, which is category 5, about as high as the scale goes. Fortunately, it made a big turn to the north in the last two days, so it's paralleling the East Coast of the United States a comfortable 1,200 offshore. It's even going to pass to the east of Bermuda.

Posing a much more serious threat is Hurricane Joyce, which is currently blowing at 80 knots about 750 miles due east of Trinidad - which is never supposed to get any hurricanes. Computer models suggest that Joyce will actually curve north of Trinidad and head right up through the chain of islands in the Eastern Caribbean. It wouldn't be the end of the world if it only blew at 80 knots, but it could build. Joyce is a wild card for the entire Antilles right now, so smart folks are preparing for the worst and hoping for the best.

As if that weren't enough, Tropical Depression #15 is working its way north between the Mexico's Yucatan Peninsula and the west end of Cuba toward the Gulf of Mexico. TD15 is expected to reach hurricane strength within 72 hours, and therefore is of concern for everyone between Key West, Florida, and Texas. For more on the Atlantic hurricane season, go to http://weather.unisys.com/hurricane/atlantic/2000/index.html.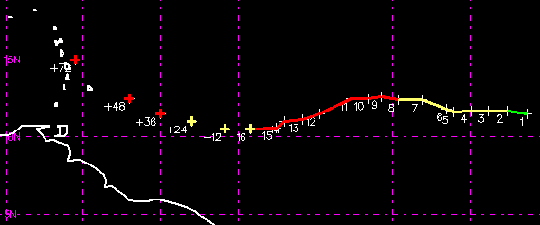 Hurricane Joyce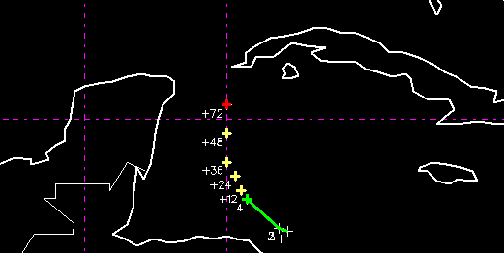 Tropical Depression #15
Unisys Weather Graphics


While this is the peak season for tropical storms in the Atlantic/Caribbean, it usually begins to wind down in Mexico. There is currently no tropical activity off Mexico.
San Francisco Bay Weather
To see what the winds are like on the Bay right now, check out http://sfports.wr.usgs.gov/wind/. It looks as though it will be a great weekend for sailing on San Francisco Bay.
California Coast Weather
Looking for current as well as recent wind and sea readings from 17 buoys and stations between Pt. Arena and the Mexican border? Here's the place - which has further links to weather buoys and stations all over the U.S.: www.ndbc.noaa.gov/stuff/southwest/swstmap.shtml.
Pacific Ocean Weather
You can view the new University of Hawaii Department of Meteorology satellite picture by clicking here.
Pacific Sea State
Check out today's sea state at: http://www.mpc.ncep.noaa.gov/RSSA/PacRegSSA.html.
For another view, see http://www.oceanweather.com/data/global.html.
---


Cruising
La Paz Ha-Ha to Follow Baja Ha-Ha
September 29 - La Paz, BCS
For the last couple of months, it's been unsure whether there would be another La Paz Ha-Ha after the Baja Ha-Ha to take the fleet up to the Sea of Cortez. It's been done for the last several years, but the main sponsor said their marina was too full so they weren't going to bother.

So Ed Vergara, formerly of Marina Palmira and most recently of the not-yet-completed Marina Santa Cruz stepped up. "I'll be at the kick-off party at the Cabrillo Isle Marina in San Diego on the 31st to let everyone know the details, and I'll be in Cabo again at the beach and awards parties to confirm the details and prizes and such. I want to invite all cruisers up on behalf of all the marine business in La Paz. While my Marina Santa Cruz is not yet complete, I will be offering piling and mooring tie-ups as well as spots in the marina area to anchor. These will come with free use of the dinghy docks, water, bathrooms, swimming pool, free incoming faxes and all kinds of other stuff. When people go out to the islands and vacate a space, I'll give them credit for when they come back.

"I want everyone to have a great time in La Paz, so we'll be doing Temporary Import Permits for free, as well as helping everybody find any goods or services they need. As for the La Paz Ha-Ha party, participants pay for the beer; the food and prizes are on me. If anyone has any questions, they can email me at [email protected]."

We'll be posting photos of Vergara and the facility he runs in about a week.
YOTREPS
September 29 - The Pacific Ocean and Cyberspace
Who is out making passages in the Pacific and what kind of weather are they having? Check out YOTREPS - 'yacht reports' - at http://www.bitwrangler.com/yotreps/
---

Racing
Sexual Satisfaction or Latitude 38?
September 29 - Pacific Ocean
It's possible to race on all different levels. When the sled guys do a TransPac, they trim the sheets on every wave to get a little extra oomph. But in the West Marine Pacific Cup, not everyone competes with the same intensity. To prove the point, Lucie van Breen sent us the accompanying photograph - and explanation:

"When I sailed aboard 'Omega 1', the owner, Dr. Don van Dyken of Reno, brought along plenty of 'work' to review. In this photo, you can see him appear to be reading Rachel P. Maines' 'The Technology of Orgasm', which is subtitled 'Hysteria, the Vibrator, and Women's Sexual Satisfaction'. But if you look carefully, he is actually reading the then most current issue of 'Latitude'."

We at 'Latitude' are both pleased and concerned. We're delighted that the good doctor enjoys 'Latitude', of course, but we hope we didn't make the issue so interesting that some of his women patients are wandering around inorgasmic.


Intense Racing in the Pacific Cup
Photo Courtesy Lucie van Breen
---
Top
/ Index of Stories / Subscriptions / Classifieds / Home
©2000 Latitude 38 Publishing Co., Inc.