---
Photos of the Day
The Kids Are Alright
September 11 - San Francisco Bay

One of the most enjoyable things to do with a boat is take folks who normally don't get a chance out for a sail on the Bay. The Wanderer has taken hundreds out this summer for trips aboard 'Latitude's catamaran 'Profligate'. Of all the folks, the Wanderer likes the kids the best, no matter if they're the rambunctious 'at risk' kids from the Mission, or slightly older kids who look like they're heading toward successful careers.

The folks in the above photo - from left, Chad Gallinat, Michael Larsuel, Jason Vargo, Marianne Pierce and Hilary Spindler - are all in the latter category. The last-sail-of-the-summer outing was organized by Hilary, the Wanderer's niece, who is seen in the second photo at right looking forward to returning to her studies. A few years ago lots of Baby Boomers were whining that today's kids were nothing but a bunch of slackers. We never thought that was true, and based on what the kids in the photos are doing right now, we think it's less true than ever. Hilary, for example, is going to be a Senior in Anthropology at Michigan; Chad is a material science engineer doing his PhD work at UCSB; Michael is a Sports Management major at Michigan; Jason is a Chemical Engineering major at Michigan; and Marianne is a Biology major at Oregon.


Photos Latitude/Richard
---

Cowabunga California ­ Surf's Coming Up!
September 11 - Pacific Ocean
Tropical Weather
As expected, Tropical Storm Lane off the coast of Mexico developed into a minimum-strength hurricane. Fortunately, it veered to the west and will miss Cabo, but current projections suggest that it will parallel the Baja coast before dissipating mid-week off the coast of Southern California. So if you're on your boat, don't be surprised by long, gentle ocean swells, and if you surf, it's time to wax up from Santa Cruz to the Cape.

All remains quiet in the Atlantic/Caribbean.
San Francisco Bay Weather
To see what the winds are like on the Bay right now, check out http://sfports.wr.usgs.gov/wind/. From our office, it looks like it's going to be a great week for sailing - it was great out there yesterday.
California Coast Weather
Looking for current as well as recent wind and sea readings from 17 buoys and stations between Pt. Arena and the Mexican border? Here's the place - which has further links to weather buoys and stations all over the U.S.
www.ndbc.noaa.gov/stuff/southwest/swstmap.shtml
Pacific Ocean Weather
Click here to see today's weather map from the University of Hawaii Meteorology Department.
Pacific Sea State
Seas are normal in the Pacific. But you might check at:
http://www.mpc.ncep.noaa.gov/RSSA/PacRegSSA.html.
For another view, see http://www.oceanweather.com/data/global.html.
---

Cruising
Cruisers Get Thirsty
September 11 - Santa Rosalia, Mexico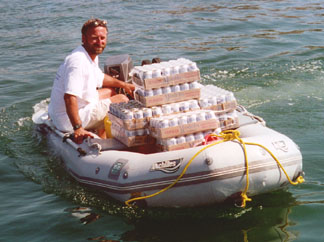 When it's summer in the Sea of Cortez, it's sizzling hot and cruisers get thirsty. That's why John Vermette of 'U Betcha' can be seen in this photo trying to navigate a dinghy that's close to swamping from its cargo of Modelo Beer. This all happened when John and his wife Stephanie were provisioning at Santa Rosalia for a couple of months in the northern Sea of Cortez. The photo was taken "by friends".
Serious Competition at Fiji Regatta Week
September 11 - Malololailai, Fiji
There's a break in the action at Fiji Regatta Week at the Musket Cove YC in Malololailai, Fiji. During today's layday the beach competition will consist of the always popular and politically incorrect hairy chest and wet t-shirt competitions. For more info, visit www.musketcovefiji.com/marina.html.
YOTREPS
September 11 - The Pacific Ocean and Cyberspace
Who is out making passages in the Pacific and what kind of weather are they having? Check out YOTREPS - 'yacht reports' - at http://www.bitwrangler.com/yotreps/
---


Racing
Maxi Yacht Rolex Cup
September 11 - Sardinia, Italy
The Web reports on last week's Rolex Maxi Cup competition in Sardinia was so thoroughly incompetent that we're going to wait until Wednesday to give a report from participants. Meanwhile, enjoy the action photographs that were as good as the written reports were bad.

Photos Carlo Borlenghi
Top
/ Index of Stories / Subscriptions / Classifieds / Home
©2000 Latitude 38 Publishing Co., Inc.