---

Photo of the Day
Here to Pose for Pictures and Sail Some Boats
September 1 - Sardinia, Italy

They're having the Nautor Swan Cup over at the exclusive Porto Cervo Yacht Club in Sardinia, Italy, and the rich and famous are out in force. Since we don't know the folks on the left of the photo, we're going to assume they're just rich. The two folks on the right, Claudia Schiffer, noted supermodel direct from Paris, Milan and other runways, and Paul Cayard, direct from the America's Cup and other racing venues, are famous. Come to think of it, they're probably relatively rich, too. The most interesting aspect of the photo is the body language between Cayard, a noted family man from Marin County, and Schiffer. "We're happy to be here and pose for some pictures," their bodies seem to be saying, "but we sure aren't playing footsie."

For great on the water Swan Cup action, see below.


Photo Courtesy Nautor's Swan Cup
---

Cal Weekend on Catalina

September 1 - Catalina Island

"During the weekend of August 12 and 13, no fewer than 15 venerable Cal 40s were identified from the Isthmus to Emerald Bay on Catalina Island," reports Wendy Siegel of 'Willow Wind'. "Unfortunately, only nine made it to the raft-up on the morning of the 13th. As we tramped from boat to boat, over lifelines and ducking canopies, we viewed improvements and changes made to the interiors and deck layouts of the various vessels. The most astonishing boat, however, was 'Emily Ann'. She was in the exact same condition as when she was launched. An original brochure was on her salon table showing the original layout and interior, and the advertising claim was made that if someone wanted to buy and race a Cal 40, they would just have to put up with the 'deluxe interior'. The retail price at the time - the late '60s - was about $28,000. Many of us wished we had the layout of another boat, discussed engines, lamented over the fragile v-drive, compared sailing history - and found out that Cindy and Jack Buffa are the only original Cal 40 owners. One thing we all have in common is that we love our boats."

For those who came to sailing after the '70s, the Cal 40 was a design that turned West Coast sailing on its ear. It's probably among the five most influential American boat designs.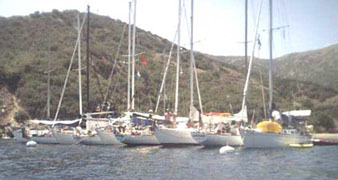 Cal 40s rafted up at Catalina Island last month.
Photo Courtesy Wendy Siegel
---

Weather Updates
September 1 - Pacific and Atlantic Oceans
Tropical Weather
It's relatively calm in the Eastern Pacific, although Tropical Storm John and No Name, both with winds under 30 knots, are making their way toward the Hawaiian Islands. Since they are passing over warmer water, the chances of them developing into worse storms is relatively slight. In the Atlantic/Caribbean, all is calm.
San Francisco Bay Weather
To see what the winds are like on the Bay right now, check out http://sfports.wr.usgs.gov/wind/.
California Coast Weather
Looking for current as well as recent wind and sea readings from 17 buoys and stations between Pt. Arena and the Mexican border? Here's the place - which has further links to weather buoys and stations all over the U.S.
www.ndbc.noaa.gov/stuff/southwest/swstmap.shtml
Pacific Ocean Weather
Click here to see today's weather map from the University of Hawaii Meteorology Department.
Pacific Sea State
Seas are normal in the Pacific. But you might check at:
http://www.mpc.ncep.noaa.gov/RSSA/PacRegSSA.html.
For another view, see http://www.oceanweather.com/data/global.html.
---

Cruising
Never to Be Seen Again
September 1 - West End, Bahamas
| | |
| --- | --- |
| Remember Jared DeWitt's photo of a wrecked boat earlier this week? Here's the story: "I was en route from the west coast of Florida to the Abacos on my sailboat when I came across this boat [it looks like it might be a Pearson 424 or a Peterson 44] on the rocks just north of West End, Bahamas. According to the locals, a week before I arrived a couple had tried to cut across during a storm and ended up on the rocks. The locals said the wife made her husband leave the boat with everything still aboard and get in a taxi to the airport. They were never seen again. I believe the story because most of their personal items were still in the boat as I sat there." | Photo Courtesy Jared DeWitt |
YOTREPS
September 1 - The Pacific Ocean and Cyberspace
Who is out making passages in the Pacific and what kind of weather are they having? Check out YOTREPS - 'yacht reports' - at http://www.bitwrangler.com/yotreps/
---


Racing
Swan Cup
September 1 - Sardinia, Italy
Every second year in late August at Porto Cervo on Sardinia's Costa Smeralda, the owners of 'the world's most versatile racer-cruisers' gather for their flagship event, the Swan Cup. This year, thanks to a booming world economy, there are a record 99 entries between 39 and 86 feet. Although they've come from around the world, 19 of them are from the UK, 18 from Italy, and 15 from France. Many of the boats are being driven by the top helmsmen in the world.


Photos Carlo Borlenghi

After four of the five races, the Swan 68 'Defiance', with Dee Smith of Northern California showing the way, had a comfortable grip on first place. It wasn't easy, however, as Le Mistral was blowing, bringing 27 to 40 true knots of wind, and more was expected for tomorrow's finale. For details, visit www.swancup.com.
To check out more excellent photography from Borlenghi and others, see www.seaway.it/seasee.
Weekend Preview
September 1 - The Greater San Francisco Bay Area
| | |
| --- | --- |
| The busiest weekend of the busiest month for sailing on the Bay kicks off today with the first of the Big Three: the Windjammers Race. A small fleet of about 47 boats started in seven classes this morning at 11 headed for Santa Cruz in about five knots of wind against a light flood and light drizzle. The low turnout probably has to do with last year's debacle, when only seven of the 67 entries finished due to a wind drought... Next up is the Jazz Cup, which begins off Treasure Island tomorrow at 10 a.m. So far, about 140 boats have signed up for this mellow 25-mile run up to Benicia... The third regatta, the NOOD, will take place on Saturday and Sunday. So far, 106 boats are signed up in eight one design classes (Farr 40, 1D-35, 11:Metre, J/105, Antrim 27, Express 27, Melges 24 and J/24). Racing begins at 11 a.m. off the face of Alcatraz... Anyone who sails in all three regattas wins the coveted 'Iron Man' award, an honor just a shade under Rolex Yachtsman of the Year. Be sure to smile and wave if you see our photoboat! | Something for everyone: NOOD for hardcore one-design... |
| Windjammers for ocean buffs... | and Jazz Cup for the PHRF masses. |
Photos Latitude/Rob
Top
/ Index of Stories / Subscriptions / Classifieds / Home
©2000 Latitude 38 Publishing Co., Inc.