Photo of the Day
At Low Low Tide

October 27 - San Francisco Bay

As everyone is surely aware, the new cranes for the Port of Oakland passed beneath - just barely - the Bay Bridge the other night. This had been delayed, you may remember, so the ship could dash south of Point Conception to avoid the high winds we had last weekend. Just one question: How can such an enormously top-heavy vessel keep from rolling over? We'll take our answer on the air.


Photo Todd Hansen
---


Weather Updates
October 27 - Pacific and Atlantic Oceans
Tropical Weather
Tropical Storm Michael continues to roll with 35 knot winds some 1,500 miles from the start of next Tuesday's Baja Ha-Ha. Fortunately, Michael is headed away from the Ha-Ha path and is expected to fizzle. You can check on the Mexico hurricane region at http://weather.unisys.com/hurricane/e_pacific/2000/index.html.

It continues to be calm in the Atlantic/Caribbean.
San Francisco Bay Weather
To see what the winds are like on the Bay and just outside the Gate right now, check out http://sfports.wr.usgs.gov/wind/.
California Coast Weather
Looking for current as well as recent wind and sea readings from 17 buoys and stations between Pt. Arena and the Mexican border? Here's the place - which has further links to weather buoys and stations all over the U.S.: www.ndbc.noaa.gov/stuff/southwest/swstmap.shtml. Also check out http://facs.scripps.edu/surf/buoylist.html (but note that the Java Applet is still not working with some browsers on Macs - including your Webmistress's Netscape Communicator!)
Pacific Ocean Weather
You can view the University of Hawaii Department of Meteorology satellite picture by clicking here.
Pacific Sea State
Seas are normal in the Pacific, but you might check at: http://www.mpc.ncep.noaa.gov/RSSA/PacRegSSA.html.
For another view, see http://www.oceanweather.com/data/global.html.
---


Cruising
Riding the Rays at Isla Socorro
October 27 - Revillagigedo Islands, Mexico

Tom Lyon of Dallas usually takes photographs of the start of the Ha-Ha from a helicopter. Which he'll do again on Tuesday. But when he's aboard his Cal 34 out at Mexico's Isla Socorro, he takes photos of folks riding on the huge manta rays. Fantastic, no?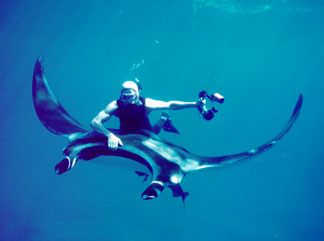 Photo Tom Lyon
Several readers have recently inquired about where to apply for permits to visit Socorro and the other Revillagigedo Islands 250 miles to the southwest of Cabo. Does anyone have that information? If so, email Richard.
Cruisin' for a Bruisin'
October 27 - Baja Ha-Ha Health Central
Cruisin' for a bruisin'? We hope not. But if you haven't been on the ocean in awhile and are about to do the Ha-Ha, take care to get your sea legs. Last year this fellow didn't - and it was hematoma city.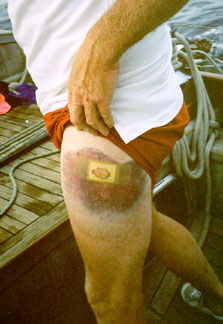 Photo Courtesy 'Moonduster'
Baja Ha-Ha Coverage
October 27 - Baja Ha-Ha Web Design Bureau
In anticipation of the start of the Baja Ha-Ha on Tuesday, we will not have a 'Lectronic Latitude on Monday and possibly Tuesday. However we plan to bring you coverage of the rally in progress once it has started, so check back on Wednesday! (To get your fix in the meantime, peruse our archives.) Baja Ha-Ha coverage will be brought to you (literally!) by Qualcomm/Globalstar.
YOTREPS
October 27 - The Pacific Ocean and Cyberspace
Who is out making passages in the Pacific and what kind of weather are they having? Check out YOTREPS - 'yacht reports' - at http://www.bitwrangler.com/yotreps/
---


Racing
Vallejo 1-2
October 27 - San Pablo Bay
There was an interesting race within a race during last weekend's Vallejo 1-2 sponsored by the Singlehanded Sailing Society. The idea of the 1-2 is that a boat is singlehanded from off Richmond to Vallejo on Saturday, everybody parties hardy that night, and the next day the entrants either singlehand or doublehand back to San Francisco Bay. It's a great event and only a broken ankle kept the Wanderer out this year.

In any event, Bruce Schwab of Alameda, who hopes to race singlehanded around the world before long, and Brad Van Liew of Southern California, who was the only American to finish the last singlehanded around alone race, thought it would be fun if they sailed against each other in the 1-2 using borrowed Wyliecat 30s. Tim Danford with 'Polecat' and Dan Mills with 'Katzenjammer' were gracious enough to loan their boats so Brad and Bruce could go head to head.

The start was rough. Bruce reports that a Moore 24 on a port tack ended up T-boning his borrowed Wyliecat. Bruce wanted to bear off, but Brad was down below. Ouch! The rest of the race was close, but not competitive. "For the first few miles Brad and I keyed off each other and spent too much time in adverse current. By the time we got back to short-tacking up the shore, the two other Wyliecats had gotten away. But Brad and I enjoyed battling it out against each other. I finally got a slight edge which I held up the channel to the Vallejo finish. But here's the interesting part. The Wyliecat Brad sailed had an inboard, which gave it a 3-second per mile handicap. On corrected time we finished in a dead heat!

"That night we had a blast partying aboard the 'hospitality vessel', Bob Musor and Joan Garrett's J/130 'Sceptre'. We awoke on Sunday with aching heads - and a wicked northeast wind. Atop nearby hills, it was clocked at up to 90 mph! It wasn't that bad at the starting line, but once we got into San Pablo Bay it was really howling. Just as the owner Tim, now doublehanding with me, and I were starting to fly into, over, and under the waves while carrying full sail into 45 knot winds, our wishbone boom folded - and we were out of the race. Brad and Dan, the owner of the boat he was sailing, were just behind and screamed past. But they didn't get more than yards past us when their wishbone blew, too! So after two days of racing, Brad and I pretty much ended up in a dead heat. Tim and Dan were real troopers about us beating up their boats. Thanks guys, we'll have them fixed and back on the water soon.

"I'm off to France next week for the start of the Vendée Globe and will report back."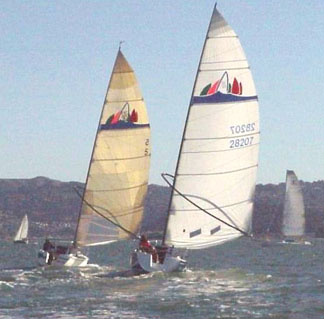 Bruce and Brad, neck-and-neck
Photo Bob Musor

---