---

Photos of the Day
Great Color Action Shots
October 26 - Mill Valley
If you're just a weekend warrior on San Francisco Bay, it sometimes seems impossible to get a great action photo of your boat. We at 'Latitude 38' might be able to change that situation. With improvements in digital cameras - don't buy anything with less than 3.3 pixels if you ever want a decent print - we're moving almost exclusively to digital stuff. Armed with Nikon's latest and greatest digital camera - which weighs 2.6 pounds and cost twice as much as the Wanderer's car is worth - almost all of what appears in 'Latitude 38' will be shot as color digital rather than black and white film. As such, these will make great color prints - and maybe Christmas photos. We've included a couple of shots for examples. In addition, when the season starts anew next year, we'll be featuring large galleries of everyday boats sailing the Bay. And for those of you who've always wanted your boat on the cover of 'Latitude', we can handle that, too.

How do you go about buying these prints? We'll have a credit card based system set up later, but for right now contact annie@latitude38.com.


An Islander 30 off of Raccoon Strait

Photos Latitude


A cover mockup commissioned recently
---


Weather Updates
October 26 - Pacific and Atlantic Oceans
Tropical Weather
Hurricane season is not over until it's over. Tropical Storm Paul, with a mere 35 knots, has popped up way down at 10°N and way offshore. When there are late season tropical storms and hurricanes in Mexico, they tend to be way south where the air and water are still warm. Note in the cruising item below that the summer heat has been broken in Baja.

It's all quiet on the Atlantic/Caribbean hurricane front.
San Francisco Bay Weather
To see what the winds are like on the Bay and just outside the Gate right now, check out http://sfports.wr.usgs.gov/wind/.
California Coast Weather
Looking for current as well as recent wind and sea readings from 17 buoys and stations between Pt. Arena and the Mexican border? Here's the place - which has further links to weather buoys and stations all over the U.S.: www.ndbc.noaa.gov/stuff/southwest/swstmap.shtml. Also check out http://facs.scripps.edu/surf/buoylist.html (but note that the Java Applet is still not working with some browsers on Macs - including your Webmistress's Netscape Communicator!)
Pacific Ocean Weather
You can view the University of Hawaii Department of Meteorology satellite picture by clicking here.
Pacific Sea State
Seas are normal in the Pacific, but you might check at: http://www.mpc.ncep.noaa.gov/RSSA/PacRegSSA.html.
For another view, see http://www.oceanweather.com/data/global.html.
---


Cruising
Prime Time Starts Now
October 26 - Baja California

"Those heading to Baja - or wishing they were - might be interested to know that the summer weather pattern has finally broken," report Dave and Merry Wallace, formerly of 'Bahala Na' and now of the Amel Maramu 46 'Willow'. It's now prime time in the 'Middle Sea', as the water is still 80°+, but the air temps are merely balmy in the daytime and cool for sleeping at night. This photo of the trimaran 'Western Sea' was taken two weeks ago at Puerto Escondido, just south of Loreto. She's the home of Elvin Schultz, who happens to be the current Commodore of the Hidden Port Yacht Club. Elvin is great source of local knowledge and one of the nicest guys you'll ever met. If you ever get to Puerto Escondido, be sure to make the Sunday potluck brunch sponsored by the yacht club - Bloody Marys are always available. Like all yacht club fund-raising activities, all proceeds go to local charitable causes."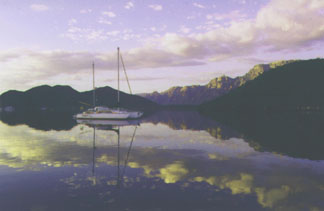 Western Sea anchored at Puerto Escondido
"You never know what kind of sea life you'll see in the Sea of Cortez. For example, this is Myka the wonder dolphin. . . er, dog, enjoying the 80° water of Bahia Marquer, Isla Carmen near Loreto. The miniature Schnauzer seems born to swim, so we had to sell our Newport 30 'Bahala Na' and buy a boat with a higher freeboard to keep him out of the water. Well, maybe that wasn't the real reason. His sister Sasha doesn't understand the water sports bit and is content to stay high and dry on deck or shore. We're having fun, hope everyone up there is too!"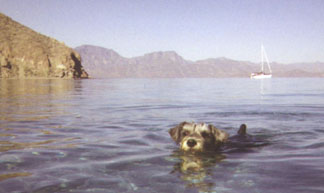 Strange new sea life spotted near Loreto
Photos Courtesy 'Willow'
YOTREPS
October 26 - The Pacific Ocean and Cyberspace
Who is out making passages in the Pacific and what kind of weather are they having? Check out YOTREPS - 'yacht reports' - at http://www.bitwrangler.com/yotreps/
---


Racing
Musket Cove to Port Vila Race
October 26 - Fiji
News travels fast - except out of the South Pacific. We just learned that the UK-based 50-foot catamaran 'Bossanova' won the 21st annual Tusker Beer Musket Cove (Fiji) to Port Vila Race, which took place at the end of September. The winning boat, sailed by David and Rita Jones, covered the 530 miles in 64 hours, an average of 8.28 knots. The weather was a mixed bag. Second place went to a boat familiar to many cruisers down Z-town way, Thomas and Pamela Howell's Farr 58 'Imagine', which was just 29 minutes behind the cat. Another Yank boat, Terry Kyle and Patrice Heller's 61-ft 'Mango Tango' was third. There were a total of 32 yachts representing Australia, New Zealand, the UK, Sweden, Canada and Bermuda that participated, with a total of 96 crew. The names of the other yachts were not included in the press release we were able to dig up.

The Port Vila Race follows Fiji Sailing Week at Malolo Lailai, Fiji, which this year attracted 70 boats - not bad for a country whose leadership had been overthrown in a coup just several months before.

---
Top
/ Index of Stories / Subscriptions / Classifieds / Home
©2000 Latitude 38 Publishing Co., Inc.