---

Photo of the Day
Swimming to Ireland
October 24 - Dingle Peninsula, Ireland

Think it would be chilly sailing across the Atlantic to perpetually rainy Ireland? We did. But John Neal and Amanda Swan-Neal, who recently did it as part of their six-month, 11,000-mile trip from Victoria, BC, to Sweden, report that it was actually warm. In fact, they hove to every day to swim, all the way to Ireland. The photo here is of the Dingle Peninsula off the southwest coast of Ireland. When the Neals and their crew arrived on August 16, it was 80 degrees!

More on 'Mahina Tiare's trip in the November issue of Latitude.


Photo John Neal
---


Weather Updates
October 24 - Pacific and Atlantic Oceans
Tropical Weather
Once again, it's all quiet in the hurricane regions of Mexico and the Atlantic/Caribbean.
San Francisco Bay Weather
To see what the winds are like on the Bay and just outside the Gate right now, check out http://sfports.wr.usgs.gov/wind/.
California Coast Weather
Looking for current as well as recent wind and sea readings from 17 buoys and stations between Pt. Arena and the Mexican border? Here's the place - which has further links to weather buoys and stations all over the U.S.: www.ndbc.noaa.gov/stuff/southwest/swstmap.shtml. And Robert Block of 'Connemara' in Santa Barbara sent in the following link; check it out! http://facs.scripps.edu/surf/buoylist.html (however, be warned that the Java Script may not work yet with some browsers on Macs).
Pacific Ocean Weather
You can view the University of Hawaii Department of Meteorology satellite picture by clicking here.
Pacific Sea State
Seas are normal in the Pacific, but you might check at: http://www.mpc.ncep.noaa.gov/RSSA/PacRegSSA.html.
For another view, see http://www.oceanweather.com/data/global.html.
---


Cruising
On the Borderline?
October 24 - Baja Ha-Ha World Headquarters
| | |
| --- | --- |
| | Photos Latitude |

It's just one week to the start of the Baja Ha-Ha cruisers' rally from San Diego to Cabo San Lucas with stops at Turtle Bay and Bahia Santa Maria. If you're on the borderline of going or not, perhaps these photos will influence you. In the first, two sun-loving gals on the committee boat wave to two of the 126 boats as they start the second leg near Turtle Bay. It was 10 a.m., the wind was blowing at 12 knots from aft, and it was about 85 degrees. In the second photo, Bear, Heather, Dona, Sue, and Tom model the fact that they didn't have a clew after the .8 poly kite exploded from sloppy conditions.
YOTREPS
October 24 - The Pacific Ocean and Cyberspace
Who is out making passages in the Pacific and what kind of weather are they having? Check out YOTREPS - 'yacht reports' - at http://www.bitwrangler.com/yotreps/
---


Racing
Middle Sea Race
October 24 - Mediterranean
That good things happen to people who persevere was evidenced again early this morning when Robert McNeil's R/P 74 'Zephyrus IV' crossed the finish line at Malta after smashing the old 620-mile Middle Sea Race record by close to eight hours. The Middle Sea Race starts in Malta and sails clockwise around Sicily before finishing at Malta.

McNeil, who hails from up in the canyon behind 'Latitude 38' in Mill Valley, didn't have the best luck when 'Zephyrus' was first launched. She was built for the TransPac, but almost immediately dropped her rig. The next year she started the West Marine Pacific Cup to Hawaii, and promptly dropped her rig again. Undeterred, NcNeil had her shipped to South Africa for the Cape Town to Rio Race. She had a great sail and set a new course record. Her next race was the Middle Sea, and another new record. John Bertrand, who was raised in Marin County and long sailed for the St. Francis, was the primary rock star. We don't know what's next for 'Zephyrus', but it would be great if she did next February's classic Miami to Jamaica Race.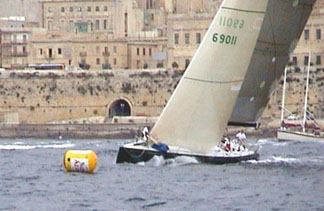 Zephyrus IV competing in the Middle Sea Race
Photo Anthony Camilleri
Miami to Jamaica Race
October 24 - Caribbean
One of the classic yacht races that fell on hard times but has been coming back, the 2001 Miami to Jamaica Race will be headlined by, oddly enough, several West Coast boats. Leading the way will be Roy Disney's R/P 74 'Pyewacket', back from her great European adventure in Ireland and the South of France. By the way, read Roy's account in the November Latitude. Also from the West Coast will be Doug Baker's Andrews 70 'Magnitude', which gave Disney's 'Pyewacket' a good run for her money in the last TransPac. Southern Californian Mike Campbell's Andrews 70 'Victoria' will be there, although she's now owned by Rick Orchard of Atlanta and called 'Grins'. If Robert McNeil decides to bring 'Zephyrus', a near sistership to 'Pyewacket', back across the Atlantic - there's nothing to do in the Med in the winter - it could be a heck of a great race.
Race Notes
October 24 - Planet Earth
Thanks to Larry Ellison's full throttle America's Cup effort for the St. Francis YC - they're already sailing down in New Zealand, the first of any syndicate - his much-traveled and often victorious Farr 82 'Sayonara' will sail a greatly reduced schedule in 2001. According to skipper Billy Erkelens, 'Sayonara' is only slated to do Antigua Sailing Week - which Ellison enjoys winning - in April and Sardinia in the late summer.
Sausalito's Mark Rudiger, who gained considerable fame as the navigator for Paul Cayard's victorious 'EF Language' in the last Whitbread Around the World Race, has been named co-skipper and navigator for the Swedish entry 'Assa Abloy' in what's now known as the Volvo Ocean Race. Rudiger is best known to West Coast sailors as being the winning navigator in four TransPacs, for 'Sayonara' in the deadly Sydney to Hobart Race and for 'Zephyrus' in the Cape Town to Rio record run.

Northern Californian John Kostecki was long ago announced as the skipper for the German entry in the Volvo.

---
Top
/ Index of Stories / Subscriptions / Classifieds / Home
©2000 Latitude 38 Publishing Co., Inc.