---

Photo of the Day
Pack Up and Share

October 17 - Mill Valley

What you see here is Don Rowland, owner of the Cal 20 'Proletariat', in front of Latitude 38 World Headquarters with a bunch of children's sweat shirts and sweat pants. The clothing comes from the lost & found at St. Edward's School in Newark. Rowland was good enough to collect these washed and folded clothes and distribute them among several boats headed south in the Ha-Ha. The Ha-Ha boats will then pass them out to the poor kids of Mexico. The last bunch you see here will go aboard 'Profligate', and will be given to Norm Goldie in San Blas for distribution in the mountains above San Blas.

If you're headed south on your boat or know somebody else who is, please pack up those clothes you haven't worn in years to be shared with the poor of Mexico.


Photo Latitude/Richard
---


Weather Updates
October 17 - Pacific and Atlantic Oceans
Tropical Weather
Tropical Storm Michael has formed to the northeast of the Bahamas - a somewhat unusual place to form - and is headed further to the northeast, far from the East Coast of the United States. Michael has 45 knot winds that are expected to build another 10 to 15 knots before fading.

It's quiet in the Mexican hurricane region.
San Francisco Bay Weather
To see what the winds are like on the Bay and just outside the Gate right now, check out http://sfports.wr.usgs.gov/wind/.
California Coast Weather
Looking for current as well as recent wind and sea readings from 17 buoys and stations between Pt. Arena and the Mexican border? Here's the place - which has further links to weather buoys and stations all over the U.S.: www.ndbc.noaa.gov/stuff/southwest/swstmap.shtml.
Pacific Ocean Weather
You can view the University of Hawaii Department of Meteorology satellite picture by clicking here.
Pacific Sea State
Seas are normal in the Pacific, but you might check at: http://www.mpc.ncep.noaa.gov/RSSA/PacRegSSA.html.
For another view, see http://www.oceanweather.com/data/global.html.
---


Cruising
Ready for the Onslaught
October 17 - Baja California
While close to 450 sailors are preparing for Baja Ha-Ha VII, which starts from San Diego on October 31, several key businesses along the Baja coast are gearing up to welcome them. Among them is Javier, the owner of the Vera Cruz restaurant in Turtle Bay, the community's largest and the de facto Ha-Ha headquarters. Javier checked in with the Ha-Ha rally committee to say that he and his staff are ready - at least as ready as any restaurant with six tables can be for an onslaught of 450 people. As in years past, the coolers will be chock full of cold cervezas, but this year Javier has a plan for expedited food service. Instead of offering his usual full menu - which sometimes meant food wasn't served for an hour or more - he'll offer fewer items, permitting quicker preparation.

The big question is whether Kojak will return to desolate Bahia Santa Maria with his portable restaurant, staff, tent and great rock 'n roll band. He emailed the Ha-Ha staff a few months ago to assure them that he would be there, but you never know about those one-day-a-year restaurants.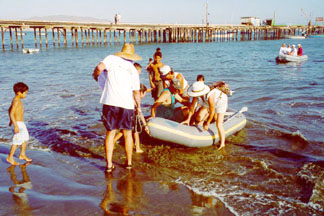 Coming ashore to get a bite and a beer at the Vera Cruz
Photo Latitude/Andy
YOTREPS
October 17 - The Pacific Ocean and Cyberspace
Who is out making passages in the Pacific and what kind of weather are they having? Check out YOTREPS - 'yacht reports' - at http://www.bitwrangler.com/yotreps/
---



Racing

Raising the Bar at the Midwinters

October 17 - San Francisco Bay

When it rains, it pours. After years of only having one IACC boat on San Francisco Bay, there are now three - and by next summer there should be five.

As was mentioned in a previous 'Lectronic, Larry Ellison bought the two 'Abracadabras' from the Hawaii syndicate. They're now sitting at KKMI in Richmond awaiting the final decision of what's to be done with them. If everybody's dreams come true, we'll see them match racing on the Bay next summer. Ellison, who already owns the two former AmericaOne boats, will no doubt be keeping these in New Zealand in preparation for the 2003 Cup.

Meanwhile, John Sweeney, a young Sausalito entrepreneur who owns Sailing Billboards and was a volunteer member of Dawn Riley's AmericaTrue syndicate in Auckland, is now the owner of three - no misprint - IACC boats, all of which appear to be slated to be 'sailing billboards' on the Bay.


Photo Courtesy Sailing Billboards

Says Sweeney, "We now own NZL 14, NZL 20 and ITA 1. Our latest acquisition is 'Il Moro 1', which has been sailing in San Diego since '92. She will be brought up the coast and painted white and should be ready to do the Corinthian Midwinters. [Yikes!] NZL 14, which has been here all summer and did some Corinthian Friday Night Races, will be going to KKMI in December for a bottom and topsides job. NZL 20 is finished and ready to sail in New Zealand for their summer, after which she'll join her sister on San Francisco Bay."
---
Top
/ Index of Stories / Subscriptions / Classifieds / Home
©2000 Latitude 38 Publishing Co., Inc.