---

Photos of the Day
Over the Top in Oz

October 16 - Gove, Australia

One of the important cruising events in Australia is the Over the Top Rally from Gove to Darwin in July. Gove is at the northeastern top of Australia, and as Andy Rothman of the San Francisco-based J/44 'First Light' reports, "it's out in the middle of nowhere". In fact, about the only thing there is a bauxite mine, which is why you see Rothman pushing an ore-loading truck just outside of Gove.

Because the size of the fleet is limited to 27 boats, the 12-day, 500-mile event is always oversubscribed. One reason is because the group is allowed to stop at several aboriginal sites that are normally off-limits. Nonetheless, in addition to 'First Light', other U.S. boats that joined in were 'Shakti' from LA, 'Max Grody II' from LA, 'Pegasus' from Sparks, and 'Kiana' from Oregon.

We'll have more details in the November or more likely December edition of Latitude 38.


Photos Courtesy 'First Light'
---


Weather Updates
October 16 - Pacific and Atlantic Oceans
Tropical Weather
Once again, it's all quiet in both the Eastern Pacific/Mexican hurricane region and the Atlantic/Caribbean hurricane region. It's too early to say for sure, but there is a chance there won't be any more hurricanes in the Eastern Pacific or Atlantic/Caribbean.
San Francisco Bay Weather
To see what the winds are like on the Bay and just outside the Gate right now, check out http://sfports.wr.usgs.gov/wind/.
California Coast Weather
Looking for current as well as recent wind and sea readings from 17 buoys and stations between Pt. Arena and the Mexican border? Here's the place - which has further links to weather buoys and stations all over the U.S.: www.ndbc.noaa.gov/stuff/southwest/swstmap.shtml.
Pacific Ocean Weather
You can view the University of Hawaii Department of Meteorology satellite picture by clicking here.
Pacific Sea State
Seas are normal in the Pacific, but you might check at: http://www.mpc.ncep.noaa.gov/RSSA/PacRegSSA.html.
For another view, see http://www.oceanweather.com/data/global.html.
---


Cruising
Lost in the Translation
October 16 - Sea of Cortez
Everybody who goes to Mexico brings one of those English-Spanish dictionaries, and usually a phrase book. These are good, of course, but they're also slow and a pain. For example, suppose you're a singlehander and want to meet a woman in Mexico. It would take about 10 minutes to figure out how to say, "Good evening, my name is Joe. I'm mesmerized by your eyes and wonder if you've ever thought about sailing around the world with a gringo?"

We, however, came up with the proper translation, "Buenas tardes, mi nombre es Joe que he sido mesmerized por sus ojos y maravilla si usted ha pensado siempre de la navegación alrededor del mundo?" in less than 10 seconds. As well as the woman's response: "No, no tengo. Pero estoy buscando a un hombre americano hermoso tal como se para ayudar me y a mi familia extendida a trasladarse a los Estados Unidos." That translates to: "No, I haven't. But I am looking for a handsome American man such as yourself to help me and my extended family move to the United States."

Anyway, you can find quick translations under 'Translate' at the Alta Vista Web site on the Internet. No, you can't drag it around town with you, but if you have to translate stuff, it's really quite quick and cool. Give it a try, but remember mistakes are common, as things get lost in the translation.
Gerry Cunningham, who has done all the great guidebooks to the Sea of Cortez, warns about another kind of error in Mexico:

"I picked up a copy of the free 'Latitude 38's First Timer's Cruising Guide to Mexico' as I left the Crew List Party at the Encinal YC, and I want to commend you on an excellent piece of work. It should be required reading for any cruiser going to Mexico, no matter if they are going on the Ha-Ha or not. But I'd like make one clarification. When it comes to your comments on "Charts and Cruising Guides", you write the following: "When Charlie and the other authors say their charts are 'Not to be used for navigation', they mean it. I don't know if you've noticed or not, but there are no such caveats on the various cruising guides I produce for the Sea of Cortez. You see, I assume that the reason cruisers buy charts is to aid their safe navigation of those waters. As such, I do not use the old 1873-5 government charts for my grids and shorelines. True, these Defense Mapping Agency charts served me well for over 40 years in the Sea of Cortez when we sailed with nothing but a compass and my eyes for navigation. However, now that we have GPS telling us within feet of where we actually are, such inaccurate charts can be dangerous.

"And these charts can be more than a little inaccurate and dangerous. For example, #21008 Golfo De California, Northern Part, is as much as two miles off station at Santa Rosalia and to the north. And it's a mile off around Conception Bay, up at Puerto Refugio, and north of San Carlos on the mainland. These errors are naturally perpetuated in all of the copies of these charts, whether paper or electronic. This is why I use the only modern survey made of the Sea of Cortez. Back in the '60s, the United States and Mexico did a well controlled aerial survey of all of Mexico, and all the current topographical charts for Mexico are based on that data. These maps have proved out nicely with GPS.

"A few weeks ago, we had occasion to make our way into the little harbor at Santa Rosalia. There was a rambunctious squall, and naturally it was the middle of the night. We'd plotted a waypoint off the harbor entrance from my Santa Rosalia Mini-Guide, and as nearly as we could tell in the dark, it put us right where we expected to be. Had we taken this waypoint off #21008, we would have been a mile or so inland.

"Although using those original charts may be 'romantic', you have to remember they are not accurate. The 'Not For Navigation' caveat should be on those oldies as well as many of the current 'sketch charts'."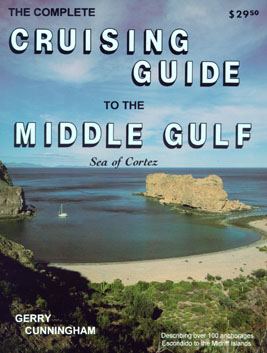 One of Gerry's Sea of Cortez Cruising Guides
YOTREPS
October 16 - The Pacific Ocean and Cyberspace
Who is out making passages in the Pacific and what kind of weather are they having? Check out YOTREPS - 'yacht reports' - at http://www.bitwrangler.com/yotreps/
---



Racing

Racing Photo of the Day

October 16 - San Francisco Bay

Our Racing Editor is out of town, so we'll leave you with this oddly colorful shot of 'High Five' and 'Javelin' from September's Big Boat Series. 'High Five', the Ritto/Lynch/
Svendsen IMS Farr 40 from
San Diego took honors in Division B. Pat Nolan's J/125 'Javelin' was fourth.


Photo Latitude/Richard
---
Top
/ Index of Stories / Subscriptions / Classifieds / Home
©2000 Latitude 38 Publishing Co., Inc.