---
Photos of the Day
How to Cover More Area

October 12 - Sea of Cortez

It would have been impossible for anyone who has cruised Mexico during the last decade to have missed Tim 'Padre Timo' Tunks of the Islander 37 'Scallywag'. In additional to having been everywhere, Tim has often been an organizational force at events such as the old St. Paddy's Day blowout at Melaque, Sea of Cortez Sailing Week at Caleta Partida, and the Crab Drags at Loreto. Tim was also the inspiration for the great prizes at the Baja Ha-Ha.

Spending time in Mexico - particularly the Sea of Cortez - means spending a lot of time snorkeling. As the years passed by underwater, Tim started thinking of simple ways to help snorkelers cover more area while underwater. After various ideas, he came up with what he now calls DiveBoard, an odd but elegant looking device with no moving parts. The idea is that the diver hangs onto the DiveBoard while it gets pulled behind a dinghy. Because of the vertical and horizontal planes, the diver is able to control whether he/she goes up or down or to the right or left. Powered by the dinghy instead of fins, the diver gets to cover much more underwater territory.

We've not used the device, but as soon as we get our cast off we'll give it a go. For further details on the DiveBoard, visit diveboard.org. Tim will also be at the Ha-Ha Kick-Off Party in San Diego on October 29 to raffle off one or two. Nice job, Tim!


Padre Timo with an Early Prototype


Finished Product Available Now
Photos Courtesy 'Scallywag'
---


Weather Updates
October 12 - Pacific and Atlantic Oceans
Tropical Weather
It's all quiet in both the Eastern Pacific/Mexican hurricane region and the Atlantic/Caribbean hurricane region.
San Francisco Bay Weather
To see what the winds are like on the Bay right now, check out http://sfports.wr.usgs.gov/wind/.
California Coast Weather
Looking for current as well as recent wind and sea readings from 17 buoys and stations between Pt. Arena and the Mexican border? Here's the place - which has further links to weather buoys and stations all over the U.S.: www.ndbc.noaa.gov/stuff/southwest/swstmap.shtml.
Pacific Ocean Weather
You can view the University of Hawaii Department of Meteorology satellite picture by clicking here.
Pacific Sea State
Seas are normal in the Eastern Pacific. Check out today's sea state at: http://www.mpc.ncep.noaa.gov/RSSA/PacRegSSA.html.
For another view, see http://www.oceanweather.com/data/global.html.
---


Cruising
The Junior Division of the Baja Ha-Ha
October 12 - Baja Ha-Ha World Headquarters
Lauren the Devilette of Baja Ha-Ha, Inc., reports that 13 boys and nine girls are scheduled to be part of the Ha-Ha which starts on October 31. "In the teen group we've got one 19-year old female and one 19-year old male, two 16-year old males, three 14-year old males, and one 13-year old male. In the big kids' group, there are 10 and 11-year old girls, eight and nine-year old boys, and a seven-year old boy and seven-year old girl. In the little kids' group, there are three five-year old girls and one five-year old boy, one four-year old girl and two four-year old boys, and one six-month old baby girl. Not all boats that sign up for the Ha-Ha actually participate, so the number of kids may actually be a little smaller. But if you're a kid who will be cruising Mexico with your parents, don't fear, you'll find other playmates. For example, the photo on the left is from last year's Cruising Kids Surfing Championship at Tenacatita Bay last year. And no, you didn't have to know how to surf to have lots of fun.

A few of this year's Baja Boys and Girls: (clockwise from upper left) Quincy (5) and Kendall (8) of Chewbacca; David (16) and Alex (14) of Favonius; Kai (14) of Indara; and Haley (8) of See Life.
YOTREPS
October 12 - The Pacific Ocean and Cyberspace
Who is out making passages in the Pacific and what kind of weather are they having? Check out YOTREPS - 'yacht reports' - at http://www.bitwrangler.com/yotreps/
---

Racing
Puerto Vallarta Race
October 12 - Marina del Rey
Early indications suggest that the Del Rey's February race to Puerto Vallarta could be a gangbuster. While only nine are paid up entries so far, another 50 owners have requested entry packs. No wonder, the Del Rey YC always does a great job, and the PV Race precedes the popular MEXORC.

Among the headliners expected to participate are 'Chance', Robert McNulty's new R/P 78; 'Neptune's Car', Paul La Marche's new turbocharged SC 70; 'Merlin's Reata', the grand old Lee 68, now sailing for Al Micallef of the California YC; 'Grand Illusion', Ed McDowell's SC 70 that has been walking off with TransPac and Vic-Maui honors and much more in the last two years of a hot streak; Robert Saielli's SC 70 from San Diego. With any luck, Jake Wood will be back with the Mull 82 'Sorcery' and Howard Gordon will come down from Morro Bay with the Jutson/Ayer 50 'Etranger'. In addition, there are a whole host of SC 50/52s, SC and Olson 40s and the other usual suspects. We also noted that a guy named Dennis Conner from San Diego has expressed interest with his N/M 50 'Menace XXII'.

The Del Rey's PV Race also includes a Performance Fleet and a Cruising Fleet. In both of these, the 1,000-mile event is broken up into three legs. The PF guys can fly chutes while the CF guys can only fly gennakers. Allan Puckett has already paid up for PF racing with his Farr 55 'Amazing Grace', while four Del Rey boats in the 40-foot range have already paid up for the CF class.

You know what sailing is like in California in February? Not very good. You know what sailing is like in Mexico in February? Spectacular! Visit www.dryc.org to figure out how to bring some sunshine and fun into your February.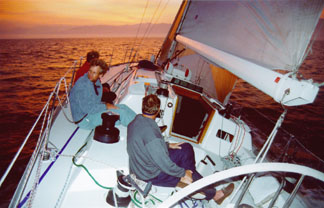 Entering Banderas Bay in the '98 PV Race.
Photo Latitude/Rob
---
Top
/ Index of Stories / Subscriptions / Classifieds / Home
©2000 Latitude 38 Publishing Co., Inc.