| | |
| --- | --- |
| | |
---
Photos of the Day

The Best Seats You Never Want to Sit In

October 10 - Marin Headlands

Great seats - but you never want to be sitting in them. The good folks at Coast Guard Station Golden Gate were kind enough to give us a demonstration of their new 47-foot rescue boats. We'll have a more detailed report in the November 'Latitude', but thought you might enjoy seeing the seats rescue victims are assigned in rough weather. Dona, the Devilette and Brian, helmets on and strapped in tight, enjoyed the rough but safe ride out to Point Bonita.

The new 47-footers - which run $800,000 each and are incredibly sophisticated - replace the familiar 44-footers which have provided such great service for nearly 30 years. Indeed, one of the first stories we ever wrote for 'Latitude' was about an Islander 28 being rolled about three miles off Ocean Beach by a spreader-tall wave. A 44-footer was sent to the rescue. After taking the Islander's crew aboard, the 44-footer and all its crew and passengers was then itself rolled in the storm conditions. Nobody was seriously hurt, and the 44-footer kept on trucking. Rumor has it that the 44-footers will eventually see service for the government of the Seychelles.


Photos Latitude/Richard
---


Weather Updates
October 10 - Pacific Ocean
Tropical Weather
How reliable is tropical storm forecasting? Not reliable at all. Yesterday, forecasters were calling for Tropical Storm Olivia off Mexico to make a 90 degree clockwise turn and head right for Turtle Bay in Baja. Today's forecast calls for everyone to ignore the projected turn. In any event, former Tropical Storm Olivia is down to 20 knots and not a danger to anyone in anything bigger than an El Toro.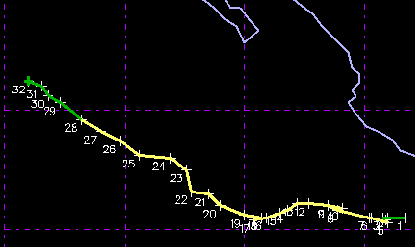 Tropical Storm Olivia
Unisys Weather Graphic
San Francisco Bay Weather
To see what the winds are like on the Bay right now, check out http://sfports.wr.usgs.gov/wind/.
California Coast Weather
Looking for current as well as recent wind and sea readings from 17 buoys and stations between Pt. Arena and the Mexican border? Here's the place - which has further links to weather buoys and stations all over the U.S.: www.ndbc.noaa.gov/stuff/southwest/swstmap.shtml.
Pacific Ocean Weather
You can view the new University of Hawaii Department of Meteorology satellite picture by clicking here.
Pacific Sea State
Seas are normal in the Eastern Pacific. Check out today's sea state at: http://www.mpc.ncep.noaa.gov/RSSA/PacRegSSA.html.
For another view, see http://www.oceanweather.com/data/global.html.
---


Cruising
Cruising Is for the Birds
October 10 - The Caribbean
For several years in the mid-'90s when 'Big O' was in the Caribbean, a wild Basque fellow named Antonio 'das Muertos' was her captain. And part of Antonio's crew was Lola, some sort of tropical bird from South America. (Antonio was never good with details.) There was much to like about Lola, as she was beautiful, entertaining and an interesting companion. When she disappeared one stormy night, we were all sad. But the next morning we heard a muffled squeaking, and eventually found Lola hidden as deep into the furled mainsail as a little bird could get.

But Lola had her bad points, too. Pooping all over was one of them, but what's a bird to do? She also had a nasty habit of chewing snorkels into little pieces. Several times we returned to find the decks covered with bits of unrecognizable little things. We couldn't figure out what it was until the next time we wanted to go snorkeling and half the snorkel wasn't there. Worst of all, Lola was a racist. At least she'd been taught to say racist things when certain minorities approached the boat. In fact, on several occasions, Lola was confined to her cage and set on the bow of the boat some 90 feet from the dock.

Lola was dropped off in Panama the last time 'Big O' came through the canal, and is probably still there. In fact, we're sure she's still having a great time entertaining and infuriating people.

If you've ever had a bird on your boat, we'd love to hear about it.


Photo Latitude/Richard
YOTREPS
October 10 - The Pacific Ocean and Cyberspace
Who is out making passages in the Pacific and what kind of weather are they having? Check out YOTREPS - 'yacht reports' - at http://www.bitwrangler.com/yotreps/
---

Racing
Voiles de St. Tropez
October 10 - St. Tropez
Yesterday we wrote about some of the large boats that participated in the Voiles de Saint Tropez, perhaps the most magnificent regatta in Europe. Today we'll give you an idea of the kind of traditional yachts that participated: 'Adria', A&R 78; 'Agneta', Stockholm 81; 'Altair' Fife 108; 'America', 105-foot schooner; 'Belle Adventure', Fife 92; 'Blue Leopard', Osbourne 112; 'Creole', C&N 213; 'Halloween', Fife 78; 'Lelantina', A&R 85; 'Liliade', 78-foot sloop; 'Mariette', Thomas Perkins' (of Belvedere) 136-foot Herreshoff schooner; 'Moonbeam', a Fife 82; 'Orion', a C/N 160; 'Puritan', a 118-foot schooner; 'Sintra', an A&B 95; 'So Fong', a Bowman 82; 'Spirit of the Caribbean', an S&S 78; 'Lady Anne', a 75-foot gaffer; and the historic 'Dorade', the famous S&S 52 that made that name famous.

The point of all this is to let everyone know that very big boat sailing - be it ultra-modern or traditional - is very alive and very well in the Med. If you want to see all this action, the Voiles de St. Tropez is the perfect place to do it. So mark your calendar for early October of next year.


St. Tropez at Twilight

Photos Courtesy St. Tropez Tourist Board


Voiles de St. Tropez
---
Top
/ Index of Stories / Subscriptions / Classifieds / Home
©2000 Latitude 38 Publishing Co., Inc.