---
Photos of the Day

EPIRB Owner Identified

November 28 - Oahu

Yesterday we asked who owns the EPIRB in the accompanying photograph.

Steve Shepard of the Islander 34 'Little Wing' was the first to guess that it belongs to Ken 'the General' Roper of the Finn Flyer 31 Harrier, a boat that Ken has often singlehanded to Hawaii and Mexico. Unfortunately, that was the wrong answer. The first response we got came from Nick Gibbens, and it was correct: The EPIRB belongs to Jonathan 'Bird' Livingston of the Wylie 39, 'Punk Dolphin'. The giveaway, of course, was Livingston's signature cartoon character on the EPIRB.

Photos Latitude/Richard

Why here's a photo of Livingston now, which was taken shortly after 'Punk Dolphin' had taken honors in last summer's West Marine Pacific Cup.
---

Weather Updates

November 28 - Pacific and Atlantic Oceans
Tropical Weather
The Atlantic/Caribbean region hurricane season is almost over, and it looks as though there will not be any more tropical storms or hurricanes.
San Francisco Bay Weather
To see what the winds are like on the Bay and just outside the Gate right now, check out http://sfports.wr.usgs.gov/wind/.
California Coast Weather
Looking for current as well as recent wind and sea readings from 17 buoys and stations between Pt. Arena and the Mexican border? Here's the place - which has further links to weather buoys and stations all over the U.S.: www.ndbc.noaa.gov/stuff/southwest/swstmap.shtml.
Pacific Ocean Weather
You can view the University of Hawaii Department of Meteorology satellite picture by clicking here.
Pacific Sea State
Seas are normal in the Pacific. But you might check at: http://www.mpc.ncep.noaa.gov/RSSA/PacRegSSA.html.
For another view, see http://www.oceanweather.com/data/global.html.
---


Cruising
ARC Update
November 28 - Atlantic Ocean
While we're waiting for the latest update from the Atlantic Rally for Cruisers - the 215 boat fleet rallying 2,700 miles from Las Palmas in the lovely Canary Islands to St. Lucia in the lovely Caribbean - we thought we'd give you a rundown of the American entries in the fleet:

'Beltraned', Steven Hannon's Hallberg-Rassy 39; 'Chippewa', Clay Deutsche's Swan 68; 'Cygnet', Richard Sylvanovich's Swan 44; 'Gryphon', Robert Wingate's Outremer 55 catamaran; 'Illusion', Paul Borstein's Hallberg-Rassy 39; 'Lady Di', Brad & Dianne Smith's Cape Dory 38; 'Loblolly', Mark Upham's Alden 44; 'Perseverance', Tom Puett's Swan 56; 'Raven', Jim Garges' Northwind 55; 'Redwings', Aaron Henderson & Colleen Duggan's Peterson 46; 'Runaway', Dick and Claire Kanter's Nicholson 47.6; 'Saucy', Fred Kent's Amel 48; 'Scallywag', Amy & Bob Green's Alden 44; 'Scott Free', Oreon Scott's Hallberg-Rassy 53; 'Sea Fever', John Thorpe's Sundeer 60; 'Silver Lining', Robert Silverthon's Amel 48; 'Stampede', Stuart & Julie Conway's Holland 55; and 'Wind Dancer', Jim Conner's Swan 48. We regret we don't have homeports for the boats listed.

By our count, that's 18 boats. We're unsure, however, if all started. For a complete rundown of this year's ARC fleet - and it's very interesting to see what boats people are using for 2,700 mile ocean passages - visit www.worldcruising.com/arc/entries.html.


The start of the 2,700 mile rally


Little pirates and Arabian dancers posed in front of the Save the Children banner at the Fancy Dress Party, which raised Ptas. 87,000 (we're not sure what that comes to in dollars!)
That Old 'Moonduster' Crew
November 28 - Alameda
What's happening with that old 'Moonduster' crew? Two years ago, Wayne Meretsky took his S&S 43 Moonduster in the Ha-Ha. His three-man crew consisted of Harbormaster Alan Weaver, Pacific Seacraft dealer Adam Sadeg, and then UK sailmaker Chris Maher. According to the latest dock talk, they'll all be doing the next Ha-Ha - but most of them on their own boats.

Meretsky, who did the Ha-Ha this year with us aboard 'Profligate', has said he hopes to take 'Moonduster' again next year. Sadeg bought the Morgan 38 'Blarney3', which Maher had previously owned and sailed in two Ha-Has. But Maher won't be going with him because he recently went to Puerto Rico and picked up a Beneteau 44, which he plans to play with in the Caribbean and Florida - before trucking her back to California for the start of the next Ha-Ha. That leaves Alan Weaver with lots of boats on which he might crew - including the 70-foot catamaran 'Humu-Humu', on which he did the most recent Ha-Ha.


The Lovely Moonduster

Photo Tom Lyon
Everything Else Was Great
November 28 - New Zealand
Tom and Bonnie of the Incline Village-based Amel Mango 'Toujours' are now in Gulf Harbor, New Zealand. To summarize their Changes that will appear in the next Latitude 38, both Raiatea Carenage and Raiatea Marina were packed with hauled boats for the last cyclone season. "The two yards are next to each other and both are professionally run. None of the more than 30 boats that were hauled last year had any kind of problem," the couple report. "Unfortunately, the same couldn't be said for the weather during the southern part of the run from French Polynesia to New Zealand. "The weather was awful." Everything else was great, however, but not as great as New Zealand, which the couple say words aren't capable of describing.

If you're reading this, Tom and Bonnie, your hotmail email address is not working for us.
YOTREPS
November 28 - The Pacific Ocean and Cyberspace
Who is out making passages in the Pacific and what kind of weather are they having? Check out YOTREPS - 'yacht reports' - at http://www.bitwrangler.com/yotreps/
---


Racing
America's Cup
November 28 - New York
The odd couple of the America's Cup, Dennis Conner and the New York YC, have managed to find at least a partial sugar daddy for the next America's Cup. He's Charles Wang, chairman of Computer Associates, who already owns a hockey team, an arena football team and has the Computer Associates logo on a top Formula One race car. It's expected that a competitive America's Cup effort will require $30 to $100 million, but there's no word as to how much Wang is putting in.
The Race
November 28 - Planet Earth
The pace is picking up in preparation for The Race, which is to start December 31, and it's looking as if it's coming together. Steve Fossett's 'PlayStation', now lengthened to 125 feet and with more buoyancy up forward, is about to go sailing again. Pete Goss's much troubled 'Team Phillips' has had some successful sails, but was waiting out a 60-knot blow in a marina. Tony Bullimore's 'Team Legato', formerly ENZA, is about to get her new mast, and the three Gilles Ollier designed and built boats, 'Club Med', 'Code One' and 'Team Adventure', are all sailing. There may be as many as five boats on the starting line.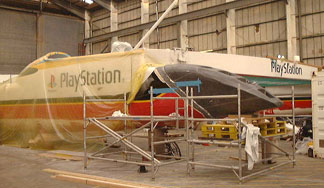 PlayStation getting chopped in the shop
Photo Courtesy Steve Fossett
---
Top
/ Index of Stories / Subscriptions / Classifieds / Home
©2000 Latitude 38 Publishing Co., Inc.