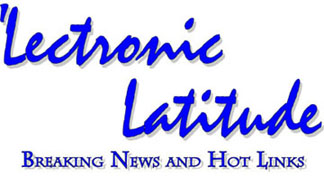 ---
Pacific Cup Update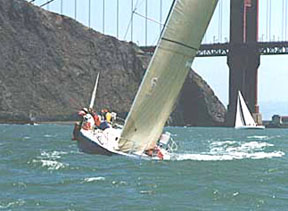 'Medicine Man' hunkered down and picking up speed in 1998 start.
Photo by Mariah's Eyes Photography (510) 864-1144.

June 6 - Pacific Cup Yacht Club
Today there are 79 entrants and 3 more on the waiting list ranging from the Moore 24 'Twice Daily', to the RP 70 'Taxi Dancer' and Wylie 70 'Rage'. The record turnout of entries will cross the starting line in front of St. Francis Yacht Club, San Francisco, on July 10 - July 14, 2000, and finish 2,070 miles away in Kaneohe Bay on the island of Oahu, Hawaii. Check out all the entries at http://www.pacificcup.org/00/entry.html
Race organizers are urging entrants considering pulling out of the race to please do so as soon as possible so boats on the waiting list can be accepted with ample time to prepare for the race. For the complete calendar, go to http://www.pacificcup.org/00/calendar.html
---
Yvan Bourgnon Gets the Fright of His Life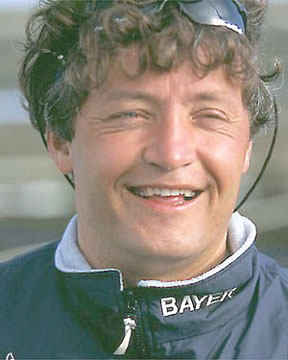 June 6 - Europe 1 New Man Star

In a radio interview this afternoon at 3:25pm (French time) Yvan Bourgnon revealed that he had feared for his life in the small hours of the morning, having just avoided a collision with an oil tanker. "I swear I could have touched it with my hand; I passed it with one meter to spare going at 16 knots. I just had time to put the autopilot on standby and to push the helm away. I kept shaking for two hours after it happened."

The incident happened when Yvan had just come out of a half hour nap after a front passed through last night. He hadn't activated his radar, thinking that there were no tankers or cargo ships likely to be in this area. Apart from this moment of terror, he seemed to be okay, as the rhythm of the boat is at its optimum for him. "It feels like the boat is going at 98% of its potential, and I am always at the helm. I have slept for about one and a half hours since the start." For more details, visit http://www.europe1newmanstar.com/uk/.
Yvan Bourgnon.
Europe 1 New Man Star Photo.
---
©2000 Latitude 38 Publishing Co., Inc.