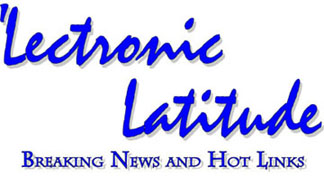 ---
News from The Race
June 5 - The Race

'PlayStation' qualified
After Polish skipper Roman Paszke, the American adventurer Steve Fossett has qualified for The Race/La Course du Millénaire. The catamaran 'PlayStation' (32 meters) passed Lizard Point (UK) on May 22, after seven days, 13 hours, 38 minutes and six seconds at sea. They finished their West/East transatlantic almost 15 hours ahead of the qualification time limit, despite not very favourable weather conditions. Just one regret: not having broken the mythical New York / The Lizard Atlantic crossing record. But Steve Fossett and his crew have promised to be back!
The Race/Onne van der Wal Photo
'Team Philips' being renovated in Totnes (UK)
Pete Goss's wave-piercing catamaran is getting back to her original shape. The forward section of the port hull, which broke off on March 29, 2000, is about to be re-grafted. On the port hull of 'Team Philips' (36 meters), the yard technicians started by sawing straight the two edges of the break. Then they fitted them either side of a wooden mould in the shape of the missing section of hull. This section about 1.5 meters long will now be reconstituted by laying up carbon fibre around the mould. In the meantime, one of the two masts is ready for flexibility tests. The goal is to determine at what wind strength (and therefore from what state of bend) one should reduce sail. A dozen electronic transducers are fitted along the 41 meters of the mast. According to calculations, the masts should be able to bend almost 3 meters without any risk.
Facelift for 'Polpharma-Warta' near Lorient (France)
Polish skipper Roman Paszke's 26 meter catamaran is almost back to bare carbon. Once emptied and stripped, her platform will be receiving in the next few weeks a whole series of new equipment destined to provide her with a new level of performance. Inside high technology (new electronics) and relative comfort (new head) are the order of the day. On the outside, renovation is total. It concerns not only the livery, but also the winches, sails and above all the mast which will replace the one lost in February 2000 during her successful bid for qualification between Cadiz and San Salvador. 'Polpharma-Warta' should be returning to the Baltic Sea by mid-July.
'Club Med' en route for her first Atlantic crossing
The maxi-catamaran 'Club Med' arrived this weekend in Cadiz, Spain, after her first passage between La Trinité-sur-Mer and Cadiz. After some final technical fine tuning, the maxi-catamaran should be leaving Cadiz on Wednesday to make an attempt on the East-West Atlantic crossing record. This will also be the occasion for Club Med, co-skippered for the occasion by the New Zealander Grant Dalton and Frenchman Bruno Peyron, to qualify for The Race. www.clubmed.com
---
Spectacular Caribbean Sailing Photography

June 5 - Antigua
Who gets the most and best sailing shots in the Caribbean? We nominate Tim Wright, who took the accompanying beauties during the recent Antigua Sailing Week and Antigua Classic Regatta. Visit Tim's site at www.photoaction.com to view countless spectacular sailing photographs - available for purchase at reasonable prices. See below for a few more samples.
Photos ©2000 Tim Wright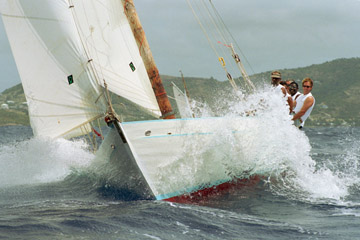 | | |
| --- | --- |
| | |
---
A Photo is Worth 1,000 Words
June 5 - Savannah, Georgia
For years Palmer Johnson built great sailing and motor yachts in Wisconsin. They still do. But they also operate a marina and refit yard in Savannah, Georgia, "where southern hospitality and fine craftsmanship go hand in hand."
Palmer Johnson Photo, Courtesy Tom Henson
---
'Latitude' Spotted on North Island
June 5 - New Zealand
K.C. Heyniger, captain of the catamaran Profligate for Ha-Ha VI, is currently in New Zealand with his ladyfriend Gretchen. He's seen here on the rugged west coast of the North Island, having put down his 'Latitude' for a go-out at Raglan, a surf spot made famous in the movie 'Endless Summer'.
Photo Courtesy K.C. Heyniger
---
Balboa YC Still Toast
June 5 - Panama Canal
Pete's Swain's recent photograph of the remains of the Balboa YC on the Pacific side of the Panama Canal reveal that it's still toast. Future plans are still uncertain for the club - that once had more saucy women per square inch than any other - are still uncertain.
Pete Swain Photo
---
©2000 Latitude 38 Publishing Co., Inc.