---


Pacific Ocean Weather
June 27 - Pacific Ocean
With the isobar lines so far apart in the Eastern Pacific, winds remain light, and participants in the Singlehanded TransPac may start wondering if they brought enough food and water. Even the California coast is very calm.
Click here to see enlarged graphic.
University of Hawaii Meteorology Graphic

---


Ambon Race Is Cancelled
June 28 - The South Pacific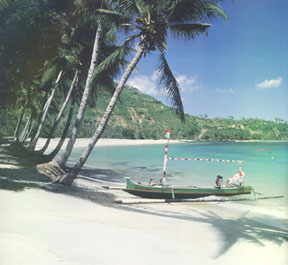 In 1976, the Perkins Shipping Company started the Darwin (Australia) to Ambon (Indonesia) yacht race. As the years went by, the race became increasingly popular, in part because it was one way for cruisers to get a difficult-to-obtain cruiser's permit to the Indonesia. The Darwin to Ambon Race topped out in '96 with 82 entries - including five from the West Coast of the United States. Alas, the 2000 version of the race, which had been slated for this month, has been cancelled. The problem is that there has been ongoing violence in Ambon between Christians and Muslims, and it's recently become much worse just to the north in the Maluku Region, once famed for being the Spice Islands.
Lombok, Indonesia
Photo Courtesy Indonesia Tourism Promotion Board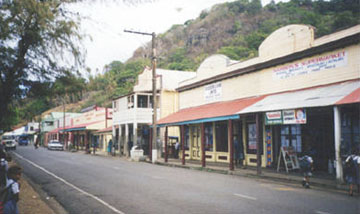 So let's review the problems in the South Pacific. Indonesia: widespread strife between Christian and Muslims that could expand throughout the country at a moment's notice. Solomon Islands: tribal disputes making Guadalcanal and other islands unsafe for visitors. Fiji: a coup continues into its second month, although yachties don't seem to be in danger or and cruising has not been curtailed.
Levuka Town, Fiji
Photo Courtesy Fiji Visitors Bureau

---

Winds Still Light in Singlehanded TransPac
June 28 - Pacific Ocean

Four days into the Singlehanded TransPac, the 23 competitors were still faced with very light winds and not yet able to set chutes. To make things worse, a couple of boats were having trouble with screws falling out of the torque tubes on their Harken roller furling. For more details visit: www.sfbaysss.org.
Singlehanded TransPac Profile: Clay Gwin
Last time Clay did the Singlehanded TransPac in 1994, he listed his occupation as 'sheep rancher.' Although he's still happily married to Joanne (whose father actually owns the ranch), he's changed occupations since then - and added two preschoolers and one new boat to the household as well. He still lives near Willows (about 2 1/2 hours north of the Bay) and still drives quite a ways to and from work (not to mention the boat), but those will seem like short commutes when he points 'Bettina' out the Golden Gate for Hawaii on June 24.

Clay and Joanne acquired 'Bettina' for a song a couple of years ago - and quickly realized why they got such a bargain. What Clay thought were small areas of deck delamination actually encompassed almost the entire cabin top. They had the boat trucked home, where Clay figured if he was going to go to all the trouble to fix one problem, he might as well make the whole boat as right as he could get it. Two years and many dollars later, the renewed Ericson was moved to the Anzam yard in Sacramento for finish work and paint. And finally, only four months before the race, she got back in the water.

Gwin was among the last 2000 participants to complete his offshore qualifying sail, a bouncy, wet May adventure that resulted in the final addition made to 'Bettina' before the Solo TransPac: a dodger. Clay will put the new shelter to good use as he divides steering duties with his autopilot. When 'off watch', he'll grab short naps at night and longer ones when the coast is clear during the day.

"I'm doing the race again because I had a great time in '94 - and an especially good time coming back," says Clay. "I'm looking forward to more of the same."

Navigation: Two Magellan GPSs. Steering: divided about equally between Alpha 3000 autopilot and hand-steering. Food: Basic stuff - instant noodles, canned food, etc. Special thanks to: "My wife Joanne. If it weren't for her, I wouldn't be going. Also thanks to my boys Marcus and Emmett, Brian Cleverly of Anzam Yacht Refinishing, Leif at Marine Diesel Engineering, the great people at Newmar and everyone I grabbed off the dock to hold a bolt."

Boat: 'Bettina', Ericson 32 (1973)
PHRF rating: 180
Yacht Club: none
Homeport: San Francisco
Occupation: Manufacturing
Age: 38
©2000 Latitude 38 Publishing Co., Inc.