---




Singlehander Anna Stockel aboard the
Santa Cruz 50 'Sundowner'

Singlehanded TransPac

June 26 - San Francisco

On Saturday the 24th, the starting gun sounded for the 23 entrants who had signed up for the San Francisco to Hanalei Bay, Kauai, Singlehanded TransPac. The fleet was blessed with a strong ebb and decent breezes to help them out past Pt. Bonita and into the open Pacific. The two first boats to get into the open ocean were Chuck Beazell's Hunter 54 'Joe' from Alameda and Anna Stockel's Santa Cruz 50 'Sundowner' from Santa Cruz.

The wind soon went light, however, and the seas almost pancake flat. This was easy on the crews, who usually dread the first couple of days as they have to acclimatize to the ocean in what's often the roughest weather of the race. On the other hand, it almost certainly means that Ray Thayer's monohull record of 10 days and 22 hours with the Brewer 60 'Wild Thing' will stand.

For more details, visit www.sfbaysss.org. We'll also be featuring a skipper or two a day in 'Lectronic Latitude.

Both Photos Latitude/Richard


Three boats in the Singlehanded TransPac fleet ride out on the ebb.
---


Coastal Cup
June 26 - California Coast

Twenty-six boats had signed up for the Coastal Cup from San Francisco to Santa Barbara. After an exciting start with the Schock 40 'Yassou' and the Santa Cruz 50 'Gone with the Wind' leading the fleet out the Gate in a nice breeze, the wind went light. Very, very light. As we go to Net, much of the fleet has dropped out. But check out some of the photos.

We'll have full coverage of the race - or non-race - in the next issue of 'Latitude 38'.

The Shock 40 'Yassou' leads the Santa Cruz 50 'Gone with the Wind' out the Gate at the start of the Cal Coastal Cup.


'Merilon', a Yorktown 35, was one of three cruising boats entered in the Coastal Cup.


All Photos Latitude/Richard


The Henderson 30 'Fast Twitch' took
advantage of the wind as long as it lasted.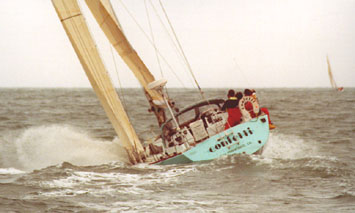 The Farr 44 Confetti works out by Mile Rock.
---

Tropical Storm Update
June 26 - Pacific Ocean

The remains of Hurricane Carlotta - June 18 to 25 - have hit cooler waters and fizzled to less than 25 knots. But the first Mexican hurricane of the season was a monster, as her 125-knot winds ranked her as a Category 4 in a 1 to 5 scale. Fortunately, she, like most Mexican hurricanes, started offshore and continued to the northwest.
For a great graphic of Carlotta, visit:
http://weather.unisys.com/hurricane/e_pacific/2000/index.html.

Unisys Weather Graphic

---
©2000 Latitude 38 Publishing Co., Inc.