---


High Tech Ha-Ha?
June 22 - Baja Ha-Ha World Headquarters

If the first nine paid up entries in the Baja Ha-Ha VII cruising rally from San Diego to Cabo in late October are any indication, there's going to be a brain drain in Silicon Valley. Douglas and Nancy Peltzer of the Hunter 410 'LogOn' and Cupertino seem to be typical of the entries. Doug is a semiconductor technology consultant and Nancy is a semiconductor business consultant. After five boats and 31 years of sailing together on San Francisco Bay, the couple are chucking the tech life - and the worldwide travelling that's gone with it - to cruise for two years. "We had so much fun and met so many nice people during last year's Ha-Ha that we're going to do it again. In the following two years, we're going to cruise to Trinidad and Florida."

For info on this and previous Ha-Has, visit www.baja-haha.com. For an entry packet for this year's Ha-Ha, send a check for $15 and a 9x12 self-addressed envelope with $1 postage to 21 Apollo Road, Tiburon CA, 94920. There is a fee of $169 to sign up, but you get almost half that in hats, tote bags and other gear.

Photo Courtesy Douglas and Nancy Peltzer
---
Different Boats, Different Motion
June 22 - San Francisco Bay

During last weekend's Midnight Moonlight Marathon, conditions got a little dirty after rounding the leeward mark of the Carquinez Bridge. With the wind gusting to 30 knots true, an ebb of about four knots, and boat speeds in the higher single digits, the apparent wind was close to 40 knots. The Olson 34 'Ozone' ripped their main and the little Antrim 27 was seen flogging. It's at times like this that the flat sailing of a big cat is welcome - as proven by the photo of Karen, Sylvia, Doña, Maggie, and Lisa, who used the opportunity to set out the wine and buffet.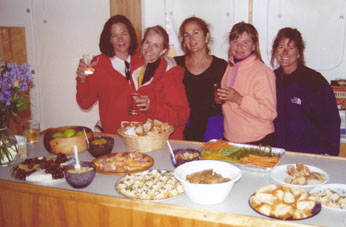 Of course, when the wind goes light on the nose, the motion of the smaller monohulls is fast and high into the wind, while on the cat it's very low and very slow.
Both Photos Latitude/JR

---


San Franciscan Wins at Block Island
June 22 - Block Island Race Week

For Northeast boats that didn't do the Newport to Bermuda Race, the Boatscape.com Block Island Race Week is the thing. Tom Coates - of San Francisco of all places - had a great day in Bay-like conditions, taking a first and third in the highly competitive 30-boat J/105 fleet, getting boat-of-the-day honors. Dennis Conner, some other guy from the West Coast soon to be on loan to the New York YC, had two bullets in the Soverel 33 class. Say what you will about Conner, the guy still has the touch. For the standings, see: http://www.Premiere-Racing.com.
They're Off!
Premiere Racing Photo
---
©2000 Latitude 38 Publishing Co., Inc.