---


Yacht Harbors of the World
June 21 - Bali, Indonesia


Bali International Marina Photo

Looking for an exotic place to berth your 30-footer for a semi-reasonable $10/foot - with up to 30% off for four months? Try the Bali International Marina in one of the more peaceful parts of currently troubled Indonesia. For details, visit: www.balimarina.com/services.html
---


Silvestri in the Olympics
June 21 - Weymouth, UK

San Francisco's Russ Silvestri took 25th out of 89 boats in the Finn Gold Cup world championship in Weymouth, England. While not a stellar performance, it was good enough to get Silvestri - who had already won the U.S. team trials in April - a berth on the U.S. team for the Sydney Olympics. Silvestri had all but made the Olympic team back in '84 before losing a controversial protest.

Other Northern Californians who have already qualified for the sailing team are Jeff Madrigali, Hartwell Jordan and Craig Healy who will be representing the United States in Solings.
---

McCaw's In
June 21 - Seattle

Seattle telecommunications billionaire Craig McCaw made it official that he's in for the next America's Cup with the Seattle YC-based OneWorld Challenge. "Through the OneWorld Challenge we want to focus attention on the global environment with emphasis on the world's oceans," McCaw said. "Water covers 70 percent of the Earth's surface. The oceans literally determine those who bask in blue skies and prosperity and those who will die from famine, flood and hurricane. It affects Africa, America and everywhere in between. It is an issue affecting rich and poor alike."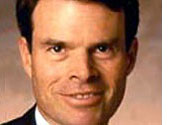 McCaw says he and other private individuals will put up the money for the challenge so that corporate sponsorship will be dedicated to environmental efforts. Go boy, go!

"This challenge is on behalf of the Seattle Yacht Club," McCaw continued, "but should it be successful in winning the Cup, the location for the defense of the Cup in 2006 will be chosen based upon merit, not simple regional prejudice. Further, the challenge will be run as a meritocracy where we will be open to better ideas and better opportunities to make the challenge a success. We will constantly be looking for the most qualified elements and people to put forward so we can attempt to do well while doing good." What, an end to nepotism? So far the heavy hitters for the OneWorld Challenge are designer Laurie Davidson and skipper Peter Gilmour.

Can Northern Californian Larry Ellison, whose Oracle Corporation just reported a ninefold increase in quarterly earnings, be far behind in announcing an America's Cup campaign? Rumors have it that Ellison already has designer Bruce Farr and skipper Chris Dickson lined up.

For details on the Seattle YC challenge, visit http://sailing.quokka.com/stories/06/SLQ__0620_s_seattle_WFC.html

Photo Teledesic/Chris Cameron/Quokka Sports
---


Singlehanded TransPac Starts Saturday
June 21 - San Francisco Bay Area

Up to 23 sailors are expected to cross the starting Saturday off the Corinthian Yacht Club in Tiburon on the beginning of the Singlehanded TransPac to Kauai, Hawaii. During the next several weeks we'll be featuring the participants and updating the event in 'Electronic Latitude. For a complete preview and coverage of the event, see the July and August issues of 'Latitude 38'. Also see http://www.sfbaysss.org/transpac00/index.html.
Phil MacFarlane's Ericson 35 MkII 'Sail a Vie' will head for Hawaii Saturday.
Singlehanded Sailing Society Photo
---
©2000 Latitude 38 Publishing Co., Inc.