---


Puddle Jump Class of 2000
June 20 - The Pacific Ocean

Every year a migration of cruising sailors head west across the Pacific for French Polynesia. And although they sail independently rather than in a race or rally, members of this annual Pacific Puddle Jump keep in touch before, during and after the 2,800-mile crossing via HAM, SSB, and on-board email.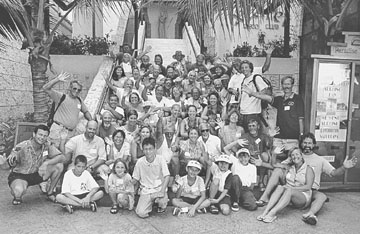 Many of this year's Puddle Jumpers gathered at a 'Latitude'-sponsored bon voyage party at Puerto Vallarta's Paradise Village Marina.
Photo Latitude/Andy

---


The Heck With 'Where's Waldo'
June 20 - The Caribbean

The accompanying photograph was taken from a Coast Guard C-130 that was helping the large Russian tanker rendezvous with the crew of the Morgan 45 that had sunk in the Caribbean. If you look closely, you can see the flare the Coasties had dropped near the liferaft. If you look really, really closely - and have good eyes - you can see the raft itself. Hint: it's above the smoke from the flare. So, yes, if you have to get in a liferaft, you want your EPIRB and your VHF, because the chances of being spotted from a plane are very, very slim.
Photo Courtesy US Coast Guard

---


Just for Fun Photo
June 20 - The South Pacific

The accompanying photograph is of Helen MacKenzie of the Aussie yacht 'Copper Lady'. Helen was keeping cool in the shade of the sail during a Fiji Regatta Week two years ago.
Photo by Sally Andrew

---


Sagamore Gets by Sayonara
June 20 - Newport to Bermuda Race

After James Dolan's various 'Sagamore' ILC maxis have been systematically drubbed by Larry Ellison's Farr-designed ILC maxi 'Sayonara', Dolan got his revenge in the classic Bermuda Race. 'Sayonara' held the lead for the first 515 miles while sailing at a record pace, but then the winds went light. After 3 days and 23 hours and 615 miles of racing, 'Sagamore' finished the race eight minutes ahead of her nemesis.

For details, see http://www.bermudarace.com.
---

Jourdain and Golding Finish New Man
June 20 - Europe 1 New Man Star

Happy Brit Mike Golding Takes Third Place
Europe 1 New Man Star Photo

With the multihulls long finished and Ellen MacArthur having salted away honors with 'Kingfisher' in the prestigious Open 60 fleet, the rest of the competitors are beginning to cross the line in the singlehanded transatlantic race. Roland Jourdain took second with 'Sill Beurre le Gall', while Brit Mike Golding came in third with 'Team Group 4'. That Brits took the top and third spots in this important event allows the sail-happy English to recover a little of their pride after being no-shows in the America's Cups and the disastrous breakdown of Pete Goss 'Team Phillips' catamaran. Visit www.europe1newmanstar.com/uk.

---
©2000 Latitude 38 Publishing Co., Inc.