---


Cruiser Murdered in Rio Dulce
June 19 - Guatamala

"Cruiser Steve Gartman was killed aboard his boat 'Sea Lion' at Mango Marina in Guatemala's Rio Dulce," report Dennis and Sonja of 'Golondria'. "About all we know is that he'd been shot five times and that his body wasn't discovered until several days after he died. The Guatemalan authorities are investigating. This has put a real damper on the place for us."
---

Storm Update
June 19 - Mexico

The hurricane season is proving very active off Mexico. On June 17, Tropical Storm Bud formed down around 15° and took a brief run up in the direction of Cabo San Lucas before fading. Bud never generated more than 45 knots, however.

Tropical Storm Carlotta is currently active with 50 knots winds, although she's headed toward shore in southern mainland Mexico. See http://weather.unisys.com/hurricane/e_pacific/2000/index.html
Unisys Graphic
Ellen MacArthur Takes New Man
June 19 - Europe 1 New Man Star

Twenty-three year-old Brit Ellen MacArthur aboard 'Kingfisher' stunned observers by beating the strongest Open 60 monohull fleet ever assembled to take honors in the Europe 1 New Man Star singlehanded race across the Atlantic. Her time was 14 days and 23 hours. The other top finishers are expected to cross today.

For details see www.europe1newmanstar.com/uk/.
Thierry Martinez Photo



---

'Club Med' Walks Off with Record
June 19 - Club Med

Grant Dalton's giant catamaran 'Club Med' walked off with the east-west Atlantic crossing record after arriving in San Salvador in a time of 10 days and 14 hours, breaking 'Jet Services V's old record by nearly two days. In the process, 'Club Med' established a new 24-hour sailing record of 625 miles - which had originally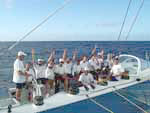 been reported as 640 miles. 'Club Med' averaged 15.3 knots for the entire course. Skipper Dalton, a veteran of many Whitbread Around the World races, wondered aloud if he'd ever be able to go back to racing monohulls.

'Club Med' now goes for the Miami to New York record, and in July, the West to East Atlantic record from New York to England. Steve Fossett's maxi cat 'Playstation', which had held the previous 24-hour record of 580 miles, is headed from England to New York to also attempt a new west to east record. Check out http://www.therace.clubmed.com/press/index.phtml
Club Med Photo

---

Cruising the Med
June 19 - Capri, Italy

Here's a view to warm the heart of any cruiser: the view from Capri looking down toward Marina Picolo and Italian mainland. Californians who visit Capri come away wondering why Catalina and the Channel Islands off California aren't more like Capri.
Photo by Latitude/Richard

---
©2000 Latitude 38 Publishing Co., Inc.