---


Yachts and Pirates
June 16 - 'Yachting World'

You hear a lot of unsubstantiated talk about pirates and cruising boats, but leave it to 'Yachting World' (England) to present a well-researched and documented article on the eight cruising yachts that have been attacked in the Gulf of Aden and the southern Red Sea since April of 1999. The excellent article appears starting on page 60 of the July 2000 issue. For more information on 'Yachting World', visit them at www.yachting-world.com.

The other particularly dangerous area for cruisers seems to be the western Caribbean, the freeway for drug smuggling to the United States. There have been several reports in recent issues of 'Latitude 38', and the July issue will report on a cruiser who was shot five times in the Rio Dulce.
---


The Beauty of the Pacific
June 16 - Cocos Island

If you like sharks, waterfalls, tranquility and isolation, you'll love Costa Rica's Cocos Island. The two shots - of the Ranger's Hut at Chatham Bay and of Chatham Bay itself - were taken by John Neal and Amanda Swan-Neal in May of 2000.
Both Photos Courtesy Mahina Expeditions



---


Joyon Finishes First
June 16 - Europe 1 New Man Star

Every underdog in the world has to love the success story of Frenchman Francis Joyon, who sailed his trimaran 'Eure et Loir' to a new record in the singlehanded transatlantic race. Unlike his main competitors, who were well-funded and had all the best in gear and sails, Joyon enjoyed no such advantages. In fact, he pieced together his effort by borrowing money to buy the once capsized 'Banque Populaire' and then fitted it with a borrowed mast. Not only is the mast 10 feet shorter than the 'latest and greatest', his sails are old and have lost some of their shape. Even though Joyon was surprised to see that he could pretty much keep up with the newer boats, he figured his only chance was to sail a somewhat different course - which he did, by heading lower than his competitors when a new breeze filled in 1,200 miles from the finish on day seven. In so doing, he gained 91 miles on the previous leader and held on to take honors by close to two hours and 45 minutes.
And you have to love the fighting spirit of Ellen MacArthur of 'Kingfisher', who continues to lead the monohull fleet with about 500 miles to go. In recent days she broke a finger, slipped on diesel and banged her head, and hit a whale. Yesterday, she ran over her spinnaker and had to sail backwards for three hours to retrieve it. And she still leads the rest of the fleet by 56 miles!
Europe 1 New Man Star Photos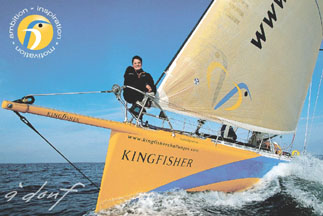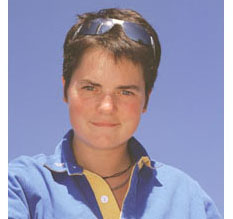 Roland Jordaine continues in second, while Mike Golding of England has replaced Catherine Chabaud in third. For details, see www.europe1newmanstar.com/uk/
---
'Club Med' Certain to Smash East-West Atlantic Record
June 16 - Club Med

Sailing at between 20 and 27 knots in a well established 15-knot easterly, 'Club Med' is joyfully progressing towards the Bahamas and almost certainly will set a new East-West Atlantic record. At 11:30 this morning, the boat had a 575-mile lead over 'Jet Services V's record with less than 600 miles to go. Check out all action at http://www.therace.clubmed.com/press/index.phtml
Club Med Photo
---
©2000 Latitude 38 Publishing Co., Inc.