---


Who Is Craig McCaw?
June 15 - French West Indies

In the business world, he's known as a man who has made three enormous fortunes in telecommunications, and the man who, with backing from Bill Gates, is trying to establish the 'Internet in the sky' satellite system.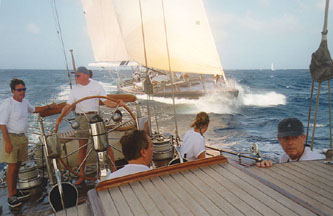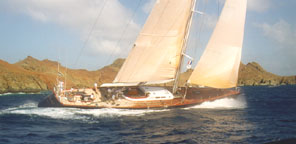 Both Photos Latitude/Richard
Relatively unknown in the sailing world, McCaw got into the news recently when he secured the services of Kiwi naval architect Laurie Davidson, who headed the design team for the victorious Kiwis in the last America's Cup. McCaw has demonstrated an interest in both large racing and cruising yachts. In the top photo, his 118-foot 'daysailer' 'Extra Beat', formerly owned by Agnelli family of Italy, works to weather of the J Class 'Endeavour' off Isle Fourche in the French West Indies during last winter's Around the Island Race at St. Barth. In the lower photo, 'Extra Beat' puts the pedal to medal on the final beat to take class honors.

Despite being 118 feet, 'Extra Beat' has an interior that's been described as being "as luxurious as the inside of a 50-foot racing boat". Which is why none of her nine full time crew sleep aboard. McCaw is reportedly having a 300-foot motoryacht built - which will presumably include full crew accommodations.
---
Marina of the Week
June 15 - Ko Olina Resort & Marina

Looking for a temporary or permanent berth in Hawaii but grossed out by the urbanity, decay and lack of vegetation at the Ala Wai? The luxurious 270-slip Ko Olina Marina, a half hour west of Honolulu, is an attractive option - particularly since the $9/foot/month rates are less expensive than some mediocre marinas in California. The accompanying photo shows several of the resort and marina's seven lagoons. For more information, check out there website at www.koolina.com.
Photos courtesy Ko Olina Resort & Marina



---


You Shall Be Known by the Questions You Ask
June 15 - Mexico Marina Survey

Fonatur, which develops tourist-oriented facilities in Mexico, distributed a survey to cruisers. Based on what Fonatur said and the questions they asked, it looks as though they are thinking about making their country even more hospitable to cruisers. In particular, they mention building small marinas or shelters up and down the mainland and Baja coasts. While the deadline for turning in the surveys several months ago, it nonetheless makes for interesting reading:
This survey is being conducted by Almar for Fonatur. Our objective is to improve facilities for cruising boats in Mexico. To this end, we would appreciate your help in determining what the needs of the cruising fleet actually are. It is recognized that these needs are distinct from the needs of other segments of boaters. It is also true that there is a balance between minimalist simplicity and expense. We ask that you respond to the questions with regard to your own needs and not to what
you may believe the fleet, as a whole, would want.
Thank you very much for your cooperation. We hope it results in better cruising in Mexico.
BOAT INFORMATION
Length Beam Draft
Number of persons normally aboard
Flag Country
CRUISE INFORMATION
When did you bring your boat to Mexico?
Anticipated duration of visit to Mexico
Anticipated length of entire cruise
Other countries visited or to be visited during the cruise
How would you compare your cruise in Mexico and the facilities you have found here, to what you expected and to what you have found in other countries?

LONG-TERM STORAGE
Would you ever leave your boat UNATTENDED for extended periods of time (i.e.hurricane season)?
How often?
For how long, on average?
Please rank the following storage options:
Dry storage, $4-$5 per foot per month, plus haulout
Marina slip, $10-$12 per foot per month
Mooring, swinging, $3-$4 per foot per month
Mooring, bow and stern, $4-$5 per foot per month
Anchor, no fee
Comments
If the particular type of unattended storage favored by you (Dry Storage, Mooring, Marina, Anchor) was available in all of the following locations, and if the cost for the same service was equal in each location, please rank your preference of location:
Puerto Vallarta
Mazatlan
Cabo San Lucas
La Paz
Puerto Escondido
Santa Rosalie
Bahia de Los Angeles
San Carlos
Have you had any work done on your boat in Mexico?
Comments
Do you plan on having any work done in Mexico?
Comments
MOORAGE
While ABOARD your boat, please rank the following moorage options, without regard for price:Marina slip
Mooring, one point, swinging
Mooring, bow and stern
Anchor
Please rank the options, factoring in the price range indicated:
Marina slip, $10-$12 per foot per month
Mooring, one point, swinging $3-$4 per foot per month
Mooring1 bow and stern, $4-$5 per foot per month
Anchor, no fee
What would be the average length of stay at any single harbor, using one of the methods of mooring mentioned above?
Recognizing that for every service there is a cost, whether included in the mooring fee or separate, please rank, in order of importance to you, the following services. Please enter "no" for a service irrelevant to you.
Potable water
Electricity
Television
Telephone
Internet access
Toilets and showers
Pool
Parking
Gated security
Fuel dock
Convenience store
Fonatur contemplates a series of small facilities, perhaps small marinas or mooring fields, spaced a daysail apart, on the West Coast of Mexico, including the Baja Peninsula and the Sea of Cortez. Would you use such facilities?
Comments
Thank you very much for your input.
---


Ellen MacArthur Continues to Lead New Man
June 15 - Europe 1 New Man Star

With 656 miles to go, young Brit Ellen MacArthur continues to lead the Open 60 Class - despite considerable troubles. Yesterday she took a bad fall down the companionway, leaving a large bump on her head. Later she hit a 15-foot whale that slowed 'Kingfisher' to a standstill from14 knots.

Roland Jordain is still in second place with 'Sill Beurre Le Gall', but Catherine Chabaud continues to close at a fast pace with 'Whirlpool'. In the smaller classes Emma Richards on 'Pindar' has fallen to second, but remains close.

For details, see www.europe1newmanstar.com/uk/
Europe 1 New Man Star Graphic
---

'Club Med' Holds 478-Mile Lead on TransAtlantic Record
June 15 - Club Med
Club Med Photo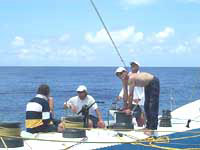 "In the last fifteen years of my career, I haven't experienced such pleasant sailing conditions. Full moon, warm temperatures, pure speed with a fast boat. Pure joy." For Grant Dalton and his crew morale is back. The difficult moments and the days without wind have been forgotten. In 1988, after the same number of days at sea, Serge Madec and his crew also suffered from similar conditions. Which suggests to Grant Dalton that this virtual combat against the record is something special: "At the moment we are fighting 'Jet Services V's phantom. It's a little strange thinking that we are racing against a boat that we have never seen and whose crew we don't know. We are attacking a record that has stood for 12 years, which is a long time in sailing. What were the crew doing in our place? What sort of wind conditions were they facing? What were they thinking about? Did they ever think that one day their record might fall? One thing is sure, the crew of 'Jet Services' was good. Twelve years later, with powerful computers and all the weather information and analysis systems that we have on board, we have realized that our route is fairly close to theirs. They did a very good job and one thing's certain, if we manage to beat this record, we will have taken it from a very good crew".
Check out http://www.therace.clubmed.com/press/index.phtml
---
©2000 Latitude 38 Publishing Co., Inc.