---
New Singlehanded Trimaran Record
June 14 - Europe 1 New Man Star

Frenchman Francis Joyon has sailed his trimaran 'Eure et Loir' to a new record in the Europe 1 New Man Star singlehanded race. He covered the 2,810 miles course in 9 days and 23 hours, an average speed of 11.7 knots. The new record eclipses Philippe Poupon's 1988 record by almost nine hours. Franck Cammas was second about five hours later aboard 'Groupama', and Marc Guillemot finished less than an hour later with 'Biscuits La Trinitaine'.

The Open 60 monohull division continues to be lead by 22-year old Brit Ellen MacArthur aboard 'Kingfisher'. Roland Jourdain with 'Sill Buerre Le Gall' is just 13 miles back, while Catherine Chabaud of France is third in 'Whirpool' another 50 miles back.

For more details, visit www.europe1newmanstar.com/uk.
Europe 1 New Man Star Photo
---
Cruising Beauty
June 14 - Thailand

Karl and Jill Matzke of Palo Alto bought a Kennex 445 catamaran out of a charter program in the Caribbean, sailed her back to the Bay Area for refitting, then began a circumnavigation with their two young boys by taking off on the Ha-Ha in 1998. They've currently made it as far as the Med. While passing through Thailand, they took this lovely photograph of 'Moondance' at anchor. You can find it and others at their website at www.geocities.com/TheTropics/Island/3313/index.html.
Photo courtesy Karl and Jill Matzke
---
First Catnip Cup
June 14 - San Francisco Bay

A first gathering of cruising multihulls was held on San Francisco Bay June 10-11, with the fleet sailing up to Vallejo on the first day and back the second day. Approximately 15 boats participated - approximate because there were no formal entries - ranging in size from a 29-foot Warrior to a 63-foot Surfin' 63.

The top photo shows 'Crocodile Rock', a Grangier 38 built by Richard Brooker and Grace Spencer of Canada. Isn't the background scenery of the Bay lovely? The lower photo by Karen Ramsey is of 'Profligate' passing the Brothers.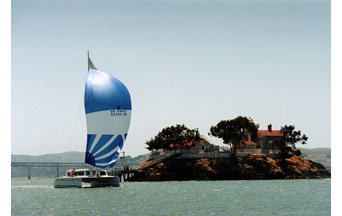 For more details and photos, see the July issue of 'Latitude 38'.
Top Photo by Latitude/Richard
Lower Photo by Karen Ramsey
---

'Club Med' Ahead of 'Jet Services V' Record
June 14 - Club Med

Club Med Photo
After two days of very light airs from dead astern, 'Club Med' picked up a little more pressure early this morning. Analyzing the aptitude of the boat and the crew since leaving Spain, Bruno Peyron outlined an initial appraisal: "What strikes us most is that barely a month after launching, we were able to push her to her limits during the twenty-four hour record. This record was not our priority - our priority is first and foremost qualification for The Race, and optimization of the program - but we felt so in osmosis with the boat that we just pushed a little harder. In fact it has saved us months of training."

The cosmopolitan crew also very quickly found its marks. "It's the association of the French multihull culture and the Anglo-Saxon maxi culture and each group must learn from the other and teach the other, with respect for each one's experience." Grant Dalton, happy to have found more wind and therefore remain within reach of 'Jet Services V's record, shared Peyron's satisfaction. "The messages of encouragement we received on board via the Internet have enabled us to forget the last 48 hours of light airs. The list of people who want to come sailing with us is getting longer, which gives us extra satisfaction!"

After 7 days of racing, the catamaran 'Club Med' has increased her lead again over 'Jet Services V', to a total of 379 miles. All the conditions seem to be gathered together to break this 12 year old record.

'Club Med's new record 640-mile run of three days ago has caused as big a sensation in New Zealand, as Ellen MacArthur's New Man success has in England.

For details see: http://www.therace.clubmed.com/press/index.phtml

---
©2000 Latitude 38 Publishing Co., Inc.