---
Baja Ha-Ha Notice of Rally
June 13 - Tiburon, California

The Baja Ha-Ha is the 750-mile cruisers rally from San Diego to Cabo San Lucas, with stops in Turtle Bay and Bahia Santa Maria, that starts in late October of each year. This year's start is on October 31. Based on the number of requests for entry packs - 85 to date and seven yesterday alone - this fall's seventh edition may be the biggest yet. For an entry packet, send $15 and a 9x12 self-addressed envelope with $1 postage to:
Baja Ha-Ha, Inc, 21 Apollo Road, Tiburon, CA 94920.
Check out their website for more details: http://www.baja-haha.com.
Photo courtesy Paola Esteri
---
Cruisers Rediscover the Forgotten Middle
June 13 - El Salvador

For most of the last 20 years, El Salvador, torn by civil strife, was bypassed by most cruisers. As of early this year, that's all changed. The accompanying photo of cruising boats anchored at lovely Marina de Barillas in Bahia de Jiquilisco shows why. The boats in the photo include, from the left, 'AliKat','Sonrisa', 'Mimosa', 'Paradise', 'Belle Moutette', 'Song Line', and 'Diana B'. Another great facility, Bahia del Sol, lies 30 miles to the northwest.

Articles on the new situation in El Salvador appear in the June and July 2000 issues of 'Latitude 38'.
Chuck Zeigler Photo
---
After the Rescue
June 13 - The Caribbean

What do you do after if you're one of the crew of a boat that sinks in the Caribbean, you get rescued by a Russian tanker, and you're waiting to arrive in Puerto Rico? If you're Buzz, one of the crew of Ron Landmann's Morgan 45 'Painkiller', you sit in your room on the ship and dry out your American currency. And you take a dip in the ship's little pool.

For the complete story of the 'Painkiller' sinking and rescue, see the June 2000 issue of 'Latitude 38'.
Ron Landmann Photos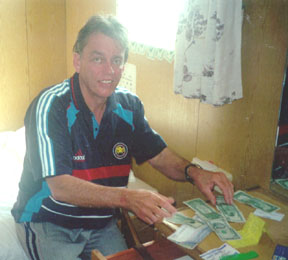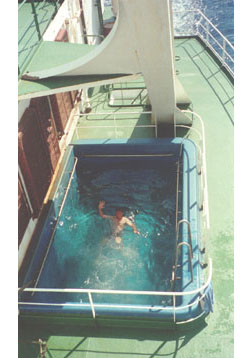 ---
Women Lead New Man
June 13 - Europe 1 New Man Star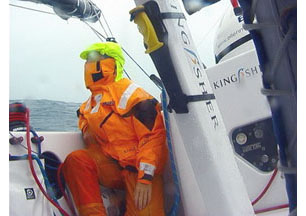 With just 30 hours or so in the thrilling singlehanded race across the Atlantic, the top three multihulls are separated by a few miles in what have become light breezes. It's going to be a tactical dogfight as the skippers battle both extreme fatigue and tricky conditions on their way to establishing what certainly will be a new course record.

In the Open Class 60s, the big news continues to be the sensational performance by the women against some of the top singlehanded male sailors in the world. Young Ellen MacArthur has become the toast of Britain, which has been greatly embarassed in the sailing world in recent years, as she continues to stretch her lead with 'Kingfisher'. Moving into third place in this very competitive division with a big gain from the south is Frenchwoman Catherine Chabaud with 'Whirlpool'. Furthering the theme of women atop the New Man, Emma Richards of Britian leads the Classes 2 to 5 with 'Pindar'. To date, this has been by far the best performance by a group of women in any major offshore race.

For details on this exciting event, visit www.europe1newmanstar.com/uk.
Ellen MacArthur on 'Kingfisher'
Europe 1 New Man Star Photo
---
'Club Med' Atlantic Record Attempt
June 13 - Club Med

"I don't know whether it will be easy to go back to sailing on monohulls after such speeds," reports Kiwi skipper Grant Dalton after his maxi catamaran 'Club Med' covered 640 miles in 24 hours, "but each race is a new challenge. Let's finish this one first before asking such questions." Dalton has won the Whitbread Around the World Race in monohulls twice and was the runner-up three times. With lighter winds, 'Club Med' has slowed to a relatively pedestrian 16 to 18 knots as she continues on toward the finish at San Salvador.

See www.clubmed.com.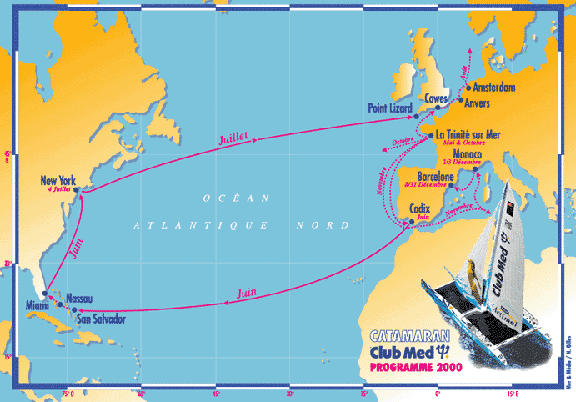 Club Med Graphic
---
©2000 Latitude 38 Publishing Co., Inc.