---
New Ocean Speed Record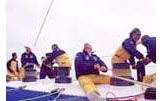 Club Med Photo
June 12 - Club Med

'Club Med', the out-of-the box maxi catamaran owned by Kiwi Grant Dalton and co-skippered by Frenchman Bruno Peyron, shattered the 24-hour speed sailing record in the course of their attempt to set a new transatlantic record. By covering an astonishing 625 miles in 24 hours - an average of 26.07 knots - Club Med beat the old mark of 580 miles held by maxi cat rival Steve Fossett's 'Playstation'. The burst of speed gave 'Club Med' a 256 mile 'lead' in her attempt to beat the 1988 transatlantic record set by the catamaran 'Jet Services V'.

Having had the honor of sailing the 86-foot catamaran 'Explorer' across the relatively smooth waters of San Francisco Bay in excess of 30 knots, it's hard for us to believe that a boat and crew could average nearly that speed for 24 hours on the ocean. Brilliant!

While 'Club Med' was establishing a new standard for speed on the ocean, Fossett and 'Playstation' took line honors in the light-air around the Isle of Wight race in England. Fossett congratulated Dalton and Peyron on their new record.
For more, check out http://www.therace.clubmed.com.
---
New Wrong Way Around Record
June 12 - Brest, France

In another significant achievement, Phillippe Monnet has sailed 'UUNET', a Briand Open 60, to a new 'wrong way around' record. The Frenchman circumnavigated against the prevailing wind and current in a time of 151 days and 54 minutes, and in so doing broke the old record, held by Brit Mike Golding, by 10 days.

For details see: http://www.70degreesouth.com.
Phillippe Monnet
70degreesouth Photo
---
Team Madro to the Olympics in Solings
June 12 - San Francisco

Skipper Jeff Madrigali and crew Craig Healy and Hartwell Jordan - from Novato, Tiburon and Piedmont, California, respectively - secured the last berth for the USA's 2000 Olympic Sailing Team by winning the Soling Class Trials on San Francisco Bay. Madrigali's team won all 21 of their preliminary round races and all seven in their semi-finals contests to qualify for the finals against former Yachtsman of the Year Ed Baird of St. Petersburg, Florida, and his crew of Dean Brenner and Tom Burnham. Team Madro prevailed in the finals by a score of 7-5.

The Olympics will be held in Sydney, Australia, from September 16 through October 1. Details at: www.ussailing.org/Olympics/OlympicTrials.
---


Woman Still atop New Man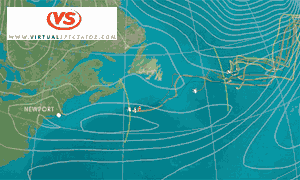 Europe 1 New Man Star Graphic
June 12 - Europe 1 New Man Star

As both the multihull and monohull fleets race through the area of icebergs on their way from Plymouth, England, to Newport, Rhode Island, in the singlehanded transatlantic race, one of the big stories remains that Ellen MacArthur, the youngest sailor in the 49 boat fleet and one of just three women, continues to lead the monohull fleet - by just two miles.

Another major story is the damage suffered by boats and gear. Lalou Roucayrol's trimaran 'Banque Populaire' flipped after the starboard hull had detached from the rest of the boat. Initially the French sailor, who was in good shape, planned to stay with the boat until a salvage tug could arrive. But when the starboard hull began to destroy the main hull, he accepted a rescue by the American container ship 'Sealand Quality'. Four other boats have lost masts, and several others are having to hand steer much of the time due to failed autopilots.

For more information on this epic event, visit www.europe1newmanstar.com/uk.
---
©2000 Latitude 38 Publishing Co., Inc.