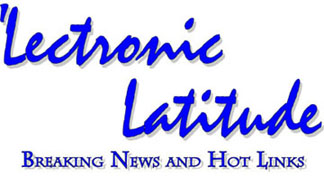 ---
Club Med Catamaran to Qualify for The Race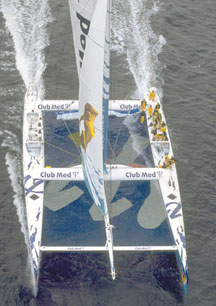 Club Med/G. Plisson Photo
June 1 - Club Med

At 09:30 this morning, the 33.5 meter maxi-catamaran 'Club Med' cast off from her dock in La Trinité, France, ready to set off on her first offshore sail heading for Cadiz, Spain. 'Club Med' should reach the Andalusian port sometime on Sunday, where from June 6 she will be on standby to attack the East/West Atlantic crossing record between Cadiz and San Salvador (Bahamas), one of the qualifying courses for The Race.
The crew selected for this delivery includes 11 people: Grant Dalton (NZ), Mike Quilter (NZ), Ed Danby (UK), Neal McDonald (UK), Nicolas Pichelin (F), Guillermo Altadill (Sp), Gerald Moosbrugger (Austria), Paul Quinn (NZ), and three new faces have made their appearance: Jason Carrington (UK), two Whitbreads alongside Lawrie Smith on 'Silk Cut', Thierry Barot (F), ex-America's Cup (French Kiss 87), he has sailed on multihulls notably with Paul Vatine during the Club Med Challenge in the Mediterranean, then on 'Banque Populaire' during the '99 multihull season. Finally Hervé Jan (F), who crewed for Olivier de Kersauson on his record circumnavigation, then with Thomas Coville and Alain Gautier this year. The Japanese Toru Kikuchi, replaced by Thierry Barot, should be back in Miami and the American Bob Campbell, replaced by Hervé Jan, should find his place aboard the boat again from New York. This crew will be reinforced for the West/East Atlantic crossing record attempt by Bruno Peyron (F), Mitch Booth (Aus), Jacques Caraes (F), Frédéric Le Peutrec (F) and Hubert Hémard (F), responsible for The Race project within Club Méditerrannée.

For further information, visit: www.therace.clubmed.com/press/
---
ARC 2000 to Eclipse Last Year's Fleet
June 1 - Atlantic Rally for Cruisers

Despite the fact that the ARC, the granddaddy of all cruising rallies, doesn't start until November 19, as of May 26 a total of 184 boats had entered. Last year's fleet of 235 boats will almost certainly be eclipsed. The ARC begins in Gran Canaria, Canary Islands, and ends 2,700 miles later at Rodney Bay Marina, St. Lucia. Depending on the winds, the boats and the crews, boats take between 12 to 24 days to finish. Boats must be between 25 and 60 feet, and motoring is allowed in most classes. We did this event several years ago and enjoyed it very much. For details, visit www.worldcruising.com/events.htm
---
©2000 Latitude 38 Publishing Co., Inc.