---

Photo of the Day
July 5 - Caribbean
One of the best ways to judge a person is how they respond to adversity. When we were kicking around the Caribbean a lot in the '90s, we became friends with a Frenchman - see the accompanying photograph - named Girard. In the process of building the 75-ft ketch 'Jaipur' almost by himself, the steel hull fell off the blocks and severed his right arm above the elbow. That would have been the end for most men, but despite his handicap, Girard persevered to complete the boat to a high standard. Then he sailed her to the Caribbean where he did charters. From time to time, he literally singlehanded the big boat between the islands. Do you know how hard it is to scrub the bottom of your boat in the water, when you paddle like mad with one arm and try to scrub with the other? To appreciate what Girard has done, next time clean your bottom his way - with just one arm.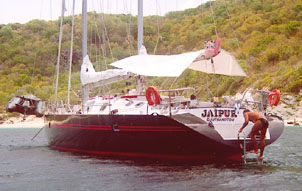 Both Photos Latitude/Richard
---

Cayard and Ellison Together for the America's Cup?
July 5 - Trieste, Italy

'The Curmudgeon', who publishes the online 'Scuttlebutt', reports finding some gems at the end of a Quokka Sports story by Andrea Falcon about the World Cup in Trieste. "I am going to sign with Larry Ellison," Cayard was quoted as saying. He is also reported to have said that both of the AmericaOne boats, #49 and #61, used by his St. Francis YC team, will go to Ellison's effort.

Ellison, who was cruising the Bay on the Fourth aboard his 192-ft stealth motoryacht 'Izanami', has yet to announce an America's Cup campaign, but is widely believed to have already signed on helmsman Chris Dickson and designer Bruce Farr. It's presumed that 'the second richest man in the world' would do the America's Cup under the burgee of the St. Francis YC, for whom he already races his Farr maxi 'Sayonara'.

Cayard, who took the '92 Italian America's Cup team to the Finals in San Diego, remains a hero in Italy, where he is often recognized on the street and asked for autographs. He has nonetheless apparently turned down several very lucrative offers from Italian syndicates in part because his wife is said to prefer Marin County to Italy.

For the entire story, visit: http://sailing.quokka.com/stories/06/SLQ__0629_s_nations_WFC.html. To check out 'Scuttlebutt', email scuttlebutt@listsrv.boats.com.
---

Weather Updates
July 5 - Pacific Ocean
Pacific Ocean Weather
Today's chart shows great weather for fast sailing to Hawaii, which is good news for both the Singlehanded TransPac and Vic-Maui fleets.
Click here to see enlarged graphic.
University of Hawaii Meteorology Graphic
California Coast Weather
It's 0900 and it's gusting to 23 knots at Pt. Conception. It must be July.
Pacific Sea State
Check it out at: http://www.mpc.ncep.noaa.gov/RSSA/PacRegSSA.html.
Tropical Disturbances
Kirogi is headed to Japan with 110 knots. See http://weather.unisys.com/hurricane/w_pacific/2000/index.html for this season's western Pacific hurricane tracks.



---

Cruising
New President in Mexico
July 5 - Mexico City
Former Coca-Cola exec and rancher Vicente Fox has been elected President of Mexico in a stunning defeat for the PRI Party. The PRI had been in power longer than any other political party in the world, often relying on San Francisco-style graft and corruption. Fox, from the moderate right wing, is reaching out to even the Green Party on the far left to form a pluralistic government based on improving education, eliminating corruption, and rooting out drug smugglers.

What does this mean for cruisers? Until Fox takes office on December 1, those who rely on graft may be grabbing for the last dollars they can get. Fox is on very good terms with the United States, and we think that in the long term he'll be good for Mexico and good for cruisers.
YOTREPS
July 5 - Cyberspace and the Pacific Ocean
Who is out making passages in the Pacific and what kind of weather are they having? Check out YOTREPS - yacht reports - at http://www.bitwrangler.com/yotreps/
---

Racing
July 5 - Pacific Ocean
Victoria to Maui Race
James McDowell's SC 70 'Grand Illusion' is on a roll. They took overall honors in the '99 Ensenada Race, overall honors in the '99 TransPac, won the '00 P.V. Race, and, having peeled off 348 miles in the last 24 hours, are on a pace to break 'Pyewacket's Vic-Maui Record. And the wind to the finish looks good. Since McDowell has been a 'Maui boy' for several years now, the party at the Lahaina YC should be epic. For details, visit: http://www.vicmaui.org.
Singlehanded TransPac
After a slow start, the SSS TransPac fleet is really moving in the stronger - finally - trades. Steve Mann of the Wylie 39 'Tawodi' reports getting his liveaboard up to 15.9 knots. Greg Morris on the Moore 24 'Color Blind' topped that with 18.3 knots during a surf, while Ron Corbin hit 15.9 with the Olson 30 'Still Crazy'.
For details, visit: www.sfbaysss.org.
Singlehanded Profile:
Greg Morris, 'Color Blind', Moore 24
Greg is a consistent recidivist in the Singlehanded TransPac. He's participated in '94, '96 and '98, taking third in class all three times!

Morris's reputation as a bit of a wild man is well born out in his choice of boats. Instead of moving up like most people, after the '96 race, he sold his Farr 33 'Slipstream' and moved down to a Moore 24, whose lavender-colored hull, orange boot stripe, green bottom paint, and name - 'Color Blind' - give the first indication of a bit more off-center personality than your average sailor. So does his full-metal-jacket approach to the Solo TransPac; as with previous years, Greg plans to hand-steer the boat about 80% of the time. The other 20% the autopilot will do the driving while Greg takes periodic 15 minute naps regulated by his trusty egg timer. "I plan to run black at night so I can trim," says Greg. "I'll be up all night and cat nap in the morning."

Greg's main goals are to better his 12 day, 21 hour time of 1994 (without breaking a finger as he did in that race before even getting out the Golden Gate), move up a notch or two in the standings - and for once beat perennial rival and close friend Ken Roper.

What Greg does share in common with other racers is that he started doing this race for the adventure, but returns for the camaraderie of seeing old pals like Roper, and making friends from the 'new crop' of TransPac racers. Which is another way of saying Greg is looking forward as much to arriving and getting together with other racers at the Tahiti Nui bar - traditional hangout of the Solo TransPac'ers - as he was to the race itself.
Navigation: GPSs. Steering: primary: self; secondary: Autohelm.
Food: Powerbars and canned food; "My favorite is chili."
Special thanks to: Hal Wright, Dan and Darin Dowd, Bob Comir and Eric Jungemann.
Boat: 'Color Blind', Moore 24 (1979)
PHRF rating: 150
Yacht Club: SSS
Homeport: Alameda
Occupation: Writer
Age: 46
---
Top
/ Index of Stories / Subscriptions / Classifieds / Home
©2000 Latitude 38 Publishing Co., Inc.