---
Photos of the Day

July 21 - Cuba

Waiting to Die in Havana


For Havana, this building is in good shape.


'Big O' and 'Orient Express' at the Marina in Veradeno
Photos Latitude/Richard
In an abrupt change of course, an unusual coalition of conservative business interests and liberal human rights activists in the House of Representatives voted to allow exports of food and medicine to Cuba - and to allow Americans to travel there freely. There is a decent chance that some form of this bill will pass the Senate and not be vetoed by President Clinton.

American sailors, of course, have long been able to take their boats to Cuba on the condition they not 'trade with the enemy' by spending any money once they get there. Ho, ho, ho, that's a funny one!

We spent nearly two weeks cruising the north shore of Cuba on 'Big O' and marveled at two things: 1) How unspoiled and undeveloped the country is, and 2) How awful slavery is. Teenagers in America complain about 'not having a life', but in Cuba it's really true. Those hopeless people have nothing to do all day but sit around and wait to die.

The best time to visit Cuba by boat would be before the travel restrictions are lifted, because once it's legal, countless Americans are going to flock down, completely overwhelming the virtually non-existent facilities and corrupting the locals with money. The arrival of Americans with piles of money is what, in our opinion, is going to finish off the Cuban revolution.
---



Weather Updates

July 21 - Pacific Ocean

Pacific Ocean Weather

Once again the trades are blowing nicely for the Pacific Cup fleet, particularly those furthest south of the rhumb line. And look how light it is again along the coast of Baja, perfect for that dash back to the States.

California Coast Weather

Winds and seas along the California coast are perfect for going south but rotten for coming north. It's blowing day and night. But when are they going to get the windspeed indicator fixed at Conception? For details see: www.ndbc.noaa.gov/stuff/southwest/swstmap.shtml


University of Hawaii Meteorology Graphic

Click here to see enlarged graphic.
Pacific Sea State

It must be summer; check out how flat the seas are in the far North Pacific and how big they are in the far South Pacific. See http://www.mpc.ncep.noaa.gov/RSSA/PacRegSSA.html.
For another view, see http://www.oceanweather.com/data/global.html.
Tropical Disturbances
Tropical depression Upana continues to move to the west some 300 miles south of Hawaii. It only has about 25-knot winds.
---

Cruising
In Touch with Nature

July 21 - The Planet Earth

When you live and work in the city or suburbia, your awareness of nature rapidly declines. Once you start cruising, you suddenly become reacquainted with the sun, moon and stars, the clouds and the sea. You couldn't tell from walking down Market Street in San Francisco, but it's actually a beautiful world we live in.

Photo Latitude/Andy
YOTREPS
July 21 - Cyberspace and the Pacific Ocean
Who is out making passages in the Pacific and what kind of weather are they having? Check out YOTREPS - yacht reports - at http://www.bitwrangler.com/yotreps
---
Racing
West Marine Pacific Cup
July 21 - Pacific Ocean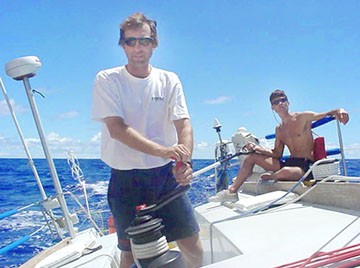 Yes, it really is that blue out there!
Photo Courtesy Bruce Schwab on 'Rage'


The Pac Cup continues to unfold more or less as expected, with 'Pegasus' and 'Rage' now clipping along smartly at the head of the 65-boat pack. At roll call yesterday (Thursday), 'Pegasus' was 773 miles away from Hawaii and 32 miles ahead of 'Rage'. Both boats are now knocking off about 300 miles a day - standard stuff for these behemoths - and should be tied up at Kaneohe YC by the end of the weekend. 'Pegasus', with Mark Rudiger navigating, is about 100 miles south of 'Rage' and is obviously counting on the normal port tack header that occurs as the boats converge on the homestretch.

Southerly leverage continues to be the key, and almost all the class leaders are set up lower than their peer group. The only new class leader since yesterday is 'Osprey', which has reclaimed the lead from 'Cha Ching' in Division D. 'Lina' continues to lead overall on corrected time, but second-place 'Octavia' took 38 miles out of her yesterday. 'Octavia' is just 15 miles behind 'Lina', but about 60 miles directly south - like the 'Rage'/'Pegasus' battle, this one depends on which way the wind shifts at the end. . . And don't count out the Antrim 27 'E.T' for overall honors yet. They're 880 miles out, set up appropriately (i.e., south), running 17th overall - and the heavy-duty planing part of the race has only just begun.

Surf to http://www.pacificcup.org/ to learn more. Daily position reports generally are posted in the early afternoon, just an hour or so after 'Lectronic Latitude' comes out.
Weekend Preview
July 21 - San Francisco Bay
If we weren't toiling away on deadline, we know exactly where we'd be tomorrow: doing the Silver Eagle Race, a wonderful 67-mile scenic tour of the Bay which starts Saturday morning at 9:30 off the Golden Gate YC. About 40 boats are expected to compete. . . A pair of championship regattas are also on the docket, with San Francisco YC hosting the big one: the Melges 24 North Americans (24 boats racing three races Friday, three Saturday, and two Sunday). We heard through the grapevine that Vince Brun's Melgi lost her bulb in practice on Thursday and flipped - damn, another missed photo opp! Meanwhile, Richmond YC is hosting the decidedly lower-key Santana 22 Nationals (about 10-12 Tunas expected). . . Last but not least, Encinal YC is holding their annual Centennial Cup, a J/105 regatta limited to West Coast yacht clubs over 100 years old. Mike Rettie will steer the Encinal entry against four other challengers: San Diego YC (Keith Lorence), San Francisco YC (Hank Easom), Santa Barbara YC (Mark Noble), and Vallejo YC (Jeff Ruszler). Our bold prediction: the winning skipper will have two syllables in his last name.

---
Top
/ Index of Stories / Subscriptions / Classifieds / Home
©2000 Latitude 38 Publishing Co., Inc.