---


'Lectronic Latitude
July 17 - Mill Valley

It's deadline here at the print version, so there will be minimalist 'Lectronic Latitudes for this week. Before sure to check out the 'back issues' of 'Lectronic, most of which have timeless material.
---


Photo of the Day
July 17 - Caribbean


Photo Latitude/Andy

Does this make you green with envy or what? You're probably busting your chops in some office, having battled traffic all day, and having to look forward to battling traffic again all afternoon. Meanwhile in the sunny Caribbean, people just like you have been out sailing, reveling in the warm breezes, fresh air and blue seas. Now it's time for a little liquid refreshment - a Pusser's Painkiller perhaps? - at the nearest beachside shack where you can make sailing friends from all over the world. Yeah, there's nothing like a Caribbean sailing vacation - even in the summertime.
---
Weather Updates

July 17 - Pacific Ocean

Pacific Ocean Weather

It's always important to have a crew that gets along, but never more important than this year's West Marine Pacific Cup where there is hardly any wind on the course. Check out the rhumb line weather conditions on today's weather map.

California Coast Weather

Unlike out in the Pacific, there's wind along the California coast. It blew in the mid teens all last night at Arguello and it's gusting to 30 knots in the Santa Barbara Channel. For details see: http://www.ndbc.noaa.gov/stuff/southwest/swstmap.shtml


University of Hawaii Meteorology Graphic

Click here to see enlarged graphic.
Pacific Sea State

The seas are very large in the Southern Ocean, but flat on the way to Hawaii and off Mexico. Check it out at: http://www.mpc.ncep.noaa.gov/RSSA/PacRegSSA.html.
For another view, check out: http://www.oceanweather.com/data/global.html.
Tropical Disturbances
There are no tropical disturbances anywhere in the world.
---

Cruising
July 17 - Panama Canal
Balboa YC Back in Business
The Balboa Yacht Club on the Pacific side of the Panama Canal has once again thrown out the welcome mat to all cruisers. It's true the facility burned down and hasn't been rebuilt, but manager Larry Liberty reports the bar and pool - the latter didn't burn - are back in business.
YOTREPS
July 17 - Cyberspace and the Pacific Ocean
Who is out making passages in the Pacific and what kind of weather are they having? Check out YOTREPS - yacht reports - at http://www.bitwrangler.com/yotreps/
---

Racing
West Marine Pacific Cup
July 17 - Pacific Ocean
The doublehanded father/son team of Fred and Brendan Huffman have opened up an improbable lead in the eleventh biennial West Marine Pacific Cup, sailing their LA-based Contessa 35 'La Diana' an astounding 216 miles ahead of the nearest competitor in the entire 75-boat fleet as of roll call yesterday (Sunday, July 16). The engraver might as well start etching 'La Diana's name on the Doublehanded 1 trophy - but overall honors in this painfully slow race will certainly go to a much bigger boat. Currently 'Lina', Walter Pressell's Ventura-based SC 50, is listed as first overall on corrected time.

Other class leaders at this still-early moment are 'Diminished Capacity' (Ranger 33, Div. A); 'Alicante' (Sabre 38-2, Div. B); 'Punk Dolphin' (Wylie 39, Doublehanded 2); 'Elan' (Express 37, Div. C); 'Bodacious' (Farr One Ton, Div. D); 'Osprey' (SC 40; Div. E); 'Kokopelli 2' (SC 52: Div. G); and 'Taxi Dancer' (R/P 68; Div. H). . . In other Pac Cup news, Division B entry 'Goliard' - a Slocum 43 which was doubling as the communications boat - has withdrawn. Details were fuzzy as to the circumstances, and how this might impact future position reports.

Daily runs ranged from 66 miles ('Red Sky', Olson 34) to 217 miles ('Pegasus', Andrews 70+). No one - not even 'La Diana' - is even close to the halfway point, and the weather forecast remains grim. Reports of crew mutinies and cannibalism appear to be false, however. For more on this slow-motion race, check out http://www.pacificcup.org/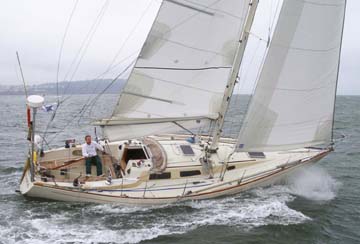 'La Diana' heads out the Gate on her way to a Pacific Cup lead.
Photo Latitude
---
Top
/ Index of Stories / Subscriptions / Classifieds / Home
©2000 Latitude 38 Publishing Co., Inc.