---
Photo of the Day

Slithering Around in the Mud

December 23 - Cartagena

When you think of cruising in the Caribbean, you think of crystal clear waters, not slithering around in what looks like a mud-wrestling pit. But the truth is, virtually all cruisers to Cartagena, Colombia, end up in the mud - like Judy White, in this photo - and loving it. For full details, check out the February issue of Latitude 38.

For more photos of Cartagena, check out the cruising section below.


Photo Courtesy Speck
---

'Lectronic Sailing Lessons
Jibing the Turbosled, by Rob Moore
December 23 - 'Lectronic Latitude Classroom
Okay, class, pay attention. We'll only go over this once. The following are the steps involved in jibing the humongous - 4,400 square feet! - masthead asymmetrical kite on a turbosled, as learned recently on Doug Baker's Andrews 70+ 'Magnitude':

1) Dee (tactician) hollers 'stand by to jibe'. Dodd (foredeck) immediately questions the wisdom of this call.

2) The guests - four or six non-sailors brought along as rail meat - are informed what is about to happen, and where to go so they won't be killed.

3) The 37-foot black carbon spinnaker pole sticks 11 feet past the bow of the boat, so there is often a staysail or a jib up to fill the slot. This comes down for the jibe.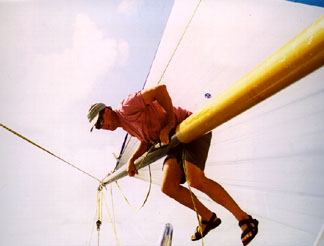 Photo Latitude/Rob
4) The pole is eased forward a foot or two until it is up to the headstay, and the leeward guy is tensioned.

5) Dee calls 'jibing'. The new guy is ground on while the old one is eased. Both guys go through dual 12-foot aluminum jockey struts which remain in place throughout the downwind leg, looking like 'curb feelers'.

6) The old spinny sheet is let forward in a controlled manner as the boat begins the jibe. The kite rotates out in front of the boat, staying full (hopefully). Only when the clew is at the headstay does the old sheet get 'burned' as the new one comes on. The spinny sheet is continuous and about 300 feet long, and this process takes three foredeck guys 'tractoring' the new sheet, two guys spinning the coffee-grinder handles for all they're worth, and Sam (headsail trimmer) tailing as hard as he can. "Grind like you're pulling Ted Bundy off your sister!" he yells, or words to that effect, at his helpers.

7) Simultaneously, Keith (main trimmer) throws the main over. The runners aren't an issue, as all the load of the masthead kite is pulling against the topmast.

8) Here comes the coolest part: When everything is steady again on the new jibe, Dodd pulls the clevis pin at the base of the headstay and disconnects it. He lifts the headstay over the spinnaker pole . . .

Sorry folks, we've run out of class time. To see how this turns out - and what happens to a boat without a headstay - check out the January issue of Latitude 38, available on December 29 in most places on the Bay Area waterfront, elsewhere beginning January 2.
---


Cruising
A Safe Haven in Colombia
December 23 - Cartagena
While the country of Colombia is literally being destroyed by militant factions, the historic city of Cartagena remains a safe haven - and a favorite with cruisers. We'll have more on it in the February Latitude from Judy White of 'Speck,' but until then, read what John Brannigan of the Hans Christian 37 'Shoshin' has to say about it:

"I have been in Cartagena for about a month now, and will probably stay until they ask me to leave. I have been solo since Cabo over a year ago. I have since visited the west coast of North America, Panama and Ecuador. The only major problem I have had was a transmission to rebuild in Panama. I was also robbed at knife-point in Colon and was cut up a little trying to resist. Not a smart thing to do.

"My favorite places so far have been Ecuador and Colombia. Cartagena is such a nice place to be. The old city is an architect's dream for colonial architecture. There is so much to do and see here I am busy all the time. Most of the boats here are from Europe or the East Coast, but there is one boat named 'Rhiannon'. Club Nautico is a very good place to rest up and wait for a weather window to head north. No one seems to know exactly what happened to Norman, but his wife Candalaria still runs the marina and is a most gracious hostess. Colombia is still inexpensive, and Cartagena is very secure - even at night - to walk anywhere. There have been some dinghy and outboard thefts but no more than anywhere else.

"I guess I have graduated from the Ha-Ha class of '99. Once again, I want to thank the Wanderer and everyone at 'Latitude 38' for getting me off my duff and heading out. Cruising is such a wonderful adventure, and like everyone else, I wish I had started years ago. I have met so many warm and wonderful people in all the countries I have visited, it would take weeks to tell you about all of them. Fair winds and following seas."

Inside Old Town of historic Cartagena, fortress of the Spanish Main


Traffic outside Old Town


Boats tied up at Club Nautico


Judy with the ship's dog.
Many people love cruising with their pets.


Inside the famous Club Nautico, where the bar operates on the honor system, run for many years by Norm Bennett, ex-pat Aussie, who was a great friend to cruisers. Norm is currently taking a 'vacation.'

Photos Courtesy Judy White
Cruising Christmas Card Update
December 23 - Mill Valley
The other day we got a Christmas card from Fred Roswold and Judy Jensen of the Seattle-based Serendipity 43 'Wings'. It was just a photo, but now we get some text:

"'Wings' is in Mooloolaba YC in Australia. We are taking our time getting through the Pacific, having crossed from Acapulco in 1998, and are still here. We spent a great season in Tonga, Fiji (through the whole coup), Vanuatu, and New Caledonia. The worst part was breaking rod shrouds and a turnbuckle on a rough passage to Tonga, which we survived OK. We kept the rig up and fixed it in Nuka'alofa. The best part was the Pacific Arts Festival in Noumea, New Caledonia. Two weeks of arts and dancing from 23 Pacific nations with a gathering of about 300 yachts all there to enjoy it. Second best was a wonderful passage to Oz for which we won a bottle of rum by beating another boat. We also raced in Tonga, Fiji, and Vanuatu, and had fun everywhere. We'll soon head to Sydney, and we still don't know how long we'll stay in Oz, but when we do leave we plan to go back to the Pacific Islands. Later we are looking at the Philippines, China, and eventually further west."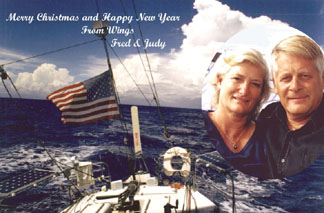 YOTREPS
December 23 - The Pacific Ocean and Cyberspace
Who is out making passages in the Pacific and what kind of weather are they having? Check out YOTREPS - 'yacht reports' - at http://www.bitwrangler.com/yotreps/
---


Racing
'Team Philips' Effort Ends
December 23 - UK
As six boats get ready for the start of The Race, Pete Goss has announced that the Team Philips effort is over. The radical 120-foot cat was abandoned in the stormy North Atlantic some 600 miles west of Ireland 12 days ago, and four days ago her transponder stopped sending out its signal. There are a number of reasons her transponder could have quit, including the boat and/or transponder being destroyed, salvors shutting it off, or running out of electricity. In any event, when Pete and other members of the team flew out in a Philips jet to the last known location, they couldn't find her.

When returning to England, Goss told reporters:

"This is a very sad day for all of us and I would like to thank all of our sponsors for their unfailing commitment over the last three years. Without them none of what we have achieved would have been possible. For me, it has been a privilege to have been custodian of such a special dream which has touched so many. . . we dared to dream and we are proud of what we achieved."

While the Team Philips endeavor was a failure on the surface, Pete Goss in particular, and the rest of his team, stood tall. Despite setback after setback after setback, Goss and his team hung in there, providing an inspiration to everyone.

For details, visit: www.teamphilips.com/index.cfm?ArticleID=3719.
---


Weather Updates
December 23 - Pacific Ocean
San Francisco Bay Weather
To see what the winds are like on the Bay and just outside the Gate right now, check out http://sfports.wr.usgs.gov/wind/.
California Coast Weather
Looking for current as well as recent wind and sea readings from 17 buoys and stations between Pt. Arena and the Mexican border? Here's the place - which has further links to weather buoys and stations all over the U.S.: www.ndbc.noaa.gov/stuff/southwest/swstmap.shtml.
Pacific Ocean Weather
You can view the University of Hawaii Department of Meteorology satellite picture by clicking here.
Pacific Sea State
Big seas off the West Coast of the United States. Be careful! Check it out at: http://www.mpc.ncep.noaa.gov/RSSA/PacRegSSA.html.
For another view, see http://www.oceanweather.com/data/global.html.
---
Season's Greetings

December 23 - Mill Valley

Happy Holidays from the crew at Latitude!

A serene sunset off the coast of Baja California

Photo Latitude
---
Top
/ Index of Stories / Subscriptions / Classifieds / Home
©2000 Latitude 38 Publishing Co., Inc.