---
Christmas Card
of the Day

Not Like the Old Ones

December 20 - Mill Valley

This one's from Oracle Racing, and it says two things. The first is "Happy Holidays". The second is the unspoken suggestion that perhaps the new Oracle America's Cup boats will not be all white like the old ones, but a stylish half black and half white. Very nice.
---


Cruising
Cruising Christmas Card of the Day
December 20 - Mill Valley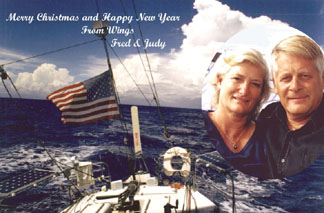 Our Cruising Christmas Card of the Day comes from Fred Roswold and Judy Jensen of the Seattle-based Serendipity 43 'Wings'. Fred and Judy didn't say where they were and what they've been doing. The last we remember, they'd survived deadly November '98 storms between Fiji and New Zealand.
YOTREPS
December 20 - The Pacific Ocean and Cyberspace
Who is out making passages in the Pacific and what kind of weather are they having? Check out YOTREPS - 'yacht reports' - at http://www.bitwrangler.com/yotreps/
---


Racing
Vendée Globe Update
December 20 - Southern Ocean
How much determination does it take to be a top-flight singlehanded around the world racer? A couple of days ago, we reported how Ellen MacArthur of 'Kingfisher' knowingly put her life on the line by spending more than an hour up the mast in 40-knot winds and huge seas in order to free a mainsail that couldn't be lowered. And now there's the interesting story of Yves 'Extra Terrestrial' Parlier, who led much of the Vendée Globe until he was dismasted a few days ago. Despite several days to think about his situation, Parlier is vowing to finish the last 13,000 miles - including around Cape Horn - with only eight meters left of his 25-meter mast.

"How do you comprehend that in a split second all your hopes for this legendary race, which I have been working towards for nine whole years, have now gone up in smoke," mused Parlier. "I'm held captive by the order of work that needs to be done, and I haven't got time to get depressed about it." Some of Parlier's competitors think that he still must be in a state of shock, but we wouldn't put it past him. Check out Tim Jeffery's fine story about it in the Daily Telegraph at: http://sport.telegraph.co.uk/sport/main.jhtml?xml=/sport/2000/12/19/soyots20.xml
---


Weather Updates
December 20 - Pacific Ocean
San Francisco Bay Weather
To see what the winds are like on the Bay and just outside the Gate right now, check out http://sfports.wr.usgs.gov/wind/.
California Coast Weather
Looking for current as well as recent wind and sea readings from 17 buoys and stations between Pt. Arena and the Mexican border? Here's the place - which has further links to weather buoys and stations all over the U.S.: www.ndbc.noaa.gov/stuff/southwest/swstmap.shtml.
Pacific Ocean Weather
You can view the University of Hawaii Department of Meteorology satellite picture by clicking here.
Pacific Sea State
Seas are normal in the Pacific. But you might check at: http://www.mpc.ncep.noaa.gov/RSSA/PacRegSSA.html.
For another view, see http://www.oceanweather.com/data/global.html.
---

Note
December 20 - Mill Valley

Yes, this 'Lectronic Latitude is short, as we're in the final throes of deadline for the January issue of 'Latitude 38'.
---
Top
/ Index of Stories / Subscriptions / Classifieds / Home
©2000 Latitude 38 Publishing Co., Inc.