| | |
| --- | --- |
| | |
---
Photo of the Day
Press Gangs
December 19 - Lisbon, Portugal
Tony Bullimore invited the press out for a familiarization sail aboard his maxi catamaran 'Team Legato' (ex-'ENZA'). The journalists got more far more familiar with the boat than they intended - or wanted - as the press release from PPL describes: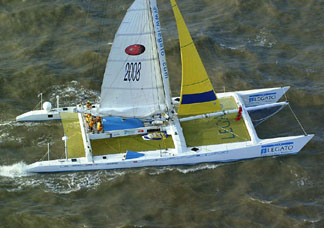 Photo Courtesy Dave Giles/Team Legato/Fujifilm/PPL
Four press men invited for a day's sail last Thursday aboard Tony Bullimore's 102-ft round the world race catamaran, 'Team Legato', found themselves in Lisbon early today. Bullimore and his crew set out for a day's sail testing from Avonmouth at 6:15 am on Thursday, December 14, and were due to call in at Falmouth to drop off the press contingent and pick up another photographer from France for the voyage down to Barcelona. However, Force 7 winds off Land's End coupled with the promise of a severe low pressure system striking the area later forced Bullimore and his crew to head out into the Atlantic to avoid the worst of the storm. By Friday night 'Team Legato' was riding out the weather 200 miles west of Brittany heading due south across the Bay of Biscay. At that time it looked as if they might have to go straight to Gibraltar. "My first responsibility is to the safety of the crew and the boat. It would have been foolhardy in the extreme to head for a lee shore in that gale." Bullimore explained.

Unfortunately the crew found that none of the communication systems other than their short range VHF were working and it was impossible to tell 'Team Legato's shore team what was happening. BBC cameraman, Scott Ellis from Bristol, was not amused. "I'm meant to be covering other stories this weekend and only one of us has a passport." Ellis demanded to be dropped off "anywhere" but later calmed down when he realized that he was a hostage to fortune and then mucked in for the remaining four days at sea doing all the cooking. Rob Salvidge, a BBC radio reporter also from Bristol, said "Bristol prides itself on its maritime traditions, but I didn't realize until now that press gangs is still one of them."

Paul Gelder, deputy editor of 'Yachting Monthly' magazine from Emsworth in Hampshire, was equally surprised by the dramatic turn of events. "Not content with gaining maximum publicity for spending five days upside down in his own yacht four years ago, Tony Bullimore is now turning our world upside down too! On Saturday, the 'Team Legato' crew attempted to reach Vigo in Northwest Spain but a Force 9 gale again forced them to turn away and head further south. No one was in danger, in fact we were enjoying an exhilarating sleigh ride down the Atlantic, but things were very cramped on board with only 8 berths between the 14 of us," Gelder continued.

Barry Pickthall, the fourth journalist on board from Yapton in Sussex, was philosophical about it all. "I knew that there was not enough food on board for the 14 of us to reach Barcelona but it was not such a bad thing I guess to lose some weight before Christmas!"

'Team Legato's greatest asset was her speed. Creaming across the Bay of Biscay at 20 knots on Friday gave her crew the ability to duck and weave between the depressions and avoid the worst of the weather. And even when battling against Force 8/9 winds into Lisbon on Sunday and Monday, the boat behaved impeccably.

"I'm very sorry for all the turmoil and concern this has caused everyone," said Bullimore today in Lisbon, "but it has been a fantastic test for the boat. I've now got the greatest faith in her for The Race, the non-stop round the world race, starting from Barcelona on 31st December, 2000."

Barry Pickthall added: "We did everything possible to get off the boat, going to the extreme of forming an escape committee. The French crew members on board wanted to strike on to Gibraltar which in retrospect would have given us the best run, but we all had commitments and needed to get home as quickly as possible. One of the ideas we cooked up was to lock the French crew in one of the hulls. Another was to drug the skipper and take over the central 'god pod.' If we hadn't gone into Lisbon today, I'm sure we would have taken a life raft and an emergency beacon and jumped overboard."
---



A Fleet of Answers

December 19 -
Mill Valley

As expected, we got a fleet of correct answers to yesterday's 'what's wrong with this photo' quiz. Dave Wallace of the Amel Maramu 'Willow' had the best of the correct answers:

"No brainer, the captions on the photos are reversed. Even if you didn't know what the Pardeys looked like, you could figure it out because they would never have no stinkin' wheel on their boat."
---


Cruising
La Gran Fiesta del Maraton
December 19 - Mazatlan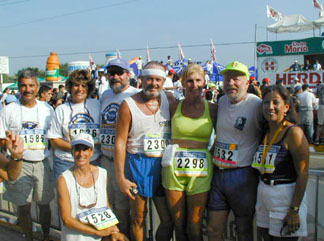 Photo Peter Ryan
"Mazatlan was the site of 'La Gran Fiesta del Maraton 2000' on Dec. 2 and 3, with many members of the cruising community running in different events. Saturday at 0800 started the 10 kilometer run, with Debbie of 'Sailors Run', Tina of 'Aliikai', Patty of 'Good Medicine', Rich of 'Wild Goose', and Pete of 'Neener3' off to a hot and humid start. Everyone finished, with Patty pacing the pack of cruisers, finishing 5th in class, just out of the money!

"Sunday at 0630, started the half marathon and marathon with cruisers Jeff of 'Sailors Run', Brent & Susan of 'Akauahelo' blasting out of the pack of 3000 runners in the half marathon (13+miles). All three finished well, making the cruisers in attendance proud. This is an annual event that attracts world class runners and is organized to the max right down to computer chips laced into your shoes! Don't miss this fun event if you're in Mazatlan after Thanksgiving looking for a way to work off that extra piece of pumpkin pie! Cruising runners rewarded themselves with a to die for champagne brunch at Posada Bonita, a must do in Mazatlan.

The report and photo are from Pete and Jean Ryan, a Santa Cruz couple who are "cruzin Mexico again" aboard their Catalina 42. "See you at the Banderas Bay Regatta," they conclude. The Banderas Bay Regatta is March 23-26 at Paradise Marina.
YOTREPS
December 19 - The Pacific Ocean and Cyberspace
Who is out making passages in the Pacific and what kind of weather are they having? Check out YOTREPS - 'yacht reports' - at http://www.bitwrangler.com/yotreps/
---


Racing
More Mayhem in the Vendée Globe
December 19 - Southern Ocean
In an unfortunate turn of events, Yves Parlier, who had been leading the singlehanded around the world race for the better part of a month, is out of the event as a result of his 'Aquitaine Innovations' being dismasted. This misfortune happened about 1,300 miles southwest of Perth, Western Australia, after a couple of wicked unintentional gybes. Parlier, who still hasn't fully recovered from a paragliding accident, reported that he was in fine health and proceeding under jury rig.

A terrific sailor, Parlier has been star-crossed in big events. He had to drop out of the last Vendée four years ago when he lost his rudder to a growler, and was knocked out of two transAtlantic races because of broken masts.

Parlier described the events that led to the dismasting: "Everything happened very quickly. The wind climbed very fast, and very strongly under a storm cloud. My boat took off, gybed uncontrollably and wiped out on its side. As she came back up, the shock loads were so big that the boat gybed a second time and I was thrown across the cockpit. The boat took off again on a surf, but nose dived with the water coming right up to the mast - and it was that what brought the mast down. Now all is well, and I confirm that I do not require assistance."

With still more than 13,000 miles to go to the finish, Michel Desjoyeaux is averaging 17 knots today and continues to lead the race aboard 'PRB'.
---


Weather Updates
December 19 - Pacific Ocean
San Francisco Bay Weather
To see what the winds are like on the Bay and just outside the Gate right now, check out http://sfports.wr.usgs.gov/wind/.
California Coast Weather
Looking for current as well as recent wind and sea readings from 17 buoys and stations between Pt. Arena and the Mexican border? Here's the place - which has further links to weather buoys and stations all over the U.S.: www.ndbc.noaa.gov/stuff/southwest/swstmap.shtml.
Pacific Ocean Weather
You can view the University of Hawaii Department of Meteorology satellite picture by clicking here.
Pacific Sea State
Seas are normal in the Pacific. But you might check at: http://www.mpc.ncep.noaa.gov/RSSA/PacRegSSA.html.
For another view, see http://www.oceanweather.com/data/global.html.


---
Top
/ Index of Stories / Subscriptions / Classifieds / Home
©2000 Latitude 38 Publishing Co., Inc.