The Loss of Two Friends
December 11 - The World of Cruising

It was way back in '86 while we were buying 'Big O' in St. Barts that we first met the smiling face in the accompanying photograph, Basque sailor Antonio 'dos Muertos'. He became our first captain, and would run the boat on a number of occasions between then and when we sold her three years ago. The woman in the other photo is Emmanuella, an Italian-Swiss woman who was a sensational cook on 'Big O' and other boats, and often Antonio's girlfriend.

Antonio was as hard-working and flamboyant a character as you could find in the Caribbean - an area well-represented by flamboyant charters. Multilingual and quick to give a helping hand to everyone, he soon knew just about everybody wherever he was. He was also supremely confident. After his brother-in-law bought a Van de Stadt 45 in Florida, Antonio worked on the boat on the hard for six months. He and Emmanuella then loaded her up with food, lowered her into the water, and took off for Spain without any sea trials. "I did the work," Antonia said, "what's there to check?" The two of them made it to Spain, despite sailing right through the first hurricane of the season.

Although we had numerous battles with Antonio, he was always a great friend. Back in the early '90s, he was single-handedly restoring a 75-foot stainless steel schooner for a guy in Panama, while we'd put 'Big O' on the hard in Venezuela for nine months. With an attempted coup in Venezuela - by the current president of that country, no less - and boatyard prices rising by the month, we decided we needed to move 'Big O' to safer and more sane Trinidad. We called our former English captain, a very proper and slow moving fellow, who informed us that it would take no less than three weeks - and about $20,000 - to get the boat back into sailing condition and over to Trinidad. 'What a crock,' we said to ourselves, 'if we could only find Antonio'. As luck would have it, Antonio just returned to the Virgin Islands, having been fired by the schooner's owner for refusing to scuttle the boat for insurance purposes. (The new captain did scuttle her several months later.) When we got Antonio on the phone, he said, "The two of us can get the boat to Trinidad in three days for $1,000, no problem." That was pure Antonio. He took the first post-coup attempt plane from Puerto Rico to Barcelona, Venezuela, and we took the first plane there from San Francisco. We met him at the boatyard in mid-morning and had 'Big O' back in the water with the sails bent on by afternoon. Having sat for so long, the Perkins wasn't hitting on all cylinders. No problem for Antonio. After the work day was over, he bought a case of beer for a couple of the engine guys from the yard and started telling them jokes in Spanish. An hour later, they'd sorted out the engine problem and had it purring like a kitty. Two days later we were in Chagaramus, Trinidad, ready to haul the boat at Don Stollmeyer's place.

Although Antonio's parents were affluent and ran the most famous restaurant in all of Spain, he cared nothing for that - or people he found to be snobs. A couple of years later, for example, Antonio had joined 'Big O' again for Antigua Sailing Week. There was a big raft-up at Jolly Harbor sort of like after the Vallejo Race. As we entered the harbor, officials directed us to tie up to an immaculate 45-footer named 'Gitana IV' from the Monte Carlo YC. None of their crew showed any inclination to accept our lines, so Antonio - who was small in stature - strutted up to the bow and hollered something that started in Italian, drifted into French, and concluded in Spanish. Immediately, the crew of 'Gitana' sprung into action, calling for lines and beginning to arrange fenders. "What the hell did you say to them?' we asked. "I told them, "said Antonio, "that either they take our lines or I would be right over to smash their faces." Not used to that kind of brash behavior, we went below to see who we might have offended. According to the race program, it was none other than the Baron de Rothschild.

Antonio lived and loved each moment like there was no tomorrow. And that might have been the problem. Only recently we learned that Emmanuella, who was working on a motoryacht in the Med two summers ago, got a lung infection and died several weeks later. Apparently her immune system had been ravaged by AIDS. And earlier this year, Antonio died, apparently of AIDS-related causes.

Antonio and Emmanuella were wonderful people, and although we only saw them occasionally during the last five years, we grieve knowing they are no longer with us. But with it being winter time and therefore Caribbean time, we want to use their deaths as a caution to everyone. It's rarely publicized, but the Caribbean has the second highest incidence of AIDS in the world after Africa. In some places the percentage of HIV- positive people, and babies born with AIDS, is absolutely staggering. So if you go there and find yourself about to share any bodily fluids, get protection.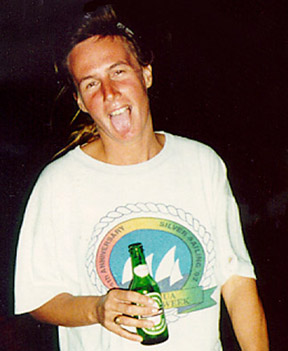 Emmanuella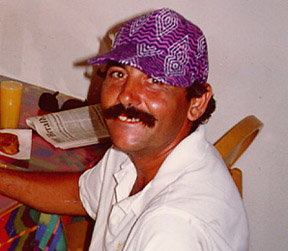 Antonio
Photos by Richard