---
Photos of the Day

Fastest J/105s in the World

August 4 - Oakland


'Jose Cuervo' prepares to 'plane' to Hawaii.
Photos Karen Rosenbaum

A pair of Kenwood Cup-bound J/105s - Sam Hock's 'Jose Cuervo' and Jaren Leet's 'Irrational Again' - had an excellent adventure on Saturday, July 29. After the two boats failed to roll off the container ship in Honolulu last Wednesday (oops! someone left them in a back corner of the Matson yard in Oakland), things looked pretty bleak for the two boats' chances of participating in the already small (30 boats) Kenwood Cup, which began on Tuesday, August 1. After almost a year of planning and who knows how many dollars, the skippers and crews of both 105s were devastated. The four J/105s remaining in the Kenwood Cup weren't exactly thrilled either, as they were now faced with losing their one design start.

After a bunch of presumably heated phone calls (and the threat of a rather large lawsuit), Matson - to their everlasting credit - quickly came up with an alternative arrangement. For something like $225,000, they contacted HeavyLift Cargo Airlines and chartered a gigantic Russian-built Antonov AN-124 plane - one of just three in the world - to 'airmail' the two boats to Hawaii. 'Jose' and 'Irrational' were the only cargo, hardly denting the plane's 120-ton carrying capacity. The only people on board were 16 Russians (9 pilots and 7 crew), an English representative from HeavyLift, and two local J/105 sailors ('Jose' crew Erik Schumann, who was meant to accompany the delinquent sisterships, and a spur-of-the-moment 'stowaway', Karen Rosenbaum).
The story ends happily, with the two boats arriving safely in Hawaii and being reassembled in time for the regatta. Kind of gives a whole new meaning to the expression 'planing to Hawaii', doesn't it?
---



Weather Updates

August 4 - Pacific Ocean

Pacific Ocean Weather

Once again, the winds are light along the rhumb line from California to Hawaii, just as they were during the Pacific Cup. Winds are actually a little stronger - 15 knots - to the north, giving the delivery crews heading back to California reasonably pleasant conditions.

California Coast Weather

Winds are unusually light along the Central Coast of California this morning, but have been blowing 15 to 20 knots in the Santa Barbara Channel - ideal for the Santa Barbara to King Harbor (Redondo Beach) fleet. For details see:
www.ndbc.noaa.gov/stuff/southwest/swstmap.shtml


University of Hawaii Meteorology Graphic

Click here to see enlarged graphic.
Pacific Sea State

Seas in the Pacific are average - except for those far down in the Southern Ocean and those feeling the effects of hurricanes and/or tropical storms. Check out http://www.mpc.ncep.noaa.gov/RSSA/PacRegSSA.html.
For another view, see http://www.oceanweather.com/data/global.html.
Tropical Disturbances
Just before 'Lectronic Latitude went on hiatus on July 25, we noted that the absence of tropical storms and hurricanes off the coast of Mexico was getting a little spooky. The quiet didn't last long, however, as hurricane Daniel formed off Mexico and headed in the direction of Hawaii with sustained winds up to 110 knots. With each passing day, those who had just finished the Pacific Cup became a little more concerned for their boats, and there was even a skipper's meeting at the Kaneohe YC about the hurricane. While Daniel dropped to tropical storm status and skirted to the north of the Islands, he had legs, having started down at 10N and eventually getting as far north as 35N - which is the same latitude as Santa Barbara.
Three days after Daniel started, Tropical Storm Emilia started off the coast of Mexico, and reached 55 knots during her short three-day life.

And as we go to press, Tropical Storm Fabio, far offshore down at 15N, is nearing hurricane strength. It's suddenly become a very busy period for tropical activity in the Eastern Pacific. See http://weather.unisys.com/hurricane/e_pacific/2000/index.html for more.
| | | |
| --- | --- | --- |
| Hurricane Daniel | Tropical Storm Emilia | Tropical Storm Fabio |
Both government and private sources have predicted a big year for hurricanes in the Atlantic-Caribbean, but it's been all quiet ­ until now. Tropical Storm Alberto has formed off the coast of Africa and is headed almost due west toward the far distant Caribbean. He is, however, expected to reach hurricane force soon. With lots of warm water in the Caribbean, this one will bearing watching. See http://weather.unisys.com/hurricane/atlantic/2000/index.html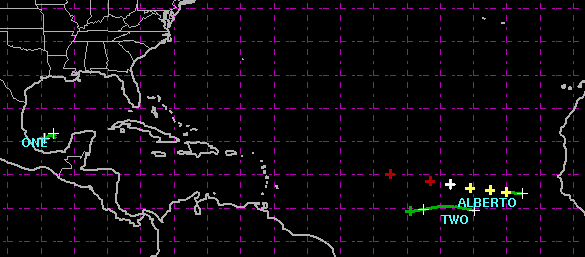 Tropical Storm Alberto

Unisys Weather Graphics
---

Cruising
Coup, Coup, Coup
August 4 - Fiji
George Backhus of the Deerfoot 62 'Moonshadow' arrived in Fiji shortly after the coup and has been there ever since. He reports that the effect on yachties outside of the main populated areas seems to have been nil - although the situation remains in flux. We'll have more on the situation in Fiji soon.
West Marine Bermuda Cruising Rally
August 4 - Bermuda
Albeon Anderson Jr's Catalina 34 'Full Moon' from Rocky Mountain, North Carolina, took top honors in the West Marine Bermuda Cruising Rally that ended in late June - but was only reported now. Line honors in the surprisingly small six-boat fleet for the 640-mile race went to 'Sea Hew II', Harry Weber's Pennsylvania based Caliber 40, which completed the course in four days and six hours - averaging a little over six knots.
Baja Ha-Ha Update
August 4 - Baja Ha-Ha World Headquarters
Lauren 'the Devilette' Spindler reports that 160 entry packs have been sent out for October 31's Baja Ha-Ha VII, and 42 entries have paid up. She expects a fleet of 125 boats to cross the starting line for the 750-mile, two-stop cruising rally from San Diego to Cabo San Lucas. A list of the current paid-up entries will appear in Monday's 'Lectronic Latitude.
YOTREPS
August 4 - The Pacific Ocean and Cyberspace
Who is out making passages in the Pacific and what kind of weather are they having? Check out YOTREPS - 'yacht reports' - at http://www.bitwrangler.com/yotreps/
---

Racing
Kenwood Cup
August 4 - Hawaii

After light and fluky weather conditions in Hawaii caused by the effects of hurricane Daniel, the Kenwood Cup fleet has finally been getting good wind. The Australian team has a small lead over the Kiwis, with the America Red team is third after three races. We'll have much more on this event next week, but for now check out www.kenwoodcup.com.
The Race
August 4 - France
Things are currently looking a little shaky for what is planned to be the December 31 start of the no-holds-barred around the world race. Grant Dalton's 110-foot 'Club Med', which had recently smashed the 24-hour sailing record with a 625-mile run, lost part of her sacrificial bow shortly after leaving the U.S. for Europe. She's now on a ship headed back to the yard that built her. Meanwhile, Steve Fossett has announced that he'll be cutting the hulls of his 105-foot catamaran 'PlayStation' and adding another 20 feet to make her a 125-foot cat. The sail area will stay the same. Fossett explained that the boat has shown a tendency toward pitchpoling - something dangerous enough on Monterey Bay with a Hobie Cat, to say nothing of being in the Southern Ocean while coming to a stop from 40 knots. Several of the other expected entries have yet to be built or have been having troubles of their own.


'Club Med' Bow Owie

Club Med Photo

Fossett has made the best suggestion to date: Postpone the start of The Race for one year, giving all competitors a chance to properly finish and/or test these ground-breaking boats.
Santa Barbara to King Harbor Race
August 4 - Santa Barbara
Many folks think the 'King Harbor Race' is the most enjoyable distance race in Southern California - and when there's good wind, as it looks like there will be today - we'd have to agree with them. In fact, we used to bring our boat down from Northern California just to do it. Check out the results on Monday.

---
Top
/ Index of Stories / Subscriptions / Classifieds / Home
©2000 Latitude 38 Publishing Co., Inc.