---
Photo of the Day

Be Careful What You Joke About

August 29 - Caribbean

Randy West mugged for this shot, but the very next day the joke went bad when his docked sailboat 'Shadowfax' was plowed into by a big motor yacht.

Photo Latitude/Richard
---

Weather Updates
August 29 - Pacific and Atlantic Oceans
Tropical Weather
Tropical Storm John is cooking up 55-knot winds in the Eastern Pacific, moving to the WNW from 16N 139W. You can keep track of John at http://weather.unisys.com/hurricane/e_pacific/2000/index.html. All continues quiet in the Atlantic-Caribbean.
San Francisco Bay Weather
To see what the winds are like on the Bay right now, check out http://sfports.wr.usgs.gov/wind/. Wind patterns are typical of this time of year, and it's a great time to be sailing the Bay.
California Coast Weather
Looking for current as well as recent wind and sea readings from 17 buoys and stations between Pt. Arena and the Mexican border? Here's the place - which has further links to weather buoys and stations all over the U.S.
www.ndbc.noaa.gov/stuff/southwest/swstmap.shtml
Pacific Ocean Weather
Click here to see today's weather map from the University of Hawaii Meteorology Department.
Pacific Sea State
Seas are normal in the Pacific. But you might check at:
http://www.mpc.ncep.noaa.gov/RSSA/PacRegSSA.html.
For another view, see http://www.oceanweather.com/data/global.html.
---

Cruising
The Crabs Were Going That Way

August 29 - Agua Verde, Mexico

On June 26, the Puerto de Agua Verde Yacht Club granted an instant 'don't ask-don't tell' authorization for crab races. Joe Parks of 'Maverick' tells it like this: "The crabs actually stopped by the crowd on the beach after dinner and inquired if we'd watch them race toward the brush to declare the winner. The crabs were clearly going that way in any event, so we acquiesced to their wishes. Of course, what would a crab race be without sponsors? There was wild, frivolous betting on the side and the winners are displayed in the photo. That would be them in the hands of their sponsors." After the shot was taken, "the crabs were gently replaced on the sand and offered dessert. No complaints were heard."


Photo Courtesy Joe Parks
YOTREPS
August 29 - The Pacific Ocean and Cyberspace
Who is out making passages in the Pacific and what kind of weather are they having? Check out YOTREPS - 'yacht reports' - at http://www.bitwrangler.com/yotreps/
---


Racing
'PlayStation' Record a Longshot
August 29 - North Atlantic
As of 1605 GMT today, 'PlayStation' had 281 miles to go to break the Transatlantic record set ten years ago by 'Jet Services V'. Wind conditions have improved slightly since skipper Steve Fossett checked in at 1400 and reported that "the strategy devised by navigator Stan Honey and meteorologist Bob Rice seems to be working. We are following the decaying Low and this evening we should cross the shear line, where we hope for slightly better winds from a much better angle for boat speed.
"It's a longshot whether we make it to Lizard Point [the finish line] in time, but we're still in racing mode. We only need to average 14.5 knots to finish. That is still a tall order in the seven knots of wind we have now."
The cutoff time is 0752 GMT tomorrow morning.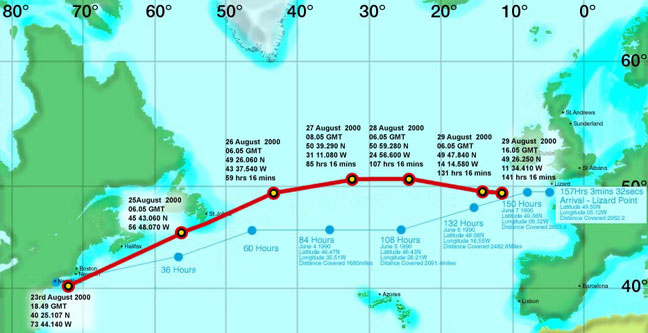 Graphic Courtesy Steve Fossett Ocean Challenge
See www.fossettchallenge.com for the latest updates.
Top
/ Index of Stories / Subscriptions / Classifieds / Home
©2000 Latitude 38 Publishing Co., Inc.