---
Photo of the Day

Harbor in Ruins

August 21 - Knidos, Turkey

It's the middle of August, and if we could be anywhere in the cruising world, it would be Knidos, Turkey. In ancient times this strategically located port was one of the most important in the world - so important, they built what is believed to be the first manmade breakwater. It was also the site of a scandalously unclothed statue of Aphrodite, the goddess who looked after sailors and shipping. Sailors who had been at sea too long would apparently achieve sexual satisfaction from gazing at the goddess.

In any event, when we sailed to Knidos several years ago with 'Big O', it was still wonderfully undeveloped, and we and our kids scrambled all over the many ruins. To make the day even more memorable, just as the sun set, a full moon rose over the ancient ampitheatre. Of course, Knidos is just one of the many spectacular cruising attractions along Turkey's Turquoise Coast.


Photo Latitude/Richard
---

Hurricane Warnings for Leeward Islands
August 21 - Caribbean Sea
The governments of the Leeward Islands from Guadaloupe north - Antigua, Barbuda, Nevis, St. Kitts, St. Barts, St. Martin and the British Virgins - have posted hurricane warnings for Debby, which is 150 miles from from St. Martin and moving almost directly west at 21 knots. While Debby is currently only packing 65-knot winds, she is expected to build in force over the next 36 hours to 85 knots. While it initially looked as though she would pass to the north of the Leewards, she's started heading more west and less north. As this point Debby is a relatively weak hurricane, but could build as she passes by Puerto Rico, the Bahamas and toward the East Coast of the United States.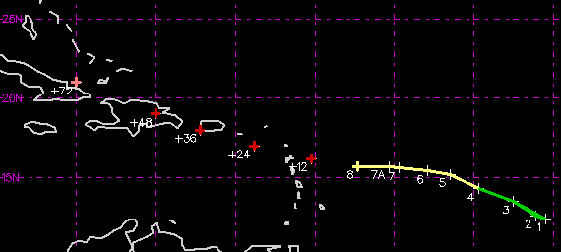 Hurricane Debby


Pacific Weather Updates

August 21 - Pacific Ocean

San Francisco Bay Weather

To see what the winds are like on the Bay right now, check out http://sfports.wr.usgs.gov/wind/. It's a great time of year to be sailing the Bay.

California Coast Weather

Looking for current as well as recent wind and sea readings from 17 buoys and stations between Pt. Arena and the Mexican border? Here's the place - which has further links to weather buoys and stations all over the U.S.
www.ndbc.noaa.gov/stuff/southwest/swstmap.shtml

Pacific Ocean Weather

There are strong tradewinds on the way to Hawaii and lots of wind along the Pacific Coast. You weren't hoping to head up to Vancouver, were you?


University of Hawaii Meteorology Graphic

Click here to see enlarged graphic.

Pacific Sea State

When we went to check the sea state Websites this morning, they were down.
But you can try at http://www.mpc.ncep.noaa.gov/RSSA/PacRegSSA.html.
For another view, see http://www.oceanweather.com/data/global.html.
---

Cruising
LoretoFest

August 21 - Loreto, BCS

It may no longer qualify as news - email sometimes seems take a long time to get from Mexico to California - but Paula of 'Backstreets' reports that the Hidden Port YC of Loreto (Sea of Cortez) - "where the mountains meet the sea" - held their fifth annual Loreto Fest in May. Commodore Elvin - no last names, please - of Western Sea welcomed a crowd of 300 people. Many were from the 150 boats in the bay, but as the event has become a huge reunion for cruisers, many flew in or drove down in cars or R.V.s. As is the case each year, the event starts with a bay clean-up and then moves on to lots of socializing and fun - such as the SPAM contest. Check out the September Changes in Latitudes for details. Each year the Hidden Port YC donates money and goods to the Loreto community; this year the generosity was directed to the Ligui Schools in a fishing village six miles south of Puerto Escondido.


Photo Courtesy Paula of 'Backstreets'
YOTREPS

August 21 - The Pacific Ocean and Cyberspace

Who is out making passages in the Pacific and what kind of weather are they having? Check out YOTREPS - 'yacht reports' - at http://www.bitwrangler.com/yotreps/
---


Racing
'PlayStation' to Attempt TransAtlantic Record
August 21 - New York, New York
Steve Fossett and his 11-man crew aboard the 105-foot maxi-catamaran PlayStation - soon to be stretched to 125 feet - plans to depart New York on Wednesday morning for an assault on the 10-year-old TransAtlantic record from New York to England. "This is a really tough record - 20 attempts have been made on this record over the past 10 years but we have been waiting six weeks for weather and we think this pattern is good enough," says Fossett. The current record of six days, 13 hours, three minutes and 32 seconds is held by Frenchman Serge Madec with 'Jet Services 5'. The original 1905 record of 12 days, held by the schooner 'Atlantic', stood for 75 years, but was broken seven times between 1980 and 1990.
---
Top
/ Index of Stories / Subscriptions / Classifieds / Home
©2000 Latitude 38 Publishing Co., Inc.