Stamm Sets Record on
Leg One of Around Alone
September 25 - Torbay, UK
Swiss sailor Bernard Stamm, sailing Bobst Group - Armor Lux has established a new singlehanded transatlantic record from New York to Lizard Point, Cornwall, of 10 days, 11 hours, and 57 minutes, while in the process of winning Leg One of the Around Alone Race. Stamm's had to steer his boat - which has held the crewed transatlantic record until John Kostecki and illbruck broke it this summer - by hand for the last two days. In Class B, Brad Van Liew, formerly of Santa Monica, continues to clobber the competition.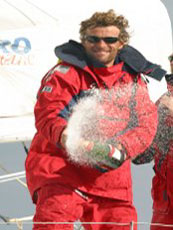 A jubilant Stamm pops the cork
on a bottle of Mumm's.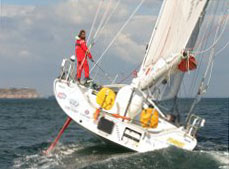 Bobst Group - Armor Lux crosses the finish line.
Photos Roy Riley/Marinepics
Courtesy www.aroundalone.com
Latest positions:
Class 1 - Open 60s
1. Bobst Group, Bernard Stamm, Finished
2. Solidaires, Thierry Dubois, Finished
3. Tiscali, Simone Bianchetti, 230
4. Garnier, Patrick de Radigues, 234
5. Hexagon, Graham Dalton, 311
6. Pindar, Emma Richards, 330
7. Ocean Planet, Bruce Schwab, 593
Class 2 - 50s and 40s
1. Tommy Hilfiger Freedom America, Brad Van Liew, 486
2. Spirit of Canada, Derek Hatfield, 1,068
3. Bayer Ascensia, John Dennis, 1,095
4. Everest Horizontal, Tim Kent, 1,175
5. Spirit of Yukoh, Kojiro Shiraishi, 1,469
6. BTC Velocity, Alan Paris, 1,520