West Marine US Open Sailing Series Moves to California
US Sailing launched the new West Marine US Open Sailing Series earlier this year. Yacht clubs in Florida hosted events in Fort Lauderdale, Miami, and Clearwater in January and February. The second half of the 2021 series will get underway next month in San Diego. Regattas in Long Beach and San Francisco will follow.
Upcoming Regattas
2021 West Marine US Open Sailing Series events in California:
June 11-13: San Diego
Registration will close on Thursday, June 10.
San Diego YC / Southwestern YC
July 9-11: Long Beach
Registration will close on Saturday, July 10.
Alamitos Bay YC / Long Beach YC / US Sailing Center Long Beach
August 13-15: San Francisco
Registration will likely open in June.
St. Francis YC / Treasure Island Sailing Center / San Francisco YC
Invited Classes
In San Diego, the invited classes are Laser Standard, Laser Radial, Laser 4.7, I420, 29er and Finn, plus Offshore Doubles.
The Offshore Doubles class is open to monohulls of 26-ft to 36-ft with a current ORA-1 certificate. Boats built to the 6.50 Class Mini rule may enter as well.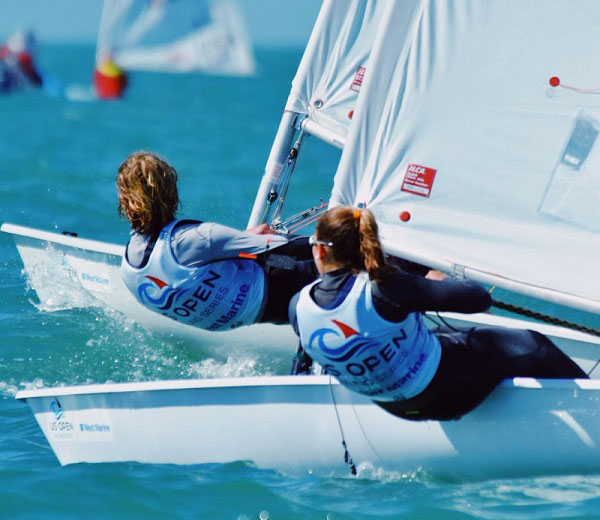 In Long Beach the classes are:
Olympic Classes: 470, 49er, 49erFX, Finn, Formula Kite, iQFOiL, Laser Standard, Laser Radial, Nacra 17, Offshore Doubles
Youth Classes: I420, 29er, Formula Kite, iQFOiL, Laser Radial, Nacra 15
Invited Class: Laser 4.7
The Offshore Double class is open to 26-ft to 40-ft boats with a current Southern California PHRF rating of -3 to 126. There must be two people aboard the boat, at least one of whom must be 21. The Notice of Race requires both crew to have previous offshore experience.
Five entries are required to establish a class in each regatta.
About the Series
The West Marine US Open Sailing Series offers an increase in high-quality Olympic-class and one-design racing for American athletes.
US Sailing and the larger community of sailors in the US identified a demand for a racing and training platform based in the US that serves to provide a runway to the Olympic Games. With the 2028 L.A. Games on the distant horizon, US Sailing felt it was essential to establish a consistent and predictable annual cycle for athletes to plan for.
US Sailing can provide more support for sailors at these events through advanced and in-person coaching, training, and data collection. The series is an important part of the training plans for young sailors participating as part of the Olympic Development Program, a US Sailing initiative supported by the AmericaOne Foundation that provides world-class coaching support to promising American youth sailors competing in high-performance classes.
Receive emails when 'Lectronic Latitude is updated.
SUBSCRIBE