Singlehanded Transpacific Race — That's a Wrap!
Between the time we last posted on 'Lectronic Latitude on Friday, July 3, and this morning, all 11 boats finished the 2021 Singlehanded Transpacific Yacht Race. They did so at all hours, with a variety of sail configurations and a range of equipment problems.
July 3
On July 3, the first to arrive — by more than 26 hours — was Kyle Vanderspek on the Hobie 33 Aloha. Having lost his forestay, he finished on staysail and main. Despite his troubles ("What didn't break?" he quipped), he'll be declared the overall (monohull) winner of the 22nd edition of this race from San Francisco Bay to Hanalei Bay.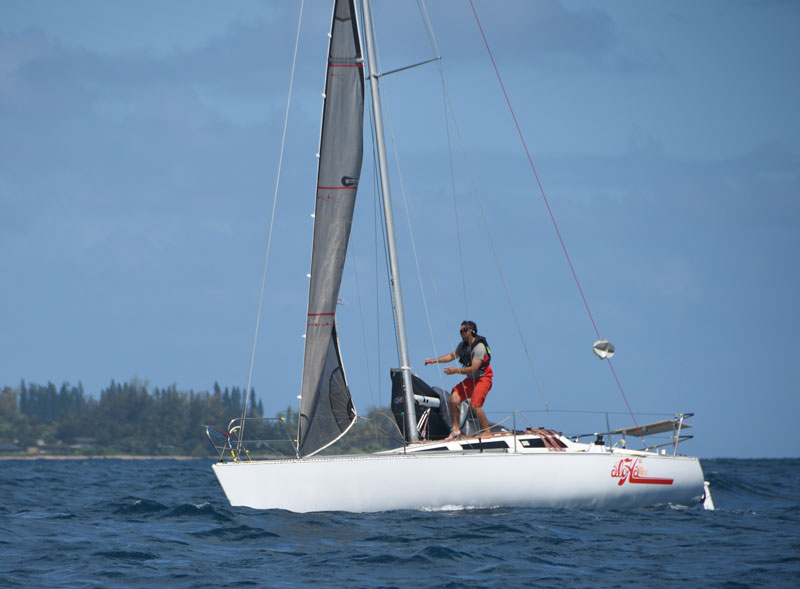 July 4
The very next day, Kyle departed Hanalei with orange storm jib hoisted, bound for Oahu, where he would put the Hobie onto a ship. Kyle is missing all the social activities, as he has to be back in SoCal ASAP. Ten days from today, he'll sail back to Hawaii as navigator on the Andrews 63 Medicine Man in the Transpac Race from San Pedro to Honolulu.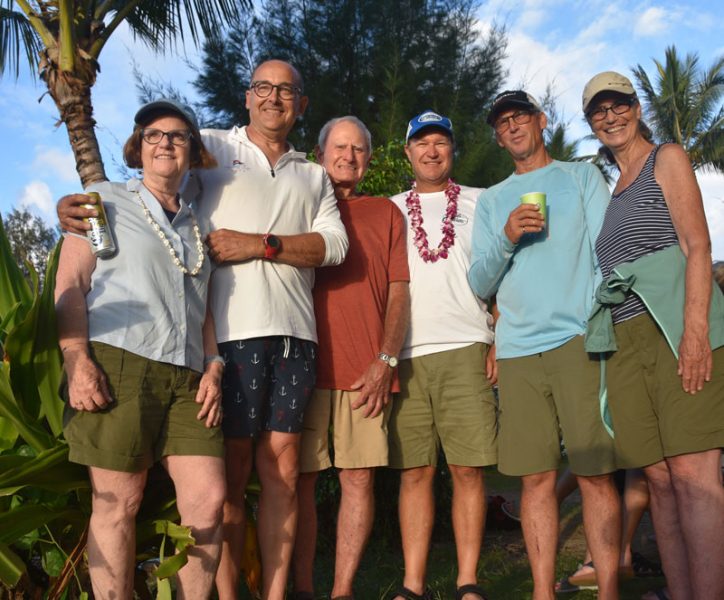 Nipping at Aloha's heels (on corrected time) was Robb Walker's Cal 40 Nozomi. Also finishing on July 4 were Reed Bernhard on the J/109 Mountain, and toward sunset, Jim Quanci on the Cal 40 Green Buffalo. While Nozomi had a relatively trouble-free race, Green Buffalo arrived with a long section of mainsail slugs pulled out of the track, among other gear problems.
Coming in after dark on the 4th — and within several minutes of each other — were Brendan Huffman on the Santa Cruz 33 Siren and John Wilkerson on the Express 37 Perplexity. "I have a request," wrote John in a message to the race committee. "Would it be too much trouble to ask the people of Kauai to celebrate my accomplishment with fireworks? I think it would make for a spectacular arrival. I do understand the effort and cost involved. Thank you for considering my request!"
July 5
Cliff Shaw on the Crowther 10M Rainbow came in midday on Monday. He was the only one to finish under spinnaker. He'd had it up for 10 days straight! The major gear failure on Rainbow was the loss of both weatherfax computers.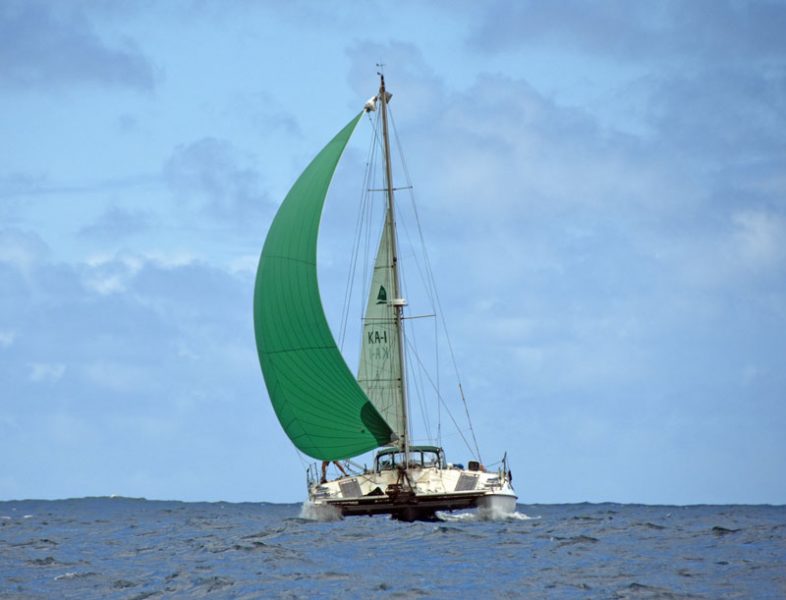 Finishing in a squall that night was the smallest boat in the fleet, Falk Meissner's Olson 25 Shark on Bluegrass. That morning he had sent the message, "70 miles to go. Overdid it last night, shredded another spin."
July 6
Yesterday, July 6, was the day of the wraps. Bill Stange's Westsail 32 Hula finished in the morning with a spinnaker wrapped around the forestay. What was left of the spinnaker was still acting like a kite, and Bill had to spin circles in the bay to wrap it up enough that he could anchor. He and his wife Darlene spent the rest of the day cutting the spinnaker away.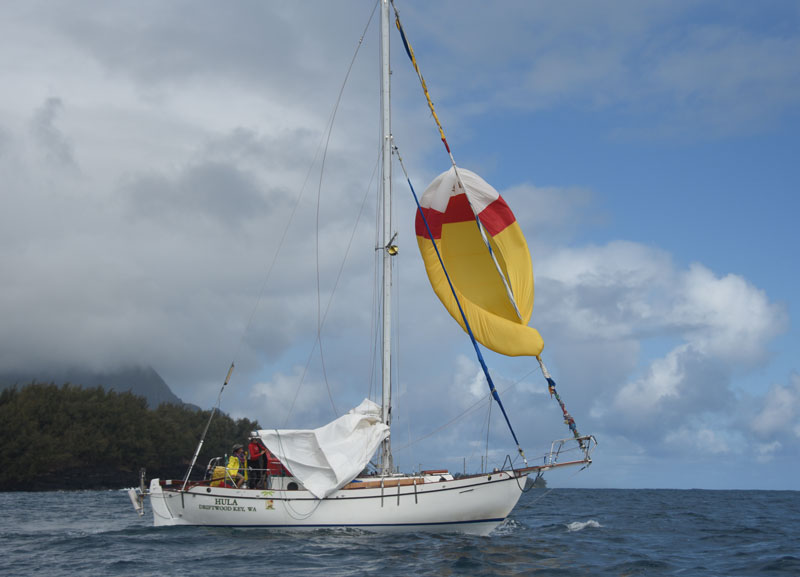 James Wylly's beautiful Sabre 426 Northern Star arrived in the late afternoon with a very similar wrap, though this one was already doing no good as a sail. Jamie had sailed with it that way — with no headsail — for 700 miles.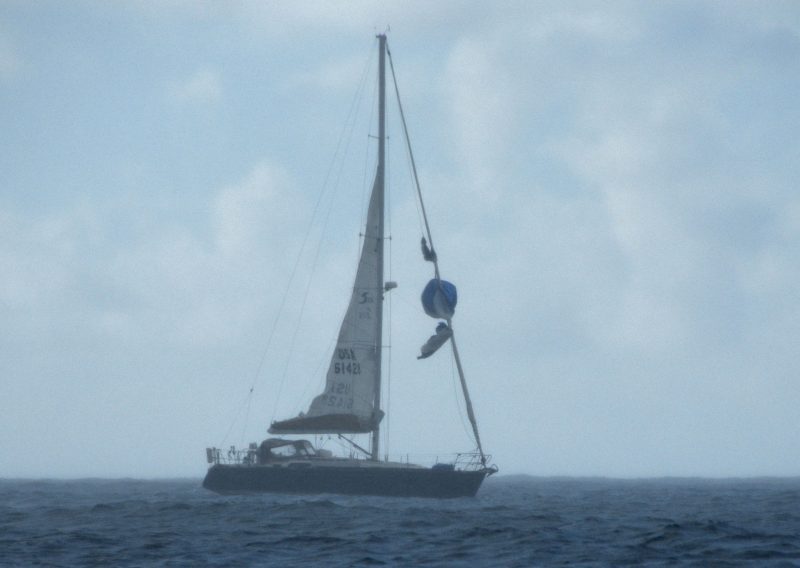 Last and with the most concerning gear failure, Will Lee's Hinckley 42 Sou'wester Competition Sloop Sea Wisdom suffered rudder bearing troubles. At one point yesterday, he was considering bypassing the finish and going directly to Nawiliwili on the other side of Kauai, where there's a shipping port and therefore marine services. But finish he did, in the middle of the night.
So, that's a wrap — all that's left are a few more Tree Times, culminating in the awards ceremony this Saturday. Due to ongoing COVID restrictions on large gatherings, we're not yet sure where that's going to be.
Receive emails when 'Lectronic Latitude is updated.
SUBSCRIBE