Hurricane Odile Damage Updates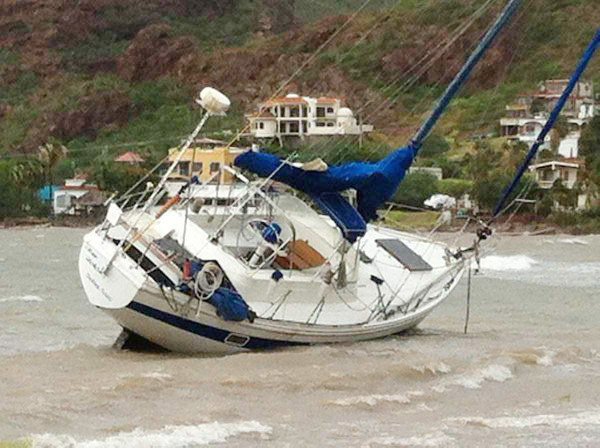 The biggest — and worst — news is that there apparently is no new info on the status of three sailors that are reportedly missing from boats in the La Paz anchorage: The young Mexican man named Gabriel on a steel boat is reported fine. But Holly Scott of Charlie's Charts reports that the Mexican navy dove on the sailboat Princess, owned by a man named Guenter Trebbow, and didn't find any sign of him or his dog. Paul Whitehouse and Simone Wood of Tabasco II have not been found either.
The following is a collection of information we've come across about the hurricane damage in the last two days, including the first reports of damage to boats on the mainland side. It's more jumbled than we'd like, but it's the best we can do given the circumstances. We try to give credit in all cases, but sometimes info has been forwarded multiple times without the original source of the info being included. Yesterday we omitted giving Holly Scott credit for a chunk of our report. Our sincere apologies. Holly is a longtime good friend of Latitude and has been doing a great job of getting information out of Baja.
Cabo San Lucas — It's our understanding that the Cabo Marina infrastructure and boats within it generally did better than the rest of the city, which suffered tremendous damage. Getting the airport back in full operation is going to be critical for two reasons: 1) getting critical supplies to the resident population, and 2) getting trapped tourists back home. That said, several news agencies reported this morning that military transports are currently flying hundreds of tourists out to gateways on the mainland. As expected, roads in Southern Baja, have been badly damaged and fuel is in very short supply. There has been looting at Costco and other stores, but these people are cut off from the world and are in desperate need of water and food. Particularly water, as it's hot and dry in Cabo.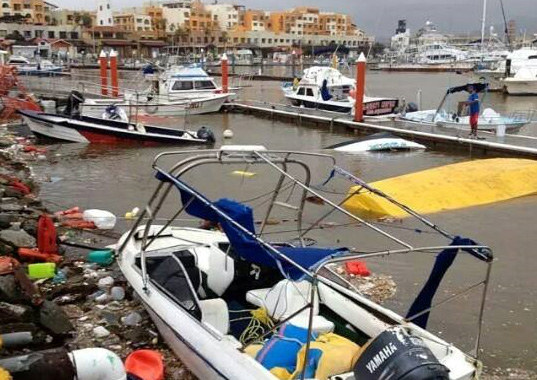 The following are some details from Mark Drewelow of YachtAid Global, which arranges for megayachts to provide humanitarian aid for coastal communities around the world:
"At 1730 today (Monday) Cabo time I spoke with local Superyacht Agent Victor Barreda. He weathered Odile at home, and he and his wife and kids are okay. He says the town has no electricity and it looks like every building has been damaged. If electricity doesn't come back on, fresh water becomes a major issue quickly. Yacht Aid Global has one 75-meter superyacht that will be deeply involved in an immediate relief effort, focusing on producing 4,000 gallons a day of fresh water for locals."
Drewelow spoke with the marina managers at Cabo and they reported that the boats in the marina and the marina itself came out "unscathed." Mike at Driscoll Boat Yard spoke with the owner of a large motor yacht. He said there was some very minor damage to his boat, but all in all, the boats in the main part of the marina did remarkably well. Photos show that the small boats on the port side entering the harbor took a beating.
"Every yacht big or small that intends to head south to Cabo needs to bring aid," Drewelow said. "Recovery will take months. YachtAid Global is coordinating some efforts with Marine Group Boat Works, which also has a facility in Cabo San Lucas. The Marine Group Boat Works yard in Chula Vista is collecting items that are of critical immediate need: drinking water, basic first-aid stuff, food with a long shelf life, temporary shelters, small line. If you want to help, contact Leah Yam, Cabo Relief, at Marine Group Boat Works in Chula Vista at (619) 427-6767. You can also donate funds via YachtAid Global's donation page."
La Paz — Again, the most urgent matter in La Paz, homeport for hundreds of cruisers, is that the three cruisers named above are still missing. Beyond that, boats in the various marinas apparently suffered very little if any damage, while some boats on stands at Atalanta Dry Storage, adjacent to Marina Palmira, suffered damage. Bob Davis of the Shell Beach-based Irwin 44 Nirvana called the Latitude offices this morning by satphone and reported that 22-25 boats had broken free in the cruiser anchorage in front of town. Five sank and the others were washed ashore on the Mogote peninsula or into the mangroves. We hope to have a complete list in our next posting. Davis reports that there was no real damage to boats in either of the La Paz boatyards. He says also that the Mexican navy has been conducting ongoing search and rescue (SAR) operations since shortly after the storm, and that the cruising community has pulled together in an impressive effort, in some cases refloating beached boats.
It's been widely reported that Internet and phone service are still out in La Paz, so lots of family and friends back home are desperate for word that loved ones are fine. Authorities stated that electricity is available in only 17% of the city, but they are hopeful that it will be completely restored by next week. Davis was told that the fiber-optic cable that runs from Cabo all the way up the Baja Peninsula had been severed, leading to grim projections on the timetable for re-establishing phone and Internet service. But before our satphone conversation ended, his wife Sherry suddenly got a TelCel connection on her cell. We are now told that telephone and Internet connections seem to be working well including major land line connections. Davis witnessed "an armada" of electrical service trucks arriving recently from the mainland by ferry to address electrical issues in Cabo and La Paz.
The La Paz Airport isn't yet functional, and the TransPeninsula Highway may be destroyed in several areas. However, Davis has been able to confirm that the highway is fully functional from Puerto Escondido to Mulege. Vessels have been arriving from the mainland with aid for Southern Baja, and President Pena-Nieto is said to have toured the area by helicopter.
According to Bob Davis, consensus among La Paz cruisers is that Cabo is in much worse shape than La Paz, where some stores — including Walmart — are open, although all banks are closed. He has not seen any TV coverage, but the word-of-mouth info he has gathered about desperate people looting stores in Cabo for food and water is in sync with various network TV broadcasts.
In an earlier message relayed by Holly Scott, Davis wrote: "Susan Ross of the Portland-based Endeavor 43 Two Can Play suggested that the Baja Ha-Ha fleet could potentially provide an essential service by transporting 'stuff' [supplies, medicines, etc.] down to Southern Baja when the fleet comes south, and to the Turtle Bay and Mag Bay regions. Granted, early November is a ways off, but based on what I am hearing regarding Cabo, it may still be in ragged shape at that time."
We're certain that members of the Ha-Ha fleet would be happy to do all that they can. However, with the fleet's arrival being almost two months away, we'll have to see how things play out. People have to also remember that even one small ship could carry far more than the entire Ha-Ha fleet, but we'll stand ready to help.
From Lewis Stewart Keizer: "The dry storage boat yard adjacent to Marina Palmira has a number of toppled, damaged, crushed or dismasted boats. All the other marinas had spotty but manageable damage (cleats ripped off docks, etc.) I know of no boats in marinas that sustained any appreciable damage, short of one boat in Marina de La Paz with a wooden mast that broke during the storm.
"Two Baja ferries unloaded a massive number of military and mostly CFE — the equivalent of PG&E — trucks, all of which is it rumored are headed to Cabo. Cabo is in really bad shape. The word down here is that Cabo airport will not reopen until the 21st. La Paz airport won't reopen for a few days, but info is non-specific.
"Several of the 20 or so beached boats have been refloated this afternoon. A number of others are scattered hither and yon, and will be refloated as manpower, tow power and tides permit. A military flight is airlifting a number of stranded civilians out of La Paz to Mexico City today. Don't know who they are."
In a Tuesday-afternoon update from Nirvana via Holly Scott, Bob and Sherry made this offer: "Bercovich boatyard and boats on the hard had NO damage. I walked through there this morning and everything is intact. . . If anyone wants me to go down there and look at a specific boat, let me know and I will. Abaroa boatyard had some damage but again, I've not heard of any specific vessel damage in the yard. Same story, give me a vessel name and I'll get the specifics. Atlantic boatyard nearby Marina Palmira took a real hit: a number of boats toppled over, some stacked on others, some crushed."
Puerto Escondido — From Jake Howard aboard the Hunter 45 Jake in Puerto Escondido on Wednesday morning: "Here is the best list I can put together at this time. Firefly is here. They were right behind us in the storm and they are OK.
BOATS BEACHED IN THE MAIN ANCHORAGE:
Manta – Terry and Dawn onboard OK – We will try to refloat today. Damage to port side ama, but should be OK.
Cloud 9 – Unoccupied – moderate to serious damage – Possibly salvageable
Libertad – Unoccupied – moderate damage – should be salvageable
Rapscallion — Unoccupied – light to moderate damage – should be salvageable
BOATS ON THE BREAKWATER/SEAWALL ON FONATUR SIDE OF THE ELLIPSE:
Merilon – Unoccupied – moderate to serious damage – may be salvageable
Yankee Dreamer – Unoccupied – moderate damage – should be salvageable
Elusive – Bill on board and okay – sery serious damage – probably a loss
Cloud Nine – Bill on board and okay – sunk – probably a loss
Sea Toy – Unoccupied – sunk – probably a loss
Luna Sea II – Unoccupied – dismasted and moderate damage – probably salvageable
Small 27-ft sailboat underneath Luna Sea II – Sunk – probably a loss
BOATS IN THE WAITING ROOM OR API AREA:
Angel – Unoccupied – High and dry on beach – moderate damage?? – may be salvageable
27-ft trimaran – (Don't know name) – In mangroves – minor damage – should be salvageable
Red Something (not sure on second word in name)- Unoccupied – on the rocks at API – moderate to serious damage? – may be salvageable?
Estancia – Unoccupied – dismasted and sunk at big API pier – definitely a loss
Nikka – Unoccupied – dismasted but still floating – moderate damage but should be salvageable.
One other boat was dismasted but don't know name. Unoccupied. Should be Salvageable.
That's it, I think. FYI – Heard on Amigo Net this morning that Pantera and Bob are OK in Santa Rosalia. Lot of damage there. Old marina destroyed. All but one boat on that dock beached or sunk. Town is awash in mud."
San Carlos / Guaymas — John Skoriak reports: "As more photos are posted on San Carlos message boards, the damage from Odile becomes evident. It seems that three large sailboats — one trimaran and two monohulls — broke loose from their moorings. Apparently all the boats at the two marinas are fine, and the same is true at the Marina Seca Dry Storage area where I have a Catalina 36.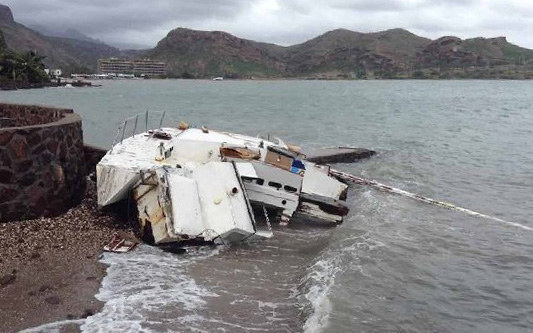 The boat in the first photo in today's report, apparently taken by Jim Cochran of the San Carlos-based Bliss, broke free from her mooring and grounded on the beach at the end of the San Carlos Bahia anchorage, "which is actually one of the best and most protected natural deepwater anchorages in Mexico," says Skoriak, "except, of course, in a hurricane from south."
The following is the firsthand report, from Monday, by Jeff Hartjoy of the Baba 30 Sailors' Run in the northern Sea of Cortez, who is preparing for a nonstop sail around the world via the Southern Ocean:
"I figured out where the hurricane was when the eye passed over at 1:30 p.m. It was calm windwise for 30 minutes, although I had 10-foot waves, and had to sit in the trough and roll like a baby in a box car. My ice-maker flipped upside down and the cushions were all falling all over the place, but I was happy as the wind had quieted. After 30 minutes, the wind came back with a vengeance and blew like stink. The good thing was it had shifted 90 degrees, putting me once again in the protection of the land. The wind was also beating the 10-foot waves down to where they were about four feet. If my anchors let go, it looked like I could escape. Previously, I would have had to dive over the side before the boat crashed ashore and swim for my life.
"The worst part of the first half was I was having gusts to 85 knots. They would last about 15 seconds, and heel the boat so far that the rail was in the water. A couple of times I was tending to things on deck, and the rain was like buckshot. It stung! I couldn't see anything, as the wind was like smoke on green water. So far, the only thing that is damaged is the bimini, as the zipper started blowing apart. So I rolled it up. One of the solar panels was trying to blow off the boat, and I had to tie it down with a rope and black tape. I think this thing will be gone by 7:30 p.m. tonight, and the back half of a hurricane is usually lighter than the front half'."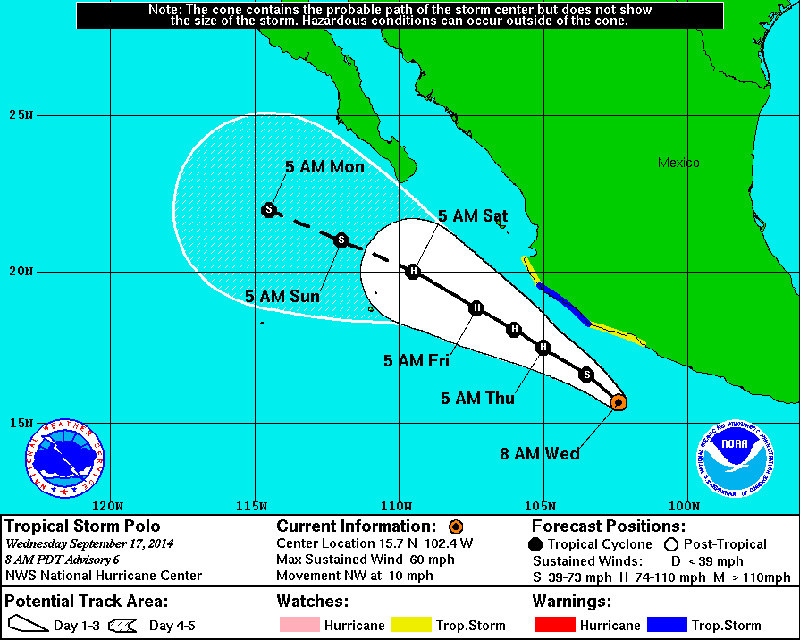 Polo anyone? Tropical Storm Polo is about 600 miles to the southeast of Cabo and is forecast to move to the northwest. The current forecast calls for Polo to build to hurricane strength, stay that way until about 250 miles south of Cabo, then start to fizzle as it moves to the west of Cabo. Late-season tropical storms have a habit of swinging back to the east, however, so while this isn't forecast, Polo needs to be watched.
Look for a detailed report on Hurricane Odile and its aftermath in the October edition of Latitude 38.
Receive emails when 'Lectronic Latitude is updated.
SUBSCRIBE